AZERBAIJAN CAN RESCUE THE ODESSA-BRODY PIPELINE PROJECT
Publication: Eurasia Daily Monitor Volume: 5 Issue: 96
By: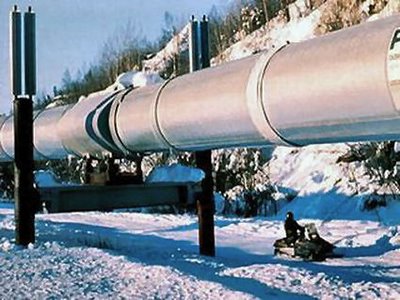 The energy summit in Kyiv, to be attended by heads of state and government from Caspian, Black Sea and Baltic countries on May 22 and 23, is expected to revitalize the Odessa-Brody-Plock-Gdansk pipeline project for Caspian oil. This has become possible thanks to rapidly developing oil transport routes from Azerbaijan to Georgian maritime terminals. There, the oil can be shipped to Odessa by tankers for pumping to Poland through the pipeline.
Azerbaijan has become key to this European pipeline project. Although the European Union has long declared it a priority, and the United States has also supported it declaratively, Azerbaijan can make it a reality in its triple role as oil producer, transporter, and investor.
On May 16 the State Oil Company of Azerbaijan Republic (SOCAR) inaugurated its export terminal in Kulevi, near Poti on the Georgian Black Sea coast. The terminal will handle 5 million tons of crude oil and oil products annually from 2008 to 2010, 10 million tons annually from 2010 onward, and potentially 20 million tons in a follow-up stage. The expansion plans anticipate oil input from Kazakhstan, in addition to those from Azerbaijan. The Kulevi terminal marks Azerbaijan's emergence as an investor in oil transport and infrastructure projects outside the country. According to Prime Minister Artur Rasizade and SOCAR head Rovnag Abdullayev at the inauguration, Azerbaijan is prepared to supply oil volumes from Kulevi for the Odessa-Brody-Plock-Gdansk pipeline project.
Azerbaijan also transports oil by railroad en route to Georgian maritime terminals. Those volumes originate partly in Azerbaijan itself and partly in Kazakhstan, where some producer companies ship their oil across the Caspian Sea to Baku for transshipment by rail to Kulevi and Batumi on the Black Sea. High prices for oil allow profitable transportation by railroad, making this route far more attractive than it was during the era of low-priced oil. This new situation also markedly improves the prospects for Caspian oil to reach the Black Sea and Odessa directly.
In February 2008 Kazakhstan's state oil and gas company KazMunayGaz purchased the Batumi oil terminal outright from the Danish-led Greenoak Group and its partners. Greenoak will continue to manage both the oil terminal and the recently modernized port of Batumi for KazMunayGaz. The terminal, with a capacity of at least 15 million tons per year of crude oil and oil products, can also become a point of origin for oil deliveries by tanker to Odessa and the pipeline to Poland.
With the Kulevi and Batumi terminals, Azerbaijan and Kazakhstan, respectively, own and operate their first international oil transport assets with direct access to the open sea. From this point on, full ownership by the respective oil companies should ensure a growing oil flow via Georgia into the Black Sea. Azerbaijan is encouraging Kazakhstan to accelerate the implementation of its long-standing intentions to ship growing volumes of oil across the Caspian Sea to Baku.
Georgia's other maritime terminal, Supsa, and the pipeline leading there from Azerbaijan, have not been used since 2007. Their capacity is 8 million tons a year, and could be expanded to 15 million tons. This route is closed temporarily for upgrades by the BP-led Azerbaijan International Operating Company (AIOC), the oil-extracting consortium that owns and operates the pipeline and terminal. The line goes from the Caspian Sea at Sangachal to the Black Sea at Supsa. This capacity should provide a further outlet for growing oil production originating on either shore of the Caspian basin. Part of this flow, once restored, should be available for tanker shipment to Odessa. BP's partner in Russia, TNK-BP, however, may not necessarily be interested in a rescue of the Odessa-Brody project.
TNK-BP is currently the main user of the Odessa-Brody pipeline in the reverse direction, north-south, negating that pipeline's initial raison d'etre. Completed in 2001 by Ukraine to carry Caspian oil via the Black Sea and Ukraine to Europe, the pipeline remained idle until 2004, because Russia blocked the access of oil from Kazakhstan to Odessa.
Since 2004 Russian companies are "reverse-using" the pipeline to carry their oil from Russia to Odessa for shipment by tankers. Using the pipeline as originally intended would require commitments of Caspian oil and financing the pipeline's continuation from Brody (in Ukraine near the Polish border) into Poland, reaching the Plock refinery and/or the Gdansk refinery and port. In that case, the line's initial capacity of 8 million tons annually could be expanded to 15 million tons.
The first Caspian-Black Sea-Baltic energy summit, held in Poland in May 2007, decided to establish a project company for extending the Odessa-Brody pipeline into Poland. The follow-up summit, held in October 2007 in Vilnius, resolved to create a five-country company of Azerbaijan, Georgia, Ukraine, Poland, and Lithuania to carry out the plan. The Kyiv summit can take the next step forward (PAP, May 15; Trend Capital, ANS, Black Sea Press, May 16, 17; see EDM, February 13).