Azerbaijan Looking at Narrow Gas Export Options
Publication: Eurasia Daily Monitor Volume: 6 Issue: 84
By: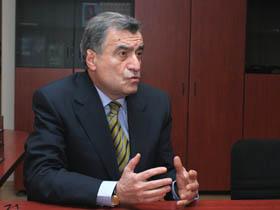 At the oil and gas conference just held in Baku, Industry and Energy Minister Natig Aliyev, confirmed that Azerbaijan strives for access to European markets as the main export destination for Azerbaijani gas and, potentially, for Turkmen gas via Azerbaijan to Europe (Turan, April 27).
The significant message in that remark is that Azerbaijan will not willingly sell its gas to Gazprom at Azerbaijan's border, as the Kremlin proposes. Moscow offers to pay European netback prices for Azerbaijani gas. Assuming that the offer is genuine, it would make little commercial sense for Russia to re-export Azerbaijani gas to Europe as "Russian" gas at the same European netback prices. Moscow's offer is calculated strategically, not commercially. It seeks to pre-empt Azerbaijani gas, diverting it from the European Union's Nabucco and Southern Corridor projects before these get started. In effect, Moscow is racing against the EU in Azerbaijan.
Moscow and Turkey's AKP government are each proposing to buy Azerbaijani gas on the basis of delivery-at-frontier arrangements, whereby the purchasing country becomes the owner of the gas, with an option to re-export it. Such arrangements would be disadvantageous to Azerbaijan economically and strategically, depriving it of access to European end users of its gas.
Moscow at least promises to pay European netback prices for Azerbaijani gas. Meanwhile, ironically, Turkey's AKP government insists that Azerbaijan should accept a price far below market levels for its gas. Azerbaijan's President Ilham Aliyev discussed these issues with Russian President Dmitry Medvedev in Moscow on April 16-17 and with European Commission President Jose Manuel Barroso in Brussels on April 29.
In Moscow, Aliyev quietly declined a delivery-at-frontier arrangement. Instead, he asked that Russia provide transit services for Azerbaijani gas to reach Europe. Such a role would be fully in keeping with European norms, but is highly unusual for Russia. Unlike Ukraine, Georgia and many other countries, which provide transit service through pipelines on their territories, Russia buys up Central Asian gas at those countries' borders and re-sells most of it westward as Russian gas. Moscow now proposes a similar arrangement for Azerbaijan. Isolating Caspian producer states from European consumer countries, such arrangements enable Moscow to control the gas flow, with scope for manipulations at either end.
In Brussels, Barroso expressed appreciation for Aliyev's "difficult and courageous decisions." That discussion focused on supplies to the Nabucco and Southern Corridor projects and on the Turkish transit problems (ANS TV, April 29). Indeed, awaiting progress on Nabucco and the Southern Corridor, Azerbaijan would not enter into large-scale or long-term commitments with Russia. Nor would it commit gas volumes from future production at Shah Deniz (see article above), but only from fields that are not earmarked for westbound pipelines. Production from such fields could potentially be exported via Russia, if necessary to reduce Azerbaijan's now-total dependence on the Turkish route.
Meanwhile, Norway's StatoilHydro, commercial operator of the export pipeline from Shah Deniz, has more than once hinted at the possibility of dealing with Russia as an outlet for Shah Deniz gas, if Turkey keeps stalling on the transit agreement or if Nabucco continues to stagnate.
Turkey buys Azerbaijani gas on the basis of an agreement signed in 2001, which set the price at $120 per thousand cubic meters. Ultimately, international market prices for gas climbed above $400 per thousand cubic meters while Turkey was still paying $120 for Azerbaijani gas. Deliveries to Turkey from Shah Deniz began in 2007 at that price, an undeclared subsidy to Turkey at the expense of Azerbaijan and the Shah Deniz project. The old agreement expired in April 2008, but the old pricing seems to have continued since then (Trend Capital, www.day.az, April 29).
Azerbaijan seeks to redefine the price, in line with existing market prices and on the basis of valid contracts. Turkish Prime Minister Recep Tayyp Erdogan and Energy Minister Hilmi Guler, however, have publicly shrugged off the proposal. President Aliyev hinted in Brussels that such attitudes "might have a negative impact on future cooperation" with Ankara. Negotiations are ongoing, however (Anatolia News Agency, April 25; Hurriyet, April 26; UPI, April 27; ANS TV, April 25, 29).
Azerbaijan and the international consortium signed the contract on the Shah Deniz project in 1996 in expectation of a large oil find, instead of which a giant deposit of natural gas and condensate was discovered. The field's recoverable gas reserves are estimated at 1.2 trillion cubic meters. The consortium includes BP (as project operator) and Norway's StatoilHydro with stakes of 25.5 percent each; Azerbaijan's State Oil Company, the Russian-Italian joint venture LukAgip, the National Iranian Oil Company, and Total of France, with 10 percent each; and Turkish Petroleum with 9 percent. A separate consortium with identical structure owns and operates the dedicated export pipeline from the field via Baku and Tbilisi to Turkey (South Caucasus Pipeline), with BP as technical operator and StatoilHydro as commercial operator.
Phase One of commercial production at Shah Deniz started in 2007 and jumped to 8.5 billion cubic meters in 2008, but is expected to grow only slightly to 9 billion cubic meters in 2009. Of this amount, 6.6 billion cubic meters are due for export annually through the Baku-Tbilisi-Erzurum pipeline. Phase Two of production at Shah Deniz is expected to reach 20 billion cubic meters in the plateau years, now deferred beyond 2016 (Trend Capital, April 29; see article above).