Azerbaijan-Russia Gas Agreement: a Wakeup Call to Brussels and Washington
Publication: Eurasia Daily Monitor Volume: 6 Issue: 127
By: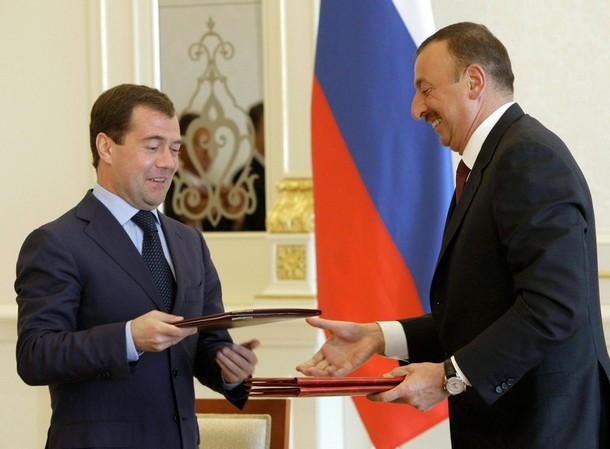 Meeting in Baku on June 29, Azerbaijan's President Ilham Aliyev and his Russian counterpart Dmitry Medvedev witnessed the signing of an agreement on Azerbaijani gas deliveries to Russia. The initial volumes are small, but the agreement as such is a powerful reminder that the Western-backed Nabucco project depends existentially on Azerbaijani gas.
Moscow calculates that its agreement with Azerbaijan will undermine confidence in Nabucco and delay this project even further. From Azerbaijan's standpoint, however, the agreement just signed should serve as a wakeup call to the European Union and the United States. The intergovernmental agreement on Nabucco was supposed to be signed in June, but Turkey's AKP government continues delaying the project and obstructing the access of Azerbaijani gas to European markets. The message from Baku says that Brussels and Washington need to support Nabucco more convincingly through investment commitments and by pulling their weight with Ankara.
The June 29 document, signed by Gazprom CEO Aleksei Miller and Azerbaijan's State Oil Company Chairman Rovnag Abdullayev, is a framework agreement on main principles of a sale-and-purchase contract, which should be finalized soon. Initially, Azerbaijan will deliver 500 million cubic meters of gas to Russia in 2010, starting from January 1. The amount is paltry, but the agreement envisions the possibility of expanding the deliveries in subsequent years.
If deliveries remain small, the gas can reach Russia's Dagestan through reverse use of the Soviet-era pipeline that used to carry Russian gas to Azerbaijan until as late as 2006. Worn out and operating below capacity, the line would require upgrading for any larger-than-symbolic deliveries. Russia plans to use the Azerbaijani gas for consumption in the North Caucasus initially.
Gazprom is offering to pay $350 per one thousand cubic meters of Azerbaijani gas in 2010. This price is slightly higher than Gazprom's offer to Turkmenistan in 2008 for deliveries of Turkmen gas to Russia in 2009. That offer was $340 per one thousand cubic meters but Moscow is now reneging, asking Ashgabat to accept a lower price and even keeping the pipeline closed since April to force Ashgabat's hand (EDM, June 29). Moscow, however, is bidding higher for Azerbaijani gas. It seeks to undermine the Nabucco project through the perception that Russia is pre-empting Nabucco's supply source in Azerbaijan.
The Kremlin and Gazprom are willing to lose money in pursuit of that political effect. Their price offer to Azerbaijan is on the level of European netback prices that may be anticipated next year. Gazprom would incur a steep loss (admittedly on small volumes) by purchasing Azerbaijani gas at the European price and reselling it at the rock-bottom prices of Russia's heavily controlled internal market. Such a loss would, however, begin to matter if Gazprom were to increase its imports from Azerbaijan.
According to Medvedev and Miller during their Baku visit, Russia will draw these gas volumes from Azerbaijan's offshore field Shah Deniz during Phase One of its operation; and will exercise some sort of pre-emptive right of purchase from Phase Two of Shah Deniz. That phase has recently been postponed to 2016 and is dedicated to the Nabucco project. Russian claims to a "right of first refusal" regarding that phase are almost certainly designed to create confusion about availability of supplies to the Nabucco project.
For its part, Azerbaijan has achieved at least two goals by signing this preliminary agreement. First, it demonstrates to Turkey's AKP government that Azerbaijan is not totally dependent on the Turkish gas market and a Turkish gas transmission route to Europe (by the same token it demonstrates to Brussels and Washington that tolerance of the AKP government's tactics of extortion puts Nabucco at risk). And second, the $350 price offer has set a benchmark that other importers of Azerbaijani gas may have to bid against.