Azerbaijan, Russia Turning New Page on Cooperation in Energy Sector
Publication: Eurasia Daily Monitor Volume: 10 Issue: 152
By: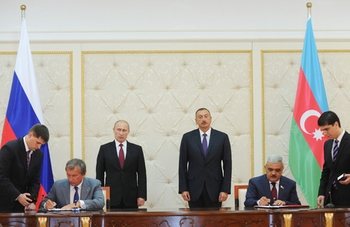 Russian President Vladimir Putin's working visit to Azerbaijan on August 13 (see EDM, April 14) resulted in several agreements of unprecedented scope in the oil and gas sector. Presidents Ilham Aliyev and Putin witnessed the agreements' signing. These are documents of general intent, merely sketched out at this stage, to be fleshed out in further discussions. If implemented, these agreements would follow the model of international oil and gas companies' cooperation with their Russian counterparts. If so, this would reflect the rise of Azerbaijan's State Oil Company (SOCAR) into that league.
The heads of Rosneft and SOCAR, Igor Sechin and Rovnag Abdullayev, signed a framework agreement regarding joint exploration and development of oil and gas fields in Russia, Azerbaijan and generally in third countries. Rosneft-SOCAR joint projects in Russia or Azerbaijan, under this agreement, would entail asset swaps between the two companies. To that end, a Rosneft-SOCAR joint venture is to be established on a parity basis. The agreement is valid for an initial period of five years, with the option of automatic prolongation by mutual consent (Kommersant, August 14).
Putin and Sechin optimistically predicted a duration of 20 or 30 years, if the agreement of intent leads to specific project agreements. The Azerbaijani side sounded more restrained in its public statements (Interfax, News.az, SOCAR and Rosneft press releases, August 13; Trend, August 14).
Apart from this, Rosneft and SOCAR shall consider joint marketing of refined oil products, common use of pipelines and port terminals, and swaps of crude oil to fit requirements of oil processing plants in their respective markets. According to Russia's Energy Minister Aleksandr Novak at the signing event, the Russians are interested in procuring volumes of the Azeri Light oil brand to supply European refineries in which Rosneft holds ownership stakes. Rosneft has snapped up several refineries in Western Europe during the ongoing recession there. The Saras refinery on the Italian island of Sardinia is deemed a likely recipient of Azeri Light supplies, but the range of possibilities is wider. In addition, according to Sechin, the two companies would use SOCAR's trading unit in Singapore in the process of marketing ESPO-blend oil in the Far East. Other joint activities are yet to be identified (Kommersant, August 14).
President Aliyev characterized these agreements of intent as opening a new chapter of cooperation in the oil and gas sphere between Azerbaijani and Russian state organizations (Trend, August 13). To date, the privately-owned Lukoil is the only significant Russian presence in Azerbaijan. Under its CEO and main stakeholder, Vahid Alekperov, a native of Azerbaijan, Lukoil holds a 10-percent stake in the Shah Deniz natural gas project, and another 10-percent stake in the South Caucasus Gas Pipeline (also known as Baku-Tbilisi-Erzurum, although it does not cross the Georgia-Turkey border).
Sechin had prepared these agreements of intent during his visit to Baku the preceding month. At that point, international media reported credible rumors that Rosneft was seeking to enter the natural gas projects Absheron and even Shah Deniz in Azerbaijan as a shareholder. This, apparently, turned out to be a non-starter. Shah Deniz was not even mentioned in this context during Putin's visit; and Absheron was only mentioned by the Russian side to state that this project was not a topic of discussion during this visit. Rosneft's failed attempt is to be seen in the wider context of its ambitions to branch out from the oil business into the natural gas business
Azerbaijan exported 1.55 billion cubic meters of gas to Russia during 2012, under an agreement signed in 2009 and prolonged since then on an annual basis (RIA Novosti, August 13).
In May of this year (2013), at Azerbaijan's insistence, Azerbaijan and Russia terminated the 1996 agreement on oil export through the Baku-Novorossiysk pipeline. Russian Transneft's tariffs on this pipeline were excessive, and SOCAR was losing some of the revenue as its Azeri Light brand was being mixed with the inferior Urals blend at Novorossiysk in the absence of an oil-quality bank. Azerbaijan was using this line at a rate of only 1.5 million–2 million tons annually in recent years. SOCAR and Transneft plan to re-negotiate these issues.
Putin restated Russia's "vital interest" that the legal status of the Caspian Sea, as well as the division and delimitation of the water surface among the five riparian countries, and ecological protection measures can only be decided by consensus among the five riparian countries (Rossiiskaya Gazeta, Interfax, August 14), implying a Russian-Iranian joint veto on Trans-Caspian pipeline projects.
But Putin apparently refrained from raising the other elements of Russia's Caspian agenda, unfulfilled since the Caspian Sea summit held by five presidents (with Dmitry Medvedev representing Russia) in 2010 in Baku. Those controversial elements include establishing a Caspian Economic Organization and a Caspian Force (CasFor) naval task force, both to be comprised of the five riparian states and under Russian domination de facto. Putin's visit to Baku was meant to be friendly and avoid controversy in deference to President Aliyev.