Azerbaijan: Trapped Between Two Fault Lines
Publication: Eurasia Daily Monitor Volume: 13 Issue: 12
By: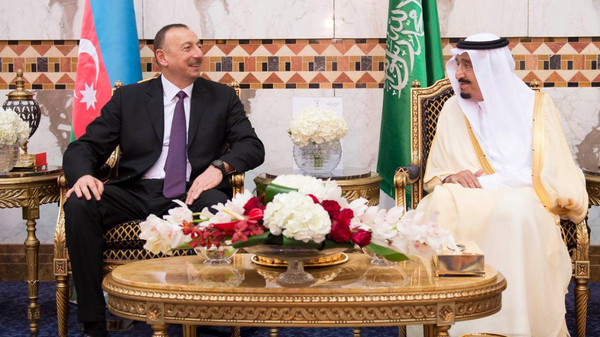 The deterioration of Turkey-Russia ties on the one hand and Iran–Saudi Arabia relations on the other have been a major source of worry for the Azerbaijani authorities over the past year. The leadership officially acknowledged this concern last week (January 10) (APA, January 10). However, these are two different types of crisis, each posing different challenges for Azerbaijan.
The breakdown of Turkish-Russian relations took place in late November 2015, after the downing of a Russian jet that had violated Turkey's airspace. Initially, Baku thought that the rupture of relations would be relatively brief, and that a diplomatic solution could be found quickly. But the severity of the damage became clear when Russian authorities introduced sanctions against Turkey. Initially, Baku proposed to mediate a reconciliation (Contact.az, November 26, 2015). This offer—given that a miscommunication was clearly not the source of the Russian-Turkish dispute—effectively signaled a declaration of "neutrality" by the Azerbaijani authorities. Baku's need to make such a gesture was driven by Russia's political leverage over Azerbaijan as well as a desire to remain in Moscow's good graces, particularly while Azerbaijan's relations with the West had been deteriorating. But when it came to Turkey, the Azerbaijani government understood that more was needed; Ankara has certain expectations of Baku due to their bilateral strategic relationship and all that it entails.
Thus, despite its attempted statement of neutrality, Azerbaijan took some measures to support Turkey. After Russia obstructed Turkish trucks transiting Russian territory to reach Kazakhstan and other Central Asian countries, Azerbaijan agreed to provide an alternative route. According to the International Transporters Association (UND), Turkish vehicles can use the Caspian Corridor from Azerbaijan to Turkmenistan (Haberler.com, November 29, 2015). Moreover, since the crisis with Russia, Turkey wants to accelerate the work on the Trans-Anatolian natural gas pipeline (TANAP) project by moving the completion date up to 2018 (Daily Sabah, December 3, 2015), seeing TANAP as an alternative to dependency on Russian gas. But in reality, even once this pipeline is operational, Azerbaijan would be providing a maximum of 25 percent of Turkey's annual natural gas demand (up from the current 12 percent). Russia, on the other hand, provides 55 percent of Turkey's gas imports (VOA, December 14, 2015). Azerbaijani gas can be at best an additional resource, but not a viable alternative to Russian supplies.
Behind the political rhetoric, Baku's real concern lies in the security sector. Years of high-level Russian-Turkish cooperation largely precluded Moscow from openly criticizing simultaneous growing military ties between Ankara and Baku. The two Turkic neighbors have conducted a half-dozen joint military exercises since 2013, and the level of military involvement is increasing year-on-year (APA, January 16, 2015). Crucially, in the context of Turkish-Azerbaijani military cooperation, Moscow for years seemed to have basically disregarded the fact that Turkey is a member of the North Atlantic Treaty Organization (NATO)—a fact that, in contrast, never goes unnoticed in any instances of Georgia's cooperation with member states of the Alliance.
The Saudi Arabia–Iran confrontation represents an entirely different threat to the government in Baku. For a long time, Azerbaijan's relations with Saudi Arabia did not extend into the strategic realm, except when Riyadh would back Baku's position on the Karabakh conflict, diplomatically support Azerbaijan's territorial integrity, or refuse to initiate relations with Armenia (Turkishweekly.net, April 8, 2009). But since the new King Salman Bin Abdulaziz Al Saud came to power, the Saudis have changed their strategy toward a number of countries, including Azerbaijan. In a growing effort to contain Iran, Saudi Arabia has essentially used its financial resources in recent years to buy loyalty from other states in the region (Trend, May 19, 2014).
Due to the decline in oil prices, Azerbaijan has greatly stepped up its search for foreign investments, especially from countries willing to overlook domestic human rights issues. Thus, the number of high-level visits from Azerbaijan to Saudi Arabia has increased in the last year. The early challenge that Azerbaijan faced in its relationship with Saudi Arabia was the Iranian question. In contrast to the pre-2013 period, Baku wanted to avoid damaging its relations with Tehran by joining forces with anyone pursuing an openly anti-Iran campaign. Therefore, Azerbaijan took small steps in building its relations with Saudi Arabia—such as joining Saudi-led anti-terrorism activities that excluded Iran and its allies. Because Tehran did not openly display dissatisfaction, Baku joined the Islamic coalition against terrorism, which was initiated by Riyadh (TASS, December 15, 2015). However, after the open confrontation between Iran and Saudi Arabia, following the Kingdom's execution of Shia religious leader Nimr al-Nimr, Azerbaijan has retreated on this front.
Meanwhile, Iran under President Hassan Rouhani has changed its rhetoric and sought to develop relations with Azerbaijan. One of the key issues for Baku is ensuring Iran's silence on Azerbaijan's domestic issues, specifically when it comes to the Azerbaijani government's domestic response to Islamist extremists or pro-Iranian Shia religious figures—all issues to which Tehran had previously reacted aggressively. Thus, in late November 2015, a police operation in Nardaran, a village near the capital Baku known for its religious conservatism, resulted in the arrest of a number of Shia Muslims (Iwpr.net, November 30, 2015). But in a show of political pragmatism, Tehran did not officially condemn this, calling it an internal matter for Baku (Trend, December 1, 2015).
The price for Iran's silence is Azerbaijan's acceleration of work on a cooperation agreement to coordinate the Azerbaijani railway network with the Iranian ITC North–South railway (Contact.az, December 9, 2015). Furthermore, since the suspension of international sanctions, Iran's role in the wider Middle East is now in flux—Tehran is increasing its share in several regional foreign oil and gas projects. In addition, it may become involved in the development of the Shah Deniz gas condensate field in Azerbaijan's sector of the Caspian Sea, with Azerbaijani gas pipelines serving as an alternative export route for Iranian gas to European markets in the long term. From these perspectives, bilateral relations with both Saudi Arabia and Iran offer opportunities that are in Azerbaijani national interests, but Tehran and Riyadh's current confrontation limits Baku's ability to maximize these avenues.
Essentially, Azerbaijan is stuck in the middle of two regional crises. The effect of this is exacerbated by the domestic economic situation: following the decline in oil prices, the country has been forced to devalue its currency, leading to protests against price hikes in several regions (Turan, January 12). Under these conditions, the Russian-Turkish and Iranian-Saudi fault lines pose additional problems, requiring Azerbaijan to act with extreme caution.