Azerbaijan's Quest for a Renewed Foreign Policy Strategy in 2023
Publication: Eurasia Daily Monitor Volume: 20 Issue: 27
By: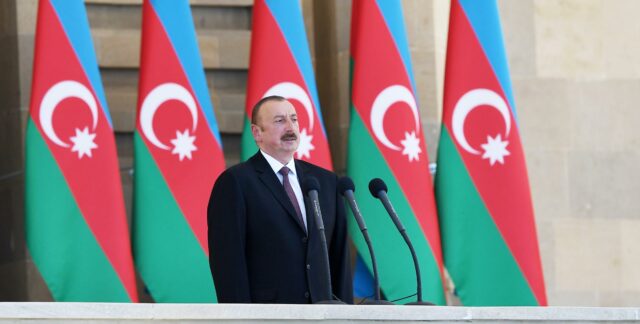 Throughout 2022, Baku pursued a more activist foreign policy due to developments in the South Caucasus and the surrounding regions. First of all, the Russo-Ukrainian war has been the single major event to influence Azerbaijani foreign policy in the past year. While the Russo-Ukrainian war has caused a great deal of international uncertainty, it has also given rise to new opportunities. Economically, Azerbaijan's significance as a gas supplier to Europe has risen. Cargo freights have surged through Azerbaijan in increasing numbers as the Russian route has become dysfunctional due to the war and related Western sanctions (Gfsis.org, December, 2022).
In recent years, Azerbaijan and Georgia had experienced a cooling in bilateral relations. But now that has changed by virtue of the opportunities arising from Western sanctions against Russia. Therefore, Baku and Tbilisi are engaged in a project to raise the throughput capacity of the Baku–Tbilisi–Kars railway line, which is a key part of the east-west Trans-Caspian International Transport Corridor connecting China and Europe. Moreover, Azerbaijan, Georgia, Romania and Hungary recently signed a document to export electricity to Europe along the bottom of the Black Sea. Such an outlook necessitates a stronger commitment to cooperation between Baku and Tbilisi in maintaining their strategic partnership (Bm.ge, January 20).
Politically, the most sensible effect of Russia's war against Ukraine is that Moscow has been distracted from the South Caucasus and, as a result, its position there has noticeably weakened. This has prompted other regional actors to grapple over filling the gap. As a manifestation of that tendency, an unprecedented wave of escalation was registered between Baku and Tehran in 2022. To this, Azerbaijan eventually decided to open an embassy in Israel (See EDM December 1, 2022).
Simultaneously, Azerbaijan has experienced serious tensions with France. Top Russian and US officials have not shied away from acknowledging that the Minsk Group of the Organization for Security and Co-operation in Europe, which oversaw the mediation between Baku and Yerevan in resolving the Karabakh conflict, has become dysfunctional. Therefore, Washington and Moscow began to pursue their own roles independently. However, France has failed to transform its role from Minsk Group co-chair into an independent one. Before the Second Karabakh War between Armenia and Azerbaijan, many debates occurred regarding the European Union assuming the role of a Minsk Group co-chair, in place of France, which never agreed to that arrangement (Commonspace.eu, March 24, 2012).
Since the 2020 war, two parallel mediation processes have emerged, one through Moscow and the other through Brussels, specifically European Commission President Charles Michel. Washington also maintains active communication in that regard with Baku and Yerevan. For its part, in Baku's view, Paris has tried to usurp the Brussels format (Xezerxeber.az, October 12, 2022). French President Emmanuel Macron has participated in the EU-brokered meetings between the Armenian and Azerbaijani leaders, making fierce statements directed toward Baku. Macron's comments coupled with the French Parliament's adoption of two resolutions condemning Azerbaijan have effectively derailed the Brussels format. Thus, Yerevan insisted on Macron's presence at the summit scheduled for December 7, 2022, whereas Baku categorically rejected it (President.az, January 10; OC Media, January 23).
In January 2023, the EU decided to send a long-term civilian mission to Armenia to monitor its disputed border with Azerbaijan, but without agreeing to it with Baku. Both Moscow and Baku have voiced dissatisfaction with the EU's decision (Haqqin.az, January 23). While the positions of Russia and Azerbaijan overlapped in this particular case (News.am, January 27), overall, the relationship between Baku and Moscow could be characterized as a push-and-pull approach. At different times, Baku and Moscow have traded accusations and suspicions particularly through the tongue of official channels and media outlets in 2022. A major point of discord has been related to the activities of the Russian peacekeeping contingent temporarily deployed to the Karabakh region (Mikroskopmedia.com, October 25, 2022; JAM-news, November 8, 2022). This was preceded by warmer relations earlier in the year as Putin and Azerbaijani President Ilham Aliyev signed a declaration on increasing cooperation between the two countries on February 22, 2022.
Yet, since Russia's re-invasion of Ukraine, Moscow and Baku have increasingly been at odds. For example, a Russian billionaire of Armenian origin, Ruben Vardanyan, appeared in Karabakh and was appointed as the "state minister" of the self-proclaimed regime on November 4, 2022. In response, Aliyev publicly stated that Vardanyan has been dispatched to Karabakh "with a very clear agenda from Moscow" (Ekhokavkaza.com, November 17, 2022; see EDM, February 13).
About a month after Vardanyan's appointment, Azerbaijani eco-activists and nongovernmental organizations launched a campaign against the exploitation of the gold and copper-molybdenum fields in the Armenian-populated districts of Karabakh. This protest has been ongoing since December 12, 2022, on the Lachin road, which is under the purview of the Russian peacekeepers and connects the Armenian-populated districts to Armenia proper. The action has received international attention, with the United Nations Security Council discussing the issue in late December 2022 (Un.org, December 20, 2022). And on January 18, Azerbaijan initiated its first international arbitration proceeding against Armenia on environmental grounds in the UN (Mfa.gov.az, January 18).
The developments in 2022 will likely manifest themselves in 2023 for Azerbaijan in the following ways: The fallout and consequences of the ongoing war in Ukraine will remain unpredictable factors for Azerbaijan's foreign policy. Apart from that, it is becoming increasingly clear that Baku will push to deploy Azerbaijani checkpoints along the Lachin Corridor, especially in the case that no significant progress is achieved on opening the Zangezur Corridor to connect mainland Azerbaijan with its Nakhchivan exclave via the southern Armenian territory. Iran vehemently opposes any opening of Zangezur (see EDM, September 23, 2022). Incidentally, a deadly armed attack on the Azerbaijani embassy in Tehran on January 27 epitomizes the rising tensions between Tehran and Baku, with the Azerbaijani side classifying the attack as a "terrorist act" and immediately evacuating all embassy staff (Trend.az, January 30; see EDM, January 31).
In February 2019, Aliyev declared that Baku was not following a balanced foreign policy approach, but rather one based on national interests (President.az, February 12, 2019). Effectively, that statement marked an end to what Azerbaijan had framed as balanced foreign policy for over 25 years. However, since then, Baku has not conceptually framed the precise style of its foreign policy objectives in serving national interests. Therefore, Azerbaijan's quest for a new coherent foreign policy approach is set to continue in 2023.