Historical Trauma Hangs Over Iranian-Azerbaijani Saga
Publication: Eurasia Daily Monitor Volume: 19 Issue: 179
By: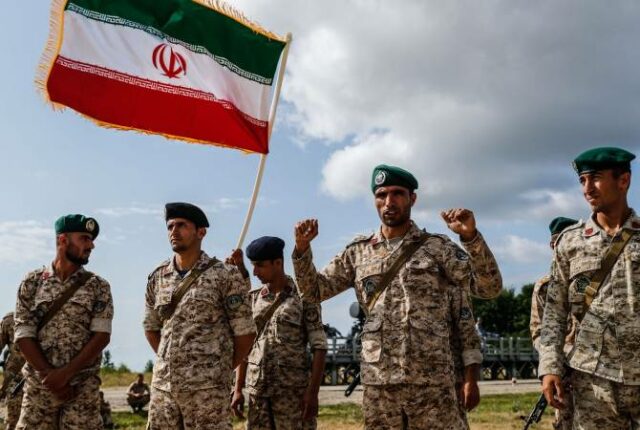 Since at least mid-October 2022, Iran and Azerbaijan have been grappling with the latest and most serious wave of escalations between the two neighboring, Shia-majority Muslim nations in recent years. The escalation has manifested itself most clearly through the war games being conducted along the shared Iranian-Azerbaijani border, increasingly brash official rhetoric and mutual accusations, as well as the arrests of two groups of Azerbaijani citizens by the Azerbaijani special services on espionage charges.
Considering the shared history between the two nations, we can observe how the past continues to reverberate in the nuances of the present standoff. Amid the most recent escalation, Iranian Member of Parliament (MP) Seyid Mahammarza Mirtajiddini told Iran-based network Sahar TV, known for airing the Iranian perspective on Azerbaijan, that Tehran "has not forgotten their history" and threatened Azerbaijan with "reviving the Gulistan (1813) and Turkmenchay (1828) treaties." He added, "It is Iran that has the right to claim on those areas, which the Russian Empire had separated from Iran by war" (YouTube, November 5).
The Gulistan and Turkmenchay treaties ended the protracted Russo-Persian Wars, resulting in the Russian annexation of territories in present-day Armenia, Azerbaijan, Georgia and beyond. By threatening to revise or annul these treaties in the context of the current escalation, Tehran purports to forward a claim on Azerbaijani territory. However, these treaties were signed between the Russian Empire and the then-ruling and ethnically Azerbaijani Qajar dynasty. Since the majority ethnically Azerbaijani Safavid, Afsharid and Qajar dynasties dominated Iran for centuries, some Azerbaijanis, in particular historians, view this issue in another light. In Azerbaijani historiography and public discourse, the Gulistan and Turkmenchay treaties are characterized as the culprits for dividing the Azerbaijani people and their territories between the Russian and Persian empires (Tarixinstitutu.az, December 2017; Anews.az, April 11, 2020; Azpolitika.info, November 15).
While the notion of revising these treaties is absurd, the Iranian MP's statement coupled with the regular voicing of identical positions by other officials in Tehran demonstrate how deeply historical trauma and institutional memory affect Iran's strategic view of the South Caucasus. According to this perspective, Tehran considers the region, in particular Azerbaijan, through a binary Russian-Iranian lens. Iran has somewhat reconciled with Russian dominance in the South Caucasus over the past two centuries. However, with Tehran's logic, it is up to Iran to eventually dominate and replace Russia as the major player in the region. Therefore, the presence of other actors, including Turkey and Israel, in the region are developments Tehran simply cannot digest (Geogase.ge, December 25, 2021; Irdiplomacy.ir; Armenianweekly.com, October 25)
During a ceremony on November 8 to celebrate the second anniversary of Azerbaijan's victory over Armenia in the Second Karabakh War, specifically the retaking of the highly symbolic and strategically important town of Shusha, Azerbaijani President Ilham Aliyev made a strong statement: "Those who conduct military drills along our borders in support of Armenia should also know—no one can frighten us" (President.az, November 8). Aliyev's message was addressed to Tehran directly, which, on October 17, had launched massive three-day war games codenamed "Mighty Iran" along the shared Iranian-Azerbaijani border, signifying an alarming escalation of tensions between the two sides (Tasnimnews.com, October 17; Farsnews.ir, October 19).
The choice of Shusha as the site for sending the Azerbaijani president's blunt message to Tehran was highly symbolic. That Shusha was occupied on May 8, 1992, with Iran playing a mediating role between the then-leaders of Armenia and Azerbaijan, is embedded in the Azerbaijani public's memory (Report.az, May 8, 2021; Demokrat.az, October 5).
Tehran has pointed to Baku's push for opening the Zangezur Corridor—which is designed to connect Azerbaijan proper with its Nakhchivan exclave via the Armenian portion of the Yerevan's shared border with Iran—and its budding partnership with Israel as justifications for the massive military drills (Irandaily.ir, October 17; Tehrantimes.com, October 22). In this, the resolute influence of historical traumas and institutional memory is apparent in driving Tehran's behavior and relations with its neighbors. Historically, Iranian rulers continuously failed to capture Shusha—at the time, the capital of the Karabakh Khanate. Indeed, Aga Mohammad Khan Qajar literally lost his head in 1797 at Shusha, as he was assassinated and beheaded there. According to 19th-century historian Jamal Bey Javanshir, the Iranian commander and chieftain, Fath-Ali Khan Afshar, attempted to capture Shusha quickly and without intense fighting by using "special troops" who would climb up the treacherous mountains over which the town lies. But these efforts ultimately failed (Mod.gov.az, July 25, 2020; Anadil.az, August 25).
These memories are especially painful for Iran, when, in 2020, the Azerbaijani Special Forces effectively climbed those rocks to successfully re-take Shusha in 2020. This operation is one of the most celebrated success stories for the Azerbaijani Armed Forces during the 2020 war. Against this backdrop of Tehran's historical trauma, and in an apparent response to Iran's war games, on November 2, the Azerbaijani Special Forces launched their first-ever extensive military drills along Baku's shared border with Iran (Mod.gov.az, November 2).
One of the most provocative peculiarities of the Iranian drills was the demonstrative exercise that involved laying a pontoon bridge for troops to cross over the Aras River, which serves as a natural border between Azerbaijan and Iran (Mehrnews.com, October 21). At one time quite deep and overflowing with water, due to severe environmental factors, the Aras has become extremely shallow and has almost completely dried up. As such, an Azerbaijan MP ridiculed the Iranian pontoon exercise, pointing out that, if one could cross the river by bicycle, then why bother building a bridge (Eurasianet, October 20). Here, the answer lies with another of Tehran's historical traumas: Iranian rulers' consistent failures to capture Shusha is blamed on the Aras River, at the time full of water and relatively deep, which obstructed the marches of Iranian units and claimed the lives of many troops.
Indeed, these historical memories rise to the surface each time Iranian-Azerbaijani tensions erupt. But importantly, on this particular occasion, unlike previous responses, Baku chose to reciprocate Tehran in a defiant manner in strong terms rather than trying to calm the situation, as had been the case in recent memory (see EDM November 10, 2020; October 6, 2021; September 15). Azerbaijan's official decision, on November 18, to open an embassy in Israel further underlines Baku's growing confidence in flexing its military muscles in the wider region.