Raisi Presidency Challenged to Tackle Three Major Problems Between Iran and Azerbaijan
Publication: Eurasia Daily Monitor Volume: 18 Issue: 140
By: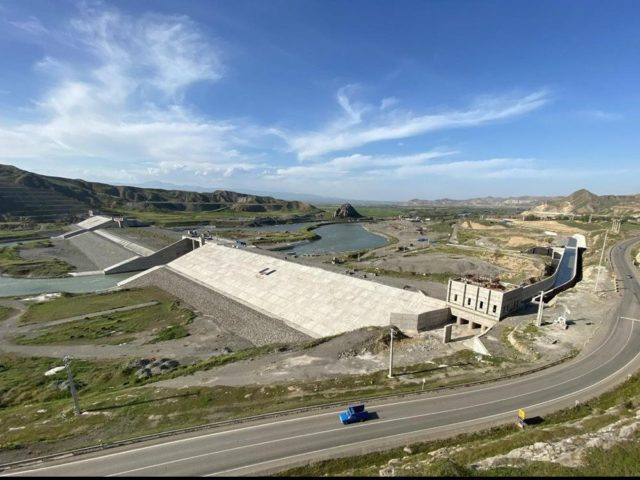 As new Iranian President Ebrahim Raisi forms his government, Baku and Tehran are expected to enter the next uneasy and uncertain phase in their bilateral relations. In particular, issues relating to the unfinished railway segment of the North-South Transport Corridor (NSTC) and the controversial hydropower projects on the Azerbaijani-Iranian border remain unresolved. On top of those, the augmenting Azerbaijani-Israeli partnership is a major factor that continues to complicate Tehran's perspective on Azerbaijan.
In 2018, Baku formally approved the allocation of a $500 million loan for the construction of the missing 211-kilometer Rasht–Astara segment (inside Iran) of the railway component of the NSTC (a transcontinental, multimodal route extending from India and the Gulf to Russia and Europe via Azerbaijan and Iran) (see EDM November 9, 2017). But Baku has yet to disburse the loan to Tehran. The Iranian ambassador to Azerbaijan, Seyid Abbas Musevi, has said that the loan issue "has been discussed in our recent meeting with [Azerbaijani] President Ilham Aliyev. Currently, there are some technical problems in that direction and we are trying to tackle them" (Report.az, June 22, 2021). According to Iranian expert Dr. Vali Kaleji, Iran is "concerned that a revival of [a] Soviet-era railway [in the South Caucasus] will sideline the Rasht–Astara railway project" (Cacianalyst.org, July 8).
The troubles for the Rasht–Astara railway segment are specifically related to the possible reactivation of the Soviet-built Armenian-Azerbaijani transport connections as per the Armenian-Azerbaijani-Russian trilateral declaration that ended the 2020 Second Karabakh War (see EDM January 25, February 22). Baku's purported change of mind regarding the financing of the Rasht–Astara rail line is connected to disagreements with Tehran over the reactivation of the Armenian-Azerbaijani transport links (Inss.org.il, July 2021). Tehran wants to siphon off at least some of the traffic from the Azerbaijani railway route of the NSTC to the moribund Iranian-Armenian railway line, via Azerbaijan's Nakhchivan exclave, that is to be restored after 30 years. Iran will use the NSTC's Azerbaijani route solely for direct railway connections with Azerbaijan and Russia as well as to ease the heavy traffic on its domestic motorways. Baku's intention, on the other hand, is to redirect the traffic from it to what Baku describes as the "Zangezur corridor" (the transit lines that are to connect mainland Azerbaijan with Nakhchivan via southern Armenia) in order to bolster that corridor and raise its strategic value. President Aliyev hinted that it "could be part of the north-south transportation corridor from Iran to Russia, because […] Astara–Rasht, is not built." But "[t]his [Zangezur corridor] for sure will be built," he added (President.az, April 13). As such, Baku and Tehran will likely have to settle these inter-connected issues as a package rather than separately.
Another bone of contention between Baku and Tehran is the issue concerning the controversial Khudaferin and Qiz Qalasi hydroelectric power projects. A package approach is particularly relevant in this context since their prior agreements on both the NSTC and those hydropower plant projects had been reached as part of wider diplomatic processes (see EDM, June 24, 2020).
Baku and Tehran need to settle the financing of the planned Khudafarin and Qiz Qalasi dams on the Aras River, between Azerbaijan and Iran. The Azerbaijani part of the area was under Armenian control when Iran actually carried out initial construction, without the former's permission, only managing to reach a formal agreement with Azerbaijan years later. President Aliyev said, on April 13, that they have "agreed on the methodologies to repay Azerbaijan's share in the investments" made for the construction of the project (President.az, April 13). The first problem is that construction work had been ongoing for years without any involvement from Baku, and therefore, a final calculation of the project costs and expenditures is a complicated task, at least technically. Second, a failure to settle the financing issue hinders any practical sharing of the benefits, such as the generated electricity and water. Third, Baku has also forwarded claims to Tehran over "damages incurred" during the construction, according to a statement by Azerbaijani Energy Minister Parviz Shahbazov (Azerforum.com, May 31).
As regards the Israeli topic, it is a serious problem for Tehran. Azerbaijan definitely intends to maintain its partnership with Israel, since Baku regards it as a strategic direction of its foreign policy. That is especially true now that Baku feels more emboldened following the full restoration of its control over the Azerbaijani border with Iran and the de-occupation of most of its territories from Armenian forces. Moreover, wide popular support exists among Azerbaijanis for safeguarding the partnership with Israel in the wake of the Second Karabakh War (see EDM October 13, 2020 and November 10, 2020).
Indeed, an Israeli media outlet, Israel Hayom, reported in August 2021 that Azerbaijan and Israel are in talks over a $2 billion weapons sale to Baku (Israel Hayom, August 12; Asbarez.com, August 13). This news is a source of worry for Tehran, especially when combined with Azerbaijan's recent inauguration of its trade representative office with diplomatic status in Tel Aviv, Israel. The move is seen as foreshadowing Azerbaijan's potential opening of a full embassy in the latter country (Jta.org, August 2). If so, Azerbaijan would be the second Shia-majority state, after Bahrain, that has opened an embassy in Israel. And considering that Azerbaijan, Bahrain, Iran and Iraq are the only four Shia-majority nations in the world, the symbolic and psychological effects of such a move on Tehran would presumably be considerable. While air flights remain closed between Iran and Azerbaijan due to the COVID-19 pandemic, Azerbaijan and Israel have resumed Baku–Tel Aviv flights. In addition to Azerbaijan's flag carrier Azal, two Israeli airlines have now obtained permission to operate two flights between Baku and Tel-Aviv a week each; together this would mean almost daily flights between the two countries (Azertag, August 10). Even more dramatically, Israeli involvement in the reconstruction of the de-occupied Azerbaijani territories along the Iranian border is additionally taking shape (Azertag.az, April 27; News.az, June 7).
A number of other endemic and fresh troubles also exist in Azerbaijan's relations with Iran, including Tehran's concerns about Baku's influence over ethnic Azerbaijanis living in Iran as well as Iranian meddling in Azerbaijan's internal affairs (see EDM July 12). Yet the three main problematic aspects of their bilateral relationship, discussed above, can be expected to determine the trajectory of Azerbaijani-Iranian ties in the coming years under the Raisi presidency.