Armenian-Azerbaijani Conflict: Clash of Civilizations?
Publication: Eurasia Daily Monitor Volume: 17 Issue: 142
By: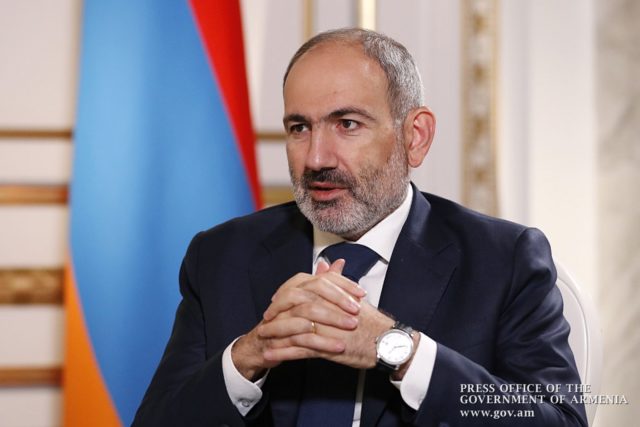 Armenian Prime Minister Nikol Pashinyan has framed the ongoing Karabakh hostilities as a "civilizational frontline" clash (Facebook.com/nikol.pashinyan, October 1). The fighting between Armenia and Azerbaijan over the Karabakh region and surrounding provinces erupted again on September 27, resulting in the heaviest violence there since the 1994 Russia-brokered ceasefire accords (see EDM, September 28, October 1). One of the most noticeable aspects of the present escalation (as well as the weeks leading up to it) has been mutual accusations of the warring parties that ostensibly religiously motivated mercenaries had been imported into the conflict zone (see EDM September 11). Such accusations reanimate a "clash of civilizations" discourse on the conflict—"Christian Armenia" against "Muslim Azerbaijan"—that has been picked up to one degree or another by various major international media outlets.
Baku's sovereign claims to Karabakh and the surrounding occupied territories remain on firm ground in terms of international law, the four United Nations Security Council resolutions reiterating the inviolability of Azerbaijani state borders, as well as the history of the conflict (see EDM, October 2, 2017 and May 4, 2020). Yerevan's strategy, in contrast, has largely sought to shift the discourse on the conflict to separate and often more emotionally charged issues that have been widely picked up by its influential diaspora around the world. And in part, that narrative has drawn on Armenia's long-running promotion of itself as a cradle of Christian civilization and the first Christian nation (Armenpress.am, April 6, 2017).
The theoretical origins of the clash of civilizations discourse on the Karabakh conflict can be traced directly to Samuel Huntington's famous 1993 Foreign Affairs article "Clash of Civilizations?" in which the Armenian-Azerbaijani war serves as one of the reference points to develop his thesis. Huntington calls Turkey and Azerbaijan "religious […] brethren," with the former country supporting the latter (Foreign Affairs, summer 1993). But his argument notably disregarded at least two incongruences. First, semantically, "brethren" is hardly applicable in this case: Religiously, Azerbaijan is more closely related to Iran as both are Shia-majority countries, unlike Sunni-majority Turkey. Moreover, Iran is arguably Armenia's second most important backer after Russia (see EDM, January 30, 2017 and October 15, 2018). Second, Turkish support to Baku during the Nagorno-Karabakh War in the early 1990s was, in fact, almost non-existent or negligible. Indeed, Azerbaijan's most pro-Turkey president, Abulfaz Elchibey, publicly voiced frustration on Turkish TV in 1993, complaining that Ankara would not even offer his country a couple of helicopters to evacuate Azerbaijani civilians from an imminent Armenian invasion of Kelbajar province (YouTube, October 7, 2016). Today, Turkish moral or political support is based more on Ankara's realpolitik and national interests. The rest is mostly rhetoric. And, as Huntington himself admits, religious beliefs shape identity but do not determine national interests, much less state behavior.
On September 29, Prime Minister Pashinyan claimed on Russia state television that a Turkish F-16 fighter jet took off from Azerbaijan and shot down an Armenian Su-25. In the same TV appearance, he reiterated his government's accusations that foreign Islamists are fighting on the side of Azerbaijan. This statement echoed earlier Russian media allegations that Turkey had transferred fighters from Syria to Azerbaijan (Russia.tv, September 29). Russian state-owned TV channels widely circulated these reports, condemned Ankara explicitly and Baku implicitly, and featured on-air experts who called for establishing a Russian air-defense umbrella over the occupied territories of Azerbaijan. Some major Western media outlets joined the cohort of Russian outlets to publish those claims without basic fact-checking (BBC News—Russian service, Reuters, RFE/RL, Hurriyyet Daily News, September 30). In doing so, they overlooked Azerbaijan's claims that Armenia had itself recruited foreign mercenaries to fight in Karabakh, which Armenian President Armen Sarkissian publicly acknowledged in an interview with Al Jazeera (Anadolu Agency, September 28; President.am, October 1). On October 5, Azerbaijani President Ilham Aliyev demanded an apology from his French counterpart, Emanuele Macron, who made similar accusations about foreign mercenaries fighting on Azerbaijan's side (Azertag.az, October 5).
Despite stories of Syrian militants operating in Karabakh continuing to spread across the media, these reports remain difficult to corroborate and the evidence has been shaky. One of the most widely cited sources for the claim was a report by the Syrian Observatory for Human Rights (SOHR), yet its conclusions have been routinely mischaracterized. First of all, the SOHR's statement notes that, according to its sources, Syrian mercenaries have also joined Armenian forces in Karabakh. And further undermining the "clash of civilizations" narrative on the conflict, the SOHR pointedly alleges that foreign fighters have primarily been attracted to the war zone for economic, not religious reasons (Syriahr.com, September 30).
A 2008 analysis by Michael Taarnby, a research fellow at the Danish Institute of International Studies, concluded that an Islamist presence in Azerbaijan was unwelcome by the authorities, and in fact, in the 1990s, when the Azerbaijani army was weak, foreign fighters wanted to fight in Karabakh "for gold, not for God." The conflict is "much more ethnic, nationalistic and territorial than religious" (Realinstitutoelcano.org, September 5, 2008). The online and offline appeal of the Karabakh conflict to religiously motivated foreigners remains nearly nonexistent, with effectively no evidence that might be reminiscent of the flocking of some religiously motivated Christians to the Balkans or Muslims to Chechnya in the 1990s (Foreign Policy, May 24, 2019).
However, the narratives propagated by many international media outlets have convinced a portion of the Azerbaijani public of widespread pro-Armenian bias in Western news coverage allegedly rooted in "Christian solidarity" with Armenia. And that popular perception increasingly extends to international governance bodies tasked with mediating the Karabakh conflict—most notably the Organization for Security and Cooperation in Europe's (OSCE) Minsk Group, whose three co-chairs (France, Russia and the United States) all happen to be Christian-majority states. Namely, in early September, French President Emmanuel Macron declared, "I say to Armenia and to the Armenians, France will play its role" to prevent Azerbaijan from retaking its occupied territories. In response to such statements, Baku occasionally calls for "Islamic solidarity" on the issue, a phrase it incidentally also periodically employs to rebuke Tehran for its support for Yerevan (President.az, September 30; France24, September 7).
The fact that Shia-Muslim Iran is more closely aligned with Armenia while its Shia-majority neighbor Azerbaijan maintains a strategic partnership with Israel is a crushing argument against the clash of civilizations discourse on the Karabakh conflict. The war is inherently religious neither for Armenia nor Azerbaijan (see EDM, January 30, 2017; Tagesschau.de, October 4, 2020). Still, some foreign actors' propensity to see it through Huntington's civilizational paradigm encourages Azerbaijan and Armenia to exploit such international attitudes to push their own positions.