Back to Normal? The End of the THAAD Dispute between China and South Korea
Publication: China Brief Volume: 17 Issue: 15
By: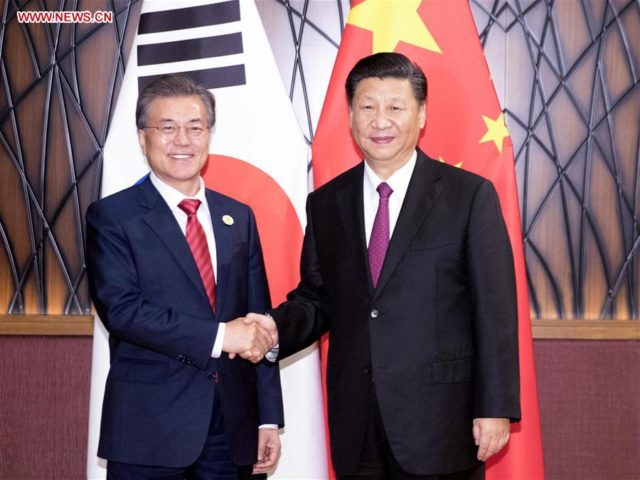 On October 31, after a long standoff over South Korea's deployment of the U.S. Terminal High Altitude Area Defense (THAAD) system, China and South Korea agreed to return to the "normal development track" (正常发展轨道) (Ministry of Foreign Affairs, October 31). The leaders of the two countries confirmed the rapprochement in a bilateral meeting during the Asia-Pacific Economic Cooperation (APEC) summit on November 11. President Xi Jinping praised the October agreement as a "fresh start," calling for a masterplan to develop their relations further for the next phase. South Korea's President Moon Jae-in also expressed optimism about the restoration of bilateral relations, citing a famous line from the Book of Songs (诗经), a "plum blossom endures the pain of cold winter" (梅经寒苦) (China Daily, November 11; Yonhapnews, November 12).
Although it appears that the THAAD row between Beijing and Seoul is now finally over, the dispute is worth examining as an example of how China uses its economic power to coerce other countries into meeting its demands.
How the THAAD Dispute Began
Until South Korea's decision to deploy THAAD in 2016, Beijing and Seoul maintained an excellent relationship. Previous South Korean President Park Geun-hye pleased Xi by attending China's military parade commemorating the 70th anniversary of the end of World War II, despite U.S. concern over Seoul's tilting relationship with Beijing (China Brief, September 16, 2015). Although China had occasionally expressed its concerns about South Korea's potential introduction of THAAD, Seoul reassured Beijing by maintaining "Three No's"—there had been no request, no consultation, and no decision regarding the THAAD issue made by the United States or South Korea (OhmyNews, March 11, 2015).
The Sino-South Korean honeymoon reached a turning point after North Korea's fourth nuclear test in January 2016. A week after the test, President Park stated that she would review the issue "solely based on our security and national interests" (Seoul Shinmun, January 13, 2016). South Korea soon began discussions with the United States, and on July 8, it officially announced that THAAD would be installed as a "defense measure to protect the people of South Korea and the armed forces of the South Korea-U.S. alliance." Seoul also tried to satisfy Beijing by stressing that the system "will focus only on the threats from North Korea and will not be used against a third party" (Ministry of National Defense, July 8, 2016).
Despite the caveats, China was furious. Thirty minutes after the South Korean announcement, the Chinese foreign ministry expressed "strong dissatisfaction and firm opposition" (强烈不满和坚决反对) (MFA, July 8, 2016). According to one estimate, during the month that followed the Chinese government issued 27 statements and People's Daily ran 265 articles criticizing Seoul's decision (JoongAng Ilbo, December 7, 2016).
South Korean policymakers downplayed messaging from Beijing, and underestimated the risk of China's retaliation. Deputy Prime Minister Yoo Il-ho predicted that "as a member of WTO, China may find it difficult to take punitive economic measures on political issues," and Prime Minister Hwang Kyo-ahn confidently stated that "it may not be easy [for China] to bring economic retaliation due to the structural economic interdependence between the two countries" (Jugan Kyunghyang, February 23, 2016; News 1, July 19, 2016).
China's Economic Retaliation Against South Korea
In the following months, however, China proved that it had a variety of methods at its disposal to damage the South Korean economy.
Fallout from the THAAD dispute affected the entertainment industry first. From August 2016, Korean celebrities who had enjoyed enormous popularity in China began to disappear from Chinese TV shows and commercials for unclear reasons. Concerts were suddenly cancelled, and it was rumored that the Chinese state agencies had banned Korean shows, movies and celebrities (限韩令, xianhanling) (Chosun Ilbo, September 27, 2016).
The next target was the tourism industry. In October 2016, Korean news media reported that China's National Tourism Administration (NTA) instructed Chinese travel agencies to decrease the number of South Korea-bound travelers by 20 percent (JoongAng Ilbo, October 25, 2016). The next day, stock prices of major South Korean hotel chains, cosmetics companies, and duty-free shops, which had been earning more than half of their revenues from Chinese tourists, fell by seven to eight percent. The NTA immediately denied the report, but did not respond to the South Korean government's repeated requests for an explanation of the decrease (Global Times, October 26, 2016; Yonhapnews, December 8, 2016).
Despite Beijing's pressure, Seoul did not stop the deployment. In November 2016, Korean conglomerate Lotte agreed to provide its golf course in the southeastern county of Seongju as a deployment site. Beijing responded by launching massive retaliation against Lotte, subjecting the retail giant's business in China to extensive tax investigation and safety inspections (Chosun Ilbo, December 1, 2016). As a result, 87 out of Lotte's 112 hypermarket stores in China were shut down, and its mega-construction projects were stalled. According to one estimate, the South Korean conglomerate suffered $2.2 billion in losses (Yonhapnews, October 31).
As Seoul continued the deployment process in 2017, Beijing turned the screw further to put more pressure. Along with increasing sanctions on the entertainment and tourism industries, China began to impose informal penalties on South Korean consumer goods companies. According to an investigation by South Korea's government ministries, between March and October 2017, hundreds of South Korean companies handling consumer goods in China were subjected to various informal punitive measures such as delayed customs clearances, tightened sanitary inspections, forced removal of products from stores, unilateral cancellation of marketing events and refusal of business visas.
During this campaign, China's economic reprisals had three distinctive features:
First, Beijing punished Seoul in an informal, but visible manner. China maximized the symbolic and psychological impact of sanctions by selecting the entertainment and tourism industries as its first and second targets. Although these industries only accounted for less than five percent of South Korea's China-bound exports, they easily attracted the media's attention, increasing the visibility of the sanctions. However, the Chinese government avoided public acknowledgment of the sanctions by not issuing formal legislation or documented instructions, and has never admitted the very existence of government-sanctioned punitive measures related to the THAAD dispute. South Koreans felt the increasing economic pain inflicted by Beijing, but it was not easy for them to point the finger at the Chinese leadership due to the lack of tangible evidence.
Second, China minimized the negative impact on its own economy by carefully targeting the South Korean companies outside of its manufacturing value chain. South Korea's essential role in the global value chain has been as a provider of intermediary goods for China. Thus, if Beijing wanted to inflict maximum pain on Seoul, it would have targeted the intermediary goods in the IT sector, such as display panels and semiconductors, which account for the largest share—about 50 percent—of South Korea's exports to China (KOTRA, August 28). Such a move would have damaged China's electronics companies, which lacked viable alternative providers of these key components.
Third, China did not attack South Korea's financial sector, its weakest point. In February 2016, Beijing became Seoul's biggest creditor, holding approximately 18 percent of South Korea's public debts (Financial Supervisory Service, March 17, 2016). China could have severely damaged Seoul's financial market by selling South Korean bonds, but chose not to use that option. It appears that China shied away from attacking the financial sector because such a drastic measure might prompt Seoul to turn its back on Beijing entirely. Due to the economic reprisal, for the first time in modern history, China became the most unpopular country among the South Korean people in March 2017 (Asan Institute, March 19). In such a situation, South Korea's presidential election triggered by President Park's impeachment may have led Beijing to save this 'nuclear option' and further observe political developments in Seoul with caution (China Brief, April 20).
The New Three No's and the End of the Dispute
Soon after his inauguration in May 2017, President Moon demonstrated considerable effort to restore the relationship with China through multiple diplomatic channels. Beijing responded with positive signals such as high-level contacts and the renewal of the bilateral currency swap deal in mid-October. On October 31, Beijing and Seoul announced a joint statement on their rapprochement.
The rapprochement deal shows that China and South Korea decided to end their feud by seeking common ground while putting differences aside (求同存异). Although the joint statement declared a restoration of their bilateral cooperation, it revealed the remaining difference between the two parties' views regarding the nature and implications of THAAD. Beijing restated its opposition to THAAD, its concerns about the U.S.-led regional Missile Defense (MD) program, the deployment of additional THAAD batteries, and the U.S.-South Korean-Japanese military cooperation (MFA, October 31).
Seoul did not explicitly present its position on the latter three issues in the statement, but it answered Beijing's requests indirectly. On October 30, a day before the announcement of the joint statement, South Korea's Foreign Minister Kang Kyung-wha stated in a National Assembly hearing that Seoul had no intention to (1) install additional THAAD batteries, (2) participate in a regional missile defense system, and (3) form a trilateral alliance with the United States and Japan (Chosun Ilbo, October 30). Although the immediate audience was South Korean lawmakers, the real recipient of the message was Beijing, which immediately welcomed Seoul's new "Three No's" policy (MFA, October 30). Furthermore, President Moon reconfirmed this policy by stating that he did not think the trilateral alliance is desirable and will pursue "a balanced diplomacy with the US as well as China" (Channel NewsAsia, November 3).
Although Seoul did not remove its THAAD battery, it appears that Beijing agreed to end its economic retribution in return for Seoul's new "Three No's" policy. Although the joint statement did not mention the punitive measures Beijing had taken against Seoul, according to South Korean officials who participated in the negotiation, Chinese officials implicitly suggested the lift of the sanctions by promising that South Koreans "will now be able to feel the warmer atmosphere in the bilateral relations" (Chosun Ilbo, October 31).
While restoring its relationship with Beijing, Seoul also began to seek a way to decrease its economic dependence on China. In November, unveiling his "New Southern Policy," Moon announced his plan to increase South Korea's trade with the Association of Southeast Asian Nations (ASEAN) to the same level as its trade with China (JoongAng Ilbo, November 10). Further moves by South Korean corporations, some of which already began to diversify their investments from China to Southeast Asia and India, are expected to expand Seoul's effort.
Conclusion
For President Xi, the final outcome of the economic coercion against South Korea may be considered a partial success. Although THAAD will remain in South Korea, he succeeded to draw Seoul's reassurance to Beijing that South Korea will distance itself from a regional missile defense system and a potential anti-China coalition. This is not a minor achievement for China, which has to address the challenge of an emerging "Indo-Pacific" security network led by the United States.
The final agreement was not a bad deal for South Korea's President Moon, since the new "Three No's" are not really new for Seoul, which had always been cautious of participating in regional missile defense and strengthening its security cooperation with Tokyo. Unlike his predecessor Park, who disappointed Xi with her sudden decision to deploy THAAD after the long honeymoon with Beijing, Moon is more likely to remain committed to balanced diplomacy to receive China's support and assistance in implementing his engagement policy toward North Korea.