BADRI PATARKATSISHVILI'S GEORGIA OPERATION
Publication: Eurasia Daily Monitor Volume: 4 Issue: 210
By: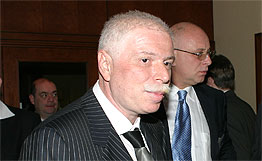 Georgia reckons with the possibility of Russian hostile operations between November 2007 and April 2008 in connection with four major political deadlines: First and second, Russia's parliamentary and presidential elections (December and April), which might again be accompanied by some military operation of choice, as Moscow twice orchestrated during the 1990s. Third, Kosovo's independence referendum (December) and subsequent recognition by a number of Western countries, to which Russia might respond symmetrically or asymmetrically in Abkhazia and South Ossetia. And, fourth, NATO's Bucharest summit (April), ahead of which Moscow might stage some political or military operation to derail Georgia's Membership Action Plan.
Georgian leaders refrained from disclosing these concerns until November 4-5, when President Mikheil Saakashvili briefly outlined those contingencies in his address to the nation (Georgian Public TV, Civil Georgia, November 4, 5). At that point, an unanticipated operation was in full swing, with billionaire businessman Badri Patarkatsishvili coordinating an opposition alliance of ten small parties (and two others cooperating with them) pushing for immediate regime change.
The campaign pursued openly anti-constitutional goals, but used peaceful tactics to be perceived as democracy in action. Whether Patarkatsishvili led this movement as his personal agenda or as Moscow's conduit — and, in the latter case, whether willingly or pressured — is a matter of conjecture in Georgia at this point.
Patarkatsishvili had earned his fortune in Russia's crime-ridden business of the 1990s as a close ally of Boris Berezovsky. Returning to Georgia in 2000-2001, He became the single most influential individual in the country during the nadir of Eduard Shevardnadze's presidency. After 2003 the Rose Revolution leaders curbed Patarkatsishvili's political influence while simultaneously refusing Russian requests to extradite him on criminal charges. Patarkatsishvili pursued his business unhindered and also founded Imedi Television, which became a powerful political tool. He moved into moderate opposition to the authorities by 2006, and then in late September-early October 2007 suddenly launched his bid to overturn the constitutional order.
On September 28 the opposition alliance started its regime-change campaign. On October 10 Patarkatsishvili announced his intention to lead that campaign. On October 17 he and the opposition alliance released convergent programs. Patarkatsishvili's called for: Turning Georgia into a "federation" of ten provinces (other than Abkhazia and South Ossetia) with a bicameral parliament, maximizing provincial powers while reducing those of the central government to a minimum, abolishing the institution of the presidency, introducing a constitutional monarchy in the future, "balancing relations with different countries," and seeking close relations with NATO and the European Union "but not at the expense of other [countries'] interests" (Messenger, October 19).
While the foreign policy planks hinted at a two-vector policy replacing Tbilisi's Western orientation, the constitutional changes as proposed would have turned Georgia into a dysfunctional entity. Hardly an academic constitutional experimenter, Patarkatsishvili must have been fully aware of the consequences of his proposals in Georgia's circumstances. On October 28 Patarkatsishvili announced that he would finance the opposition's rallies; and on November 1, that he would also finance opposition parties as such.
These announcements almost certainly confirmed an already existing situation with regard to funding. The ten small parties in the opposition alliance were in no position to campaign on their own (see EDM, October 26, November 5, 6).
Six consecutive days of rallies in downtown Tbilisi saw the attendance decrease from 50,000 or more on November 2 to an average of 10,000 on November 3 through 6, and to less than 1,000 on the morning of November 7. Despite the numerical decrease, opposition leaders radicalized their rhetoric; and as a last resort moved to install a tent camp in the city center. That move helped precipitate the police intervention on November 7, with some instances of excessive and indiscriminate force being used in Tbilisi and a national state of emergency for 15 days.
Patarkatsishvili addressed the November 2 rally, left for Israel the next day, and issued a communiqué from London on November 7, vowing: "All my financial resources including the last penny shall be applied to freeing Georgia from this fascist regime." The communiqué termed the Georgian government a "junta," the head of state and his team "berserk," the authorities in general as having "lost legitimacy," and his own Imedi TV a "free voice of the people" (Interfax, Interpress, November 7). On November 9 Patarkatsishvili was charged in absentia with conspiracy to overthrow the government and was summoned to appear for questioning in Tbilisi.
The opposition alliance had used that inflammatory language all along. Well before November 2, and also during the five days of unimpeded rallies in Tbilisi, opposition leaders (most of them unelected) termed the elected authorities "terrorists" and "criminals," declared them illegitimate, called for a "Georgia without president," and incited the public to overthrow of the constitutional system. The populace did not respond and the authorities tolerated this conduct until November 7.
The state of emergency is likely to be lifted before the expiry of the 15-day period. However, Patarkatsishvili's operation has forced the holding of a pre-term presidential election, which is scheduled for January 5. Georgia may have to handle one or more of the four possible Russian operations against itself in the midst of Georgia's presidential campaign. Thus, the absence of a viable opposition increases Georgia's vulnerability both as a democracy and as a state.
(Civil Georgia, The Messenger, November 7-11)