IMEDI TELEVISION: USE AND MISUSE OF A GEORGIAN TELEVISION CHANNEL
Publication: Eurasia Daily Monitor Volume: 4 Issue: 211
By: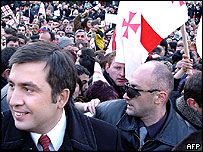 The anti-government Imedi TV was taken off Georgia's airwaves, along with the pro-government Rustavi-2 TV and other television channels, on November 7 when Georgian President Mikheil Saakashvili declared a 15-day state of emergency. The move helped end the rallies and disturbances in downtown Tbilisi, instigated largely via Imedi TV, to overturn the constitutional order and force regime change.
Before reaching that point, Imedi had mutated from a balanced outlet to a tool of billionaire businessman Badri Patarkatsishvili; from an alternative source of information to a political actor; and from a necessary element in Georgia's democratic media landscape to a battering ram against orderly democratic processes. Patarkatsishvili — or possibly Russian authorities behind him — decided in September to launch political warfare against the Georgian government and misused Imedi TV in this campaign.
Patarkatsishvili, who had earned his fortune in Russia's crime-ridden business of the 1990s, founded Imedi TV in 2003 in Georgia as his fully owned enterprise. During Eduard Shevardnadze's presidency, Patarkatsishvili could buy government ministers. More recently he could only "privatize" the radical opposition, by financing that ten-party alliance, as he confirmed in October-November 2007 amid the regime-change campaign he led. Imedi's stance was not always militantly partisan; rather, it followed its owner's evolution from moderate to militant opposition.
Imedi TV could not be profitable in Georgia's meager advertising market. Patarkatsishvili almost certainly financed it outright. Prior to the recent events, Imedi had practiced balanced journalism. However, Patarkatsishvili's control ultimately degraded the channel. Having placed himself at the head of the radical opposition alliance, he used Imedi TV to drum up support for the rallies he helped stage.
Imedi's reports from the rallies served to propagate instigation to unlawful actions and systematic calls to overthrow the legitimate authorities, using a public channel. The reportage grew particularly shrill on November 7, when protest leaders facing a plummeting audience decided in desperation to install a tent camp in the city center. This precipitated police intervention — with excessive and indiscriminate force in some cases — and the declaration of a state of emergency.
The state of emergency involves restraining freedom of expression and freedom of assembly. Georgia's constitution guarantees protection of the right to freely receive and disseminate information. However, this right can be restricted under the law, in circumstances that require protecting state security and public safety or preventing crime.
Georgian television and radio companies are regulated by the Law on Freedom of Speech and Expression (adopted in 2004). Under this law, free speech is protected, unless it constitutes incitement that creates a clear and present danger of criminal acts. By the same token, the Law on Broadcasting prohibits broadcasts that contain incitements to hatred and violence. This type of rhetoric intensified as attendance at the rallies shrank to the most radical core.
Police entered the premises of Imedi TV in the evening of November 7. Western diplomats who visited those premises since then have not confirmed the initial reports about devastation of the studios and equipment.
In 2006 Patarkatsishvili sold 49% of Imedi's shares to Rupert Murdoch's News Corp. He sold another 2% to Murdoch in October 2007 and handed over the operating rights officially to News Corp. on October 30. This was meant ostensibly "to avoid conflict of interest" between Patarkatsishvili the political leader and Patarkatsishvili the television owner. However, it seems that Patarkatsishvili retained effective control of Imedi's political programming and editorial content until the November 7 shutdown.
Murdoch's News Corp. has the reputation of a profit-oriented media enterprise. However, Imedi TV seems hardly an interesting business proposition in a small and poor advertising market.
How will News Corp. handle the political ramifications of its Georgia business is not yet clear. It slipped into partisanship on one occasion: In an open letter published on October 19, its Tbilisi-based CEO, F. Lewis Robertson, declared, "[Georgia's] government has little if any trust, as far as I can tell. … From where I sit, the President neither enjoys the support or trust of the Georgian people." He did not cite any evidence from public opinion surveys to back such assertions (The Messenger [Tbilisi], October 19). The CEO made these comments in the context of suggesting to government officials that it was in their own interest to appear on Imedi TV. During these events, protest leaders refused to appear on the pro-government Rustavi-2 TV while government officials would not appear on Imedi.
When Imedi was shut down, Patarkatsishvili had already joined his long-time ally Boris Berezovsky in London. From there he vowed to spend his fortune "up to the last penny" to overthrow the "fascist" Georgian government (Interfax, Interpress, November 7). He evidently counts on using Imedi TV again for his agenda when the channel reopens.
After these events, handing Imedi TV back to Patarkatsishvili's operational control would be a disservice to independent journalism and a potential threat to stability in Georgia. Clearly the channel needs a reputable board of directors or similar independent professional authority to ensure the integrity of its operation when it reopens.
(Civil Georgia, The Messenger, November 8-12; see EDM, November 12)