RUSSIAN SOLDERS LEAVE SOUTH GEORGIA, OTHERS DEPLOYED IN THE NORTH
Publication: Eurasia Daily Monitor Volume: 4 Issue: 212
By: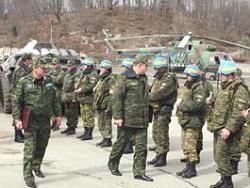 This week Russian military officially transfer control of Russia's last significant permanent military base in southern Georgia. The base was located along the Black Sea at Batumi, home of a major Caspian oil-exporting terminal near the Turkish border. On Thursday November 15, the last train, carrying the last Russian solders and military equipment, will leave Batumi bound for the Russian base at Gyumri in Armenia (RIA-Novosti, November 13).
During the Cold War Batumi was the home base of a frontline armored motor-rifle division facing Turkey and NATO. After the Soviet Union collapsed in 1991, Russian troops were withdrawn from forward positions in Central and Eastern Europe to Russian territory. Four former Soviet bases remained in the Caucasus: two bases in Georgia (Batumi and Akhalkalaki) and two in Armenia (Gyumri and Yerevan). In 2004, the base in Batumi had 2,590 military personnel, 74 tanks, 120 heavy guns, and 80 combat armored vehicles. While the number of military personnel was relatively small, significant amounts of equipment and heavy arms were stockpiled. The base in Akhalkalaki housed 2,000 military personnel, 40 tanks, 50 heavy guns, and 130 combat armored vehicles (Nezavisimoe voennoe obozrenie, August 20, 2004). The Russian military retained the option to airlift military personnel into these bases to swiftly expand its divisions in Batumi and Akhalkalaki into full-strength if needed.
Under a 2005 agreement, the Russian military agreed to fully close their bases during 2008, but the withdrawal is actually ahead of schedule. The headquarters of the Russian forces in the South Caucasus in Tbilisi closed in December 2006, the base in Akhalkalaki closed in June 2007, and the base in Batumi will follow this week. There are six small non-combat military installations left in Georgia that will be handed over to the Georgians in the coming days. The commander of the North Caucasian Military District, General Alexander Baranov, who is also in overall command of Russian forces in the Caucasus, has announced that by December 1, "There will be not a single Russian solder left in Georgia" (Interfax, November 10).
This is not entirely true. There are Russian peacekeepers deployed on Georgian territory, some 500 in South Ossetia and over 1,500 in Abkhazia. The Russian military has announced that the base in Gudauta, Abkhazia, has closed, but it has not been transferred to the Georgians and is still used by peacekeepers, which the Georgian government does not consider welcome on its sovereign territory.
In recent years the bases in Batumi and Akhalkalaki and other military installations in Georgia have become a serious strategic liability. In the event of a major confrontation with Tbilisi over Abkhazia and/or South Ossetia, the Georgians could have easily overrun the relatively small and isolated Russian military installations in Georgia. The troops in Batumi and Akhalkalaki were mostly local people employed as Russian contract solders and likely would offer only token resistance. The Russian officers could have been taken prisoner and significant stockpiles of arms, munitions, and military supplies could have been captured, significantly boosting Georgia's fighting potential.
Now the men, tanks, and guns have been moved to safety, mostly into Armenia, but will still be deployed in the South Caucasus. The sudden haste of the final withdrawal from Georgia is not at all a good sign: With the dilapidated bases on the Turkish border out of the way, Russia may take on the Georgians in Abkhazia and South Ossetia more aggressively.
In the latest major incident, on October 30 Russian peacekeepers disarmed and harassed several Georgian policemen in the Zugdidi area on the border with breakaway Abkhazia (see EDM, November 1). Georgian President Mikheil Saakashvili told me in Tbilisi on November 3 that several of the Russian peacekeepers involved in the Zugdidi incident were in fact Chechen fighters in Russian army uniforms, members of the kadyrovtsy, former Chechen rebels that changed sides to serve pro-Kremlin Chechen leader Ramzan Kadyrov. In the Abkhaz-Georgian war of 1992-93, a battalion of Chechen rebel volunteers led by warlord Shamil Basaev fought against the Georgians, supplied and supported by Russian troops. After 1994 the Chechen Abkhaz war veterans, led by Basaev, turned to fight the Russians. Saakashvili was dismayed that Moscow is again arming and sending Chechen fighters into Georgia.
This week Georgian Minister for Conflict Resolution David Bakaradze announced that Russia had illegally moved 200 solders, five tanks, four Grad multiple rocket launchers, five armored personnel carriers (APCs), and seven howitzers into the Ochamchira region of Abkhazia, while the mandate of Russian peacekeepers allows only APCs. The Russian and Abkhaz military promptly and fully denied any such deployment (Interfax, November 12). Appearing on an NTV talk show Sunday November 11, Kremlin-connected political analyst and prominent ruling United Russia party member Vyacheslav Nikonov (grandson of Soviet leader Vyacheslav Molotov), announced, "Additional Russian troops must be deployed in Abkhazia and South Ossetia to deter a Georgian attack and defend Russian citizens." Nikonov is expected to win a seat in the December 2 Duma elections and may become chairman of the Duma Foreign Relations Committee.
The "preventive" deployment of additional Russian troops, including Chechen fighters in Georgia may be underway, while officially "the last solders are leaving." Instead of preventing armed conflict, such redeployment may in fact provoke war.