BAKU-TBILISI-CEYHAN OIL PIPELINE INAUGURATED
Publication: Eurasia Daily Monitor Volume: 2 Issue: 105
By: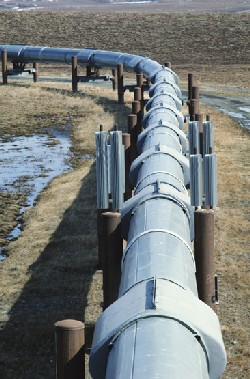 The first stage of the Baku-Tbilisi-Ceyhan (BTC) oil export pipeline was officially inaugurated on May 25 at the Sangachal shore terminal, south of Baku. The presidents of Turkey, Azerbaijan, Georgia, and Kazakhstan, as well as BP President Lord John Browne, U.S. Energy Secretary Samuel Bodman, State Department South Caucasus Envoy Steven Mann, European Union Energy Commissioner Andris Piebalgs (of Latvia), Naftohaz Ukrayiny President Oleksiy Ivchenko, and other high-level officials attended. U.S. President George W. Bush, the prime ministers of Britain, Italy, Norway, and Japan (countries whose oil companies are involved in the project), and Ukrainian President Viktor Yushchenko sent messages underscoring the project's importance to oil consumer countries. Russia boycotted the inaugural events.
The BTC pipeline consortium is made up of BP with a 30.1% stake as project operator, Azerbaijan's State Oil Company with 25%, the American companies Unocal (8.9%), Conoco-Phillips (2.5%), and Amerada Hess (2.35%), Norway's Statoil (8.7%), Turkish Petroleum (6.5%), Italy's ENI (5%), Total of France (5%), and the Japanese-based Itochu and Inpex with 3.4% and 2.5% stakes, respectively.
The pipeline will carry oil from Azerbaijan's Azeri-Chirag-Guneshli offshore fields, which hold proven recoverable reserves of 900 million tons of oil. The Azerbaijan International Operating Company (AIOC) is developing those fields under the 1994 production-sharing agreement with Azerbaijan, at a cost of $13 billion in investment for the duration the life of the project. AIOC includes BP with a 34.1% stake as project operator, Azerbaijan's State Oil Company with 10%, Russia's Lukoil (10%), Statoil (8.6%), the American companies Unocal (10.2%), ExxonMobil (8%), Devon Energy (5.6%), and Amerada Hess (2.7%), Turkish Petroleum (6.8%), and Itochu (3.9%).
From the Ceyhan terminal and its Yumurtalik port on the Mediterranean coast of Turkey, supertankers will ship the Azerbaijani oil to consumer markets. Countries in southern Europe will be the main consumers during the early stages of operation of the oilfields and the pipeline.
The line runs from the Sangachal terminal to Ceyhan for a total length of 1,760 kilometers, including 445 kilometers in Azerbaijan, 245 in Georgia, and 1,070 in Turkey. It is equipped with eight pumping stations — two in Azerbaijan, two in Georgia, and four in Turkey — ensuring an oil-flow speed of two meters per second. The pipeline's throughput is scheduled to increase from 8 million tons (150,000 barrels daily) in 2006 to the design capacity of 50 million tons annually (1 million barrels daily) by 2008-2009 and thereafter, when production at AIOC's three oilfields reaches maximum levels.
Construction work on the BTC pipeline began in 2003, correlated with the development and production schedule at the three oilfields. U.S. and Japanese government banks, the World Bank's International Finance Corporation, and the European Bank for Reconstruction and Development provided credits covering 70% of construction costs. The BTC consortium members covered 30% of the costs. Initially budgeted at $2.9 billion, the construction costs will reach $3.5 billion to $4 billion by the time work is completed in the fourth quarter of 2005.
The work has been completed on the Azerbaijani section and is due for completion on the Georgian and Turkish sections in this year's third quarter, at which point the full length of the pipeline will be filled with oil. Before the end of the year, the first tanker should load Azerbaijani oil from Ceyhan.
Membership by oil companies in AIOC and BTC is overlapping, though not identical. Companies that are members of the BTC consortium will enjoy preferential tariffs of $3-$4 per barrel for exporting their oil through the pipeline. Non-BTC-member companies will be able to use the pipeline by contractual arrangements.
The line's design life is 40 years. This presupposes that a growing share of the throughput will originate on the eastern Caspian shore, once the output at Azeri-Chirag-Guneshli levels off and begins to decline after 2015.
According to BP Azerbaijan president David Woodward (confirming a recent statement by Azerbaijan's State Oil Company chief Natig Aliev), the BTC line's throughput capacity can be increased to 90 million tons annually by adding compressor stations and using chemical agents inside the pipeline. Such an increase can accommodate massive volumes of eastern Caspian oil. Four companies involved in developing Kazakhstan's super-giant offshore Kashagan field are also members of the BTC consortium and thus entitled to the preferential tariffs.
The AIOC consortium will continue using the 1999-inaugurated Baku-Supsa (Georgia) pipeline to its annual capacity of 5 million tons, concurrently with BTC, for an open-ended period of time. After the first year of BTC's operation, however, AIOC and Azerbaijan seem likely to stop using the Soviet-built, now dilapidated, 5 million ton per year Baku-Novorossiysk (Russia) pipeline. There, Russia's state pipeline monopoly Transneft is currently charging the inordinately high tariff of ca. $16 per ton, and Azerbaijan incurs further losses when its high-quality oil is mixed with the Urals blend.
(ANS, Turan, Khabar, Azerbaijani TV Channel One, May 24-26; Oil and Gas Journal, May 25)