Bangladesh Launches Crackdown on Islamist Threat
Publication: Terrorism Monitor Volume: 14 Issue: 13
By: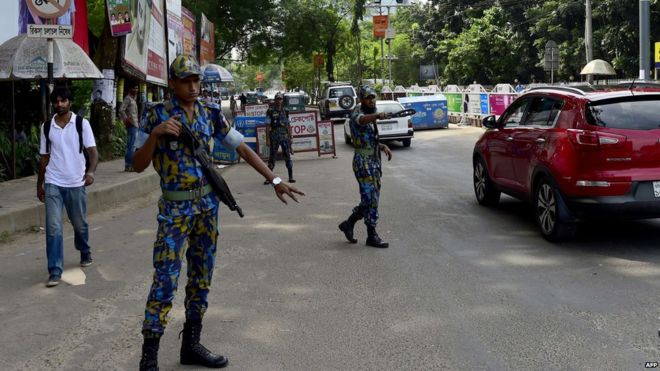 After months denying the existence of transnational jihadist groups on its soil in the face of a violent campaign against secular and progressive forces, Bangladeshi authorities appear to have woken up to the reality of extremist militancy.
Following a series of knife and machete attacks, shootouts, and sectarian assaults usually directed against those criticizing Islamists prejudices and religious fanaticism, the Bangladeshi government initiated a countrywide crackdown on Islamist extremists on June 10. The search and sweep operations covered most of the hotspots of Islamic militancy, including the capital Dhaka, Chittagong, Bogra, Khulna, Dinajpur, Rangpur, Kushtia, Gaibandha, and Rajshahi. An unprecedented number of suspects engaged in criminal activities in the country were apprehended during the weeklong operation.
Among those arrested were at least 194 militants linked to outlawed local Islamist networks such as Harkat-ul-Jihad-al Islami Bangladesh (HuJI-B), Jamaatul Mujahideen Bangladesh (JMB), Hizb ut-Tahrir, and Ansarullah Bangla Team (ABT). The police also seized large amounts of firearms, explosives, machetes, motorbikes, and jihadi literature during the raids (BD News24.com, June 19).
Bangladesh's Internal Affairs Minister Asaduzzaman Khan Kamal underscored that to contain the violent attacks on secular individuals, free thinkers, and the country's minorities (generally speaking, a reference to Hindus, Christians and Buddhists) there may be another round of crackdowns soon.
Attacks on Liberals and Minorities
This massive pan-Bangladesh operation was in fact triggered by events that occurred in the preceding week. Suspected militants in Chittagong city attacked and killed Mahmuda Khanam Mitu, the wife of acclaimed local counter-terrorism official Babul Akhter (Dhaka Tribune, June 6). Suspicion fell on the al-Qaeda linked Ansar al Islam, the Bangladesh chapter of al-Qaeda in the Indian Subcontinent (AQIS), and its strike unit ABT. Perhaps sensing the coming retributions and societal backlash, however, Ansar al-Islam branded the killing "impermissible under Islam" and distanced itself from Aktar's murder (SITE Intelligence, June 10; BD News24.com, June 11).
On the same day, June 5, Islamic militants also killed Sunil Gomez, a Christian grocery shop owner, in Baraigram, Natore district. Within the next few days, militants killed a Hindu priest named Ananta Gopal Ganguly in Naldanga area in Jhenaidah district. Islamic State (IS) subsequently claimed responsibility for the deaths of Gomez and Ganguly through its Amaq News agency, a pro-IS media outlet that emerged in 2014 in the midst of the crisis in Syria (Dhaka Tribune, June 07).
Over the past three years, the Islamist terrorists, who openly claim affiliations with IS and AQIS, have killed or injured more than 50 people in Bangladesh. Often they attack in broad day light with machetes or crude homemade firearms. The attacks have targeted freethinkers, secular writers, liberal intellectuals, and religious minorities, all with relative impunity facilitated by divisions within Bangladesh's own political establishment.
Government in Denial
In the face of these attacks, the Bangladeshi government denied the presence of IS or AQIS in the country, putting the blame instead on the Bangladesh Nationalist Party (BNP), the country's main opposition party, and the banned religious organization Jamaat-e-Islami.
For its part, the BNP continues to insist blame should fall on the ruling Awami League for misgovernance and "the absence of democracy." It has reiterated many times that the activities of extremist militant groups have grown as the government has resorted to "the course of violence in governing the country" (New Age Bangladesh, May 22). The BNP has also claimed the recent raids were designed to stifle political dissent and to detain its leaders and activists.
Amid the country's long-standing political and religious divide, Islamic militants of varied hues are finding opportunities to reinvent themselves with the blessing of IS or AQIS, which are attempting to establish and expand their presence in the country.
The deteriorating law and order situation in Bangladesh has proved to be a fertile ground for the militants, providing space for these two groups to develop their operations. Al-Qaeda, which has a history engagement with Bangladesh dating back to the 1990s, found new avenues of support in early 2013 during the Shahbagh movement and the calls for Bangladeshi Islamist leader Abdul Quader Molla to face the death penalty. The turmoil engendered by those protests, which saw violent confrontations between secular and Islamist forces, presented an opportunity for the group to re-establish its influence. It was during this time that Ansar Islam and ABT emerged, acting in line with al-Qaeda's regional jihadist agenda.
Evidently, the political and religious situation also offered an opportunity for the then Syria-based IS to create pockets of influence in Bangladesh through existing militant networks – especially by using the subdued JMB, newly formed hybrid groups like Islamic State of Bangladesh (ISB), or Jund al-Tawheed wal Khilafah (JTK) – to reinvigorate and consolidate militant movements.
Outside Influence on Domestic Actors
IS propaganda magazine Dabiq – in issues 12 (November 2015) and 14 (April 2016) – broadly revealed the extremist group's shadowy presence in Bangladesh when it published a eulogy to a slain Bangladeshi IS fighter named Abu Jundal Al Bengali (a.k.a Ashequr Rahman) and an interview with the leader of IS Bangladesh chapter, Sheikh Abu Ibrahim al-Hanif.
Rahman, who was killed in Syria, had been a student at Dhaka's Military Institute of Science and Technology (MIST). He joined IS having left Dhaka on February 21, 2015 to attend a conference in Turkey. Al-Hanif, meanwhile, described in his interview how efforts to recruit "soldiers of the Khilafah" in Bangladesh had gained "great momentum," with many Muslims joining its ranks. Al-Hanif – identified as Tamim Chowdhury, a Canadian resident of Bangladeshi origin – also hinted that cadres of Jamaat-e-Islami were joining the Khilafah's soldiers in Bengal.
Previous IS media releases have also referred to the support of JMB remnants, describing them as the real defenders of Islam in Bangladesh. [1] Separately, a number of IS publications have eulogized JMB and its slain leaders for attempting "to awaken the Muslim masses of Bengal to the importance of ruling by shariah and the fundamentals of Al-wala wa-l-bara [loyalty and disavowal]."
Besides these, IS media units make great efforts to exhort the people of Bangladesh through literature and social media to join its fold.
Similarly, AQIS has repeatedly urged Bangladeshi Muslims to "confront the crusader onslaught against Islam" through its As-Sahab media unit. It also regularly exhorts its followers in Bangladesh to stand up against secularist fervor and confront alleged "atrocities" carried out by the security forces against pro-Islamic elements of the populace.
Mufti Abdullah Ashraf, the supposed Ansar al-Islam spokesperson, and the group's suspected leader Syed M Zia-ul-Haq have both called for a Sharia-based caliphate in Bangladesh and condone the killings of secular bloggers and intellectuals. Reports suggest that there are around 200 active members of Ansar Al Islam and ABT in the country (Daily Star, June 07).
The group also claimed the killings of two LGBT rights activists, Xulhaz Mannan and Samir Mahboob Tonoy, in April this year [2]
Continued Attacks
Even though Bangladesh's counter-terror apparatus has now swung into action, it is clear that the recent massive sweep operation has not deterred militants from staging random attacks. During the operations, fresh attacks took place in Madaripur. Machete-wielding militants attacked Ripon Chakraborty, a Hindu mathematics teacher in the government-run Nazimuddin College; on June 10, Nityaranjan Pandey, an elderly volunteer at a Hindu ashram in Pabna district, was hacked to death. IS claimed responsibility for Pandey's killing (Daily Star, June 11).
Meanwhile, an eleven-member panel of leading Islamic clerics issued a fatwa (a religious diktat) against terrorism. The panel, led by Farid Uddin Masoud, the chairman of the Bangladesh Jamiyatul Ulama (BJU), condemned the activities of the militants in Bangladesh. A total of 101,524 Islamic clerics signed the fatwa against militancy and violent extremism (Daily Star, June 18; Dhaka Tribune, June 06).
The Bangladeshi government has struggled to explain the rise in violence while simultaneously denying the presence or influence of transnational jihadi groups in the country. It is time that the Awami League-led government recognized that remnants of previously subdued militant groups have found moral and ideological support through the rise of AQIS and IS in the region.
The far-reaching shadow of al-Qaeda or IS on Bangladesh's local militant networks has been constantly overlooked and ignored. The government crackdown suggests the authorities have, belatedly, resolved to tackle the situation, but more will need to be done to halt the attacks that threaten the country's secular fabric.
NOTES
[1] See, Abu Abdur Rahamn al Banghali, "The Revival of Jihad In Bengal" With the Spread of the light of the Khilafa", Dabiq, No 12, November 2015, pp.38-41.
[2] See "Statement Regarding Assassination of Xulhaz Mannan & Samir Mahbub Tonoy," May 4, 2016, https://azelin.files.wordpress.com/2016/05/anscca3acc84r-al-islacc84m-bangladesh-22regarding-the-assassination-of-xulhaz-mannan-and-samir-mahbub-tonoy22.pdf