BRIEFS
Publication: Terrorism Monitor Volume: 14 Issue: 13
By: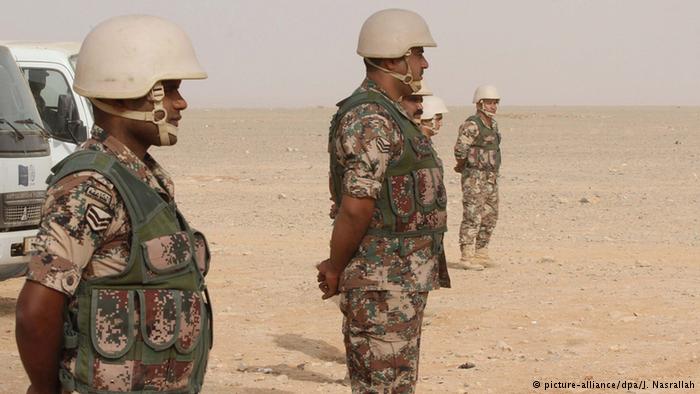 JORDAN: SUICIDE ATTACK RAISES FEARS IN SYRIA'S NEIGHBOR
A suicide car bomber killed six members of Jordan's security forces and injured 14 others at a military post on the border with Syria, close to the al-Rukban refugee camp on June 21. Following the incident, Jordan closed the border, terming the area a closed military zone, and has so far resisted calls from human rights groups to reopen it (al-Bawaba, June 23). Tens of thousands of Syrian refugees rely on aid deliveries from the Jordanian side of the border, and the closure makes their situation even more precarious.
Jordanian intelligence had warned of the possibility of Islamic State fighters infiltrating the camp. Many of the more than 60,000 refugees at Rukban have come from areas in eastern and central Syria that are under IS control. Despite the military build-up in the area, the influx of people into what is essentially a no-man's land has been difficult for the Jordanians to monitor effectively.
Jordan tightened security checks at the beginning of the month and reduced the number of people allowed across the border from 300 per day to just 150 (Asharq al-Awsat, June 23). Nonetheless, there are questions to be asked about the effectiveness of Jordanian security measures. The suicide bomber was able to drive a booby-trapped car up to the border post despite restrictions imposed by Jordanian forces, reportedly at the behest of U.S. intelligence agents, on how close vehicles can approach (Haaretz, June 23).
Despite its proximity to the Syrian conflict, Jordan has remained relatively unscathed. There are, however, suggestions IS has a presence of sorts in Jordan. In March, Jordanian forces broke up an IS-affiliated cell based in the northern city of Irbid, killing seven suspected militants in what was Jordan's largest security operation in years (al-Bawaba, March 2).
Jordan's refugee camps, with their large disaffected populations, are a likely hotspot for jihadists. Some commentators argue such elements have been there for years. An attack on June 6 on an intelligence base at the Baqaa camp, a Palestinian refugee camp on the outskirts of Amman, left five people dead. The attack may have been the work of a lone, disaffected camp resident rather than an IS sympathizer (Jordan Times, June 6). It remains to be seen whether, following the Rukban attack, IS has now set Jordan in its sights.
KENYA: GREATER PROTECTION FOR LOCAL ELDERS AMID AL-SHABAB THREAT
Five Kenyan police officers were killed and another five injured in an attack by suspected al-Shabab fighters as they escorted a passenger bus in Kenya's Mandera County on June 20 (Radio Dalsan, June 20). The five were killed when the Toyota Landcruiser they were travelling in was hit by an RPG. Meanwhile, in the hours after the Mandera County attack, Kenyan security forces made several arrests at a mosque in Lamu (The Star, June 21). They also claimed to have thwarted a terrorist attack in Kwale Country and killed a wanted al-Shabab commander (The Star, June 20). The spate of incidents follows al-Shabab's threats to intensify attacks during Ramadan and a warning from police officials over al-Shabab activity (The Star, June 10).
The supposedly thwarted attack in Kwale carries some significance for local security officials accused of not doing enough to prevent the killing of three Nymba Kumi elders in the county, shot dead supposedly by al-Shabab fighters in what appear to be execution-style killings in their homes at the end of last month (Citizen Digital, May 29). All three men had spoken out against the Somali militant group.
Nyumba Kumi is effectively a government-backed community policing initiative that is devoted to local elders' matters that might ordinarily be handled by state law enforcement agencies. Proposed in 2014, it has had a degree of success mediating local disputes. Officials in Kenya's Garissa County, with its large ethnic Somali population, credit Nyumba Kumi elders with curbing inter-clan violence (Hivisasa, June 20).
The killing of the three men in Kwale – at least one of whom, Hassan Mwasanite, was a local religious leader – has sparked anger and given rise to calls for greater protection for Nymba Kumi elders. Officials appear to have been responsive. The tough-talking coordinator for the Coast region, Nelson Marwa, criticized local security officials and called on residents to go over their heads and feed intelligence directly to his office in Mombasa (Daily Nation, May 30).
Although ill equipped to carry out anti-terror operations themselves, the close connections Nymba Kumi officials have with their local community make them a potentially valuable tool in the government's wider security strategy. Something Marwa, promoted to his role at the beginning of the year based on his strong security credentials, likely appreciates.