Belarus and the War: A Survey and a Morality Debate
Publication: Eurasia Daily Monitor Volume: 19 Issue: 65
By: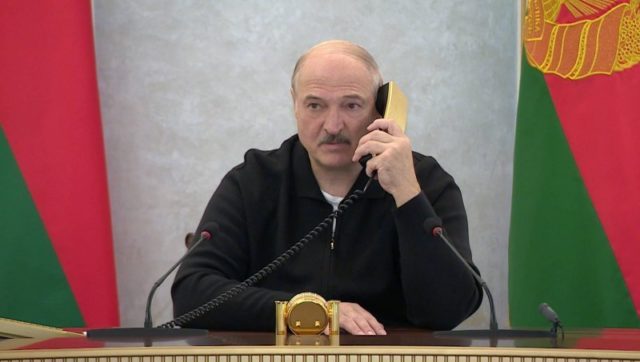 In Warsaw, on April 26, the head of the non-governmental organization Belarusian Analytical Workroom, Andrei Vardomatsky, described the outcome of his group's telephone poll of 1,000 Belarusians conducted in mid-March. Of those surveyed, just 24 percent pinned responsibility for sparking the war in Ukraine on Russia; 20 percent blamed the United States, 18 percent Ukraine, 12 percent the North Atlantic Treaty Organization (NATO), and 2 accused the European Union. In other words, 52 percent assigned culpability to the West and Ukraine. However, a slightly different line of questioning revealed that 50 percent disapprove of Russian actions, while 43 percent approve of them. By comparison, back in 2014, over 60 percent of Belarusians supported Russia's annexation of Crimea, indicating that the current pro-Russia attitude in Belarus is lower than it was back in 2014. Perhaps of even greater importance, however, is the fact that only 11 percent of Belarusians would want the Belarusian Armed Forces to take part in this war, whereas 86 percent are against their military's participation (Zerkalo, April 26).
Vardomatsky's survey is arguably the most accurate reflection of Belarusian public opinion since August 2020. It confirms the observations that Belarusian society is fundamentally divided, with the only common denominator being reluctance to take part in "somebody else's" war. One can hardly attribute such an arrangement of attitudes to a particular kind of propaganda, as Belarusians choose sources of information depending on what side of the divide they are on, and internet usage caught up with TV as early as 2019 (Pactworld, 2019).
This divide in public opinion may reflect the fact that Belarus straddles what the late political scientist Samuel P. Huntington described as the "eastern border of Western civilization." In this context, the conflicting efforts by Belarusian authorities to both support the war and to restore contacts with the West might be best understood as a consequence of its cultural divides (see EDM, April 18). Such a possibility should give pause to those prone to moralistic oversimplifications. Relatedly, some well-meaning appeals to Belarusians, such as former Polish president Bronisław Komorowski's "choose the West" rhetoric, or his reproach that "in Belarus even the opposition is not anti-Russian," seem unrealistic (Svaboda, April 27).
According to Alexei Arestovich, an advisor to Ukrainian President Volodymyr Zelenskyy, Belarus's position is insecure. "What [Belarusian President] Alyaksandr Grigoryevich [Lukashenka] is saying is what he must say in the specific situation he finds himself in. [Russian President Vladimir] Putin puts enormous pressure on him to make sure the Belarusian army enters the war, which Lukashenka does not need. In fact, the Belarusian army did not invade anybody. And in rhetoric, it was necessary to include the right words, and Lukashenka will be pronouncing them for a long time. We understand it. He has to maneuver, and he does it well" (Euroradio, April 26).
Arestovich's explanation for why the president of Ukraine has still not met with Svetlana Tikhanovskaya, Belarus's exiled opposition leader, proceeded along the same lines: "If President Zelenskyy meets with Tikhanovskaya, Alyaksanr Lukashenka may react sharply and nervously. Do we need him to react [that way] in a situation where the Russian army uses Belarusian territory for aggression against us?" Predictably, this Realpolitik confession drew censure from uncompromising Lukashenka critics like Warsaw-based analyst Pavel Usov (UDF, April 29).
The opinion of Pavel Matsukevich, a former charge d'affaires of Belarus in Switzerland, is different. "Ukraine wants to use Lukashenka to its advantage. For a year and a half now, Moscow has been cynically using him in its geopolitical games, exploiting the dependence into which Lukashenka fell after the 2020 elections. Why cannot Kyiv play on Lukashenka's vulnerable string, i.e., his lust for power and his unwillingness to turn into the de facto governor of a Russian province? In my opinion, what Arestovich is talking about is called healthy pragmatism," Matsukevich asserted. He expressed hope that the West will also decide to use Lukashenka's idiosyncrasies to destroy the Kremlin's aggressive plans, while helping Belarus maintain its independence. "In any case, cooperation with Belarus […] is in the national interest of Ukraine, and Kyiv is guided just by that. Until recently, Belarus was a critically important supplier of diesel fuel, bitumen and more. In addition, how Minsk will behave further in the Russian war is extremely important for Kyiv," Matsukevich argued (UDF, April 29).
This "realist vs idealist" debate continued on the site of the Belarusian service of Radio Liberty. There, Kyiv-based Belarusian analyst Igor Tyshkevich and Alexei Lyavonchik, who resides in Warsaw and heads a foundation that aids Belarusian émigrés, played the realist and idealist roles, respectively. Tyshkevich believes that every country appeals to moral principles and pursues its interests at the same time. Two examples are Lithuania's lingering import of Belarusian electricity and Ukraine's continued purchase of aviation fuel from the Belarusian Naftan refinery, mediated by the Azerbaijani energy firm SOCAR. Tyshkevich also thinks that Tikhanovskaya's "desire to have a selfie with Zelenskyy" is not reciprocated for a good reason. In contrast, Lyavonchik insisted on a categorical imperative: if Ukraine pushes moral buttons in its relations with Europe, it should not itself trade with a cannibal, which is how Lyavonchik labeled Lukashenka (Svaboda.org, April 28).
That moral principles are not always abided by is nothing new, but neither is the fact that foreign policy is not a morality play; judgments essential for policy making depend on perspective and on immediate experience. As Yury Drakakhrust of Radio Liberty has observed, less than a year ago, when Putin's article on the purported unity of Russians and Ukrainians was published, 30 percent of Ukrainians maintained that Ukrainians and Russians are indeed one and the same people. However, surveys conducted in the early days of the war showed that a minuscule number still held that opinion. Thus, one may surmise that if Russians arrive in Belarus in tanks, a significant portion of the Russophile sentiment in Belarus will likewise evaporate (Ex-press.by, April 27). One cannot rule out that Lukashenka uses this argument in conversations with his Russian counterpart.