In Russia's Camp but Keeping Its Options Open: Belarus's Maneuvering During the War
Publication: Eurasia Daily Monitor Volume: 19 Issue: 55
By: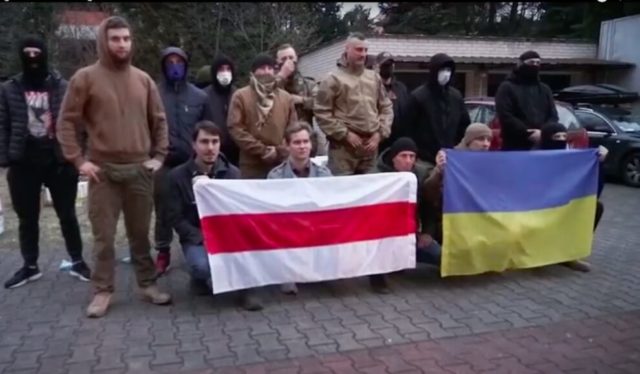 In a store at one of Minsk's shopping malls that sells Russian-made t-shirts decorated with a "Z," the symbol of the Russian military offensive against Ukraine, the shop owner admitted to a journalist that she wholeheartedly backed Russia's President Vladimir Putin but "we support the Ukrainian people too" (Svaboda.org, April 13). The seemingly contradictory set of sentiments is far from unusual when it comes to Belarus: For quite some time, polls showed that about half of all Belarusians wanted integration with Russia and with the European Union at the same time (Deutsche Welle—Russian service, May 2012).
Today, Minsk is unequivocally siding with Moscow. Belarusian President Alyaksandr Lukashenka's recent visit to the Vostochny cosmodrome, in Russia's Amur Oblast, and his joint press-conference with Putin at that facility left no doubt about that fact. After praising the spaceport under construction, the Belarusian leader confirmed the expediency and righteousness of Russia's military operation, launched on February 24, which allegedly preempted an imminent attack on Russia itself. Lukashenka expressed satisfaction with Belarus now paying for oil and natural gas with Russian rubles and assured that any difficulties arising from Western sanctions will be overcome. "The Far East is distant, but it is ours. We have one fatherland, even though we live in two separate states. Unlike some republics, we have preserved unity, and we are determined to strengthen it," Lukashenka declared (President.gov.by, April 12). Following his visit to the cosmodrome, Lukashenka proceeded to Vladivostok, where he met with the local Kremlin-installed governor.
While the Belarusian head of state talks about unity, the opposition is searching for any potential gap between Minsk and Moscow. "A wedge between Belarus and Russia is the best means to democratize Belarus. The logic here is simple: if you cannot get rid of Lukashenka yet, you need to look for ways to use him. That is because experience shows that with Lukashenka it is possible to successfully resolve many issues (e.g., migration crisis, release of individual political prisoners) that do not concern his personal power," writes Pavel Matsukevich of the Center for New Ideas (Gazetaby.com, April 8).
Independent analyst Artyom Shraibman agrees with Matsukevich's opinion on the expediency of making Minsk a participant in any post-war settlement (see EDM, April 12), but he sees it as an uphill battle because no other side—the West, Ukraine and even Russia—is interested in elevating Minsk to their own level as they no longer see Belarus as a sovereign power (YouTube, April 11). Shraibman believes that after the war, the West may be willing to resume trade exchange with Belarus if only to drive a wedge between Minsk and Moscow. Nonetheless, how to make the West truly interested in resuming what until 2020–2022 looked like routine bargaining, remains unclear. For example, in the past, Minsk would release a handful of political prisoners at a time in exchange for the suspension of sanctions; today, however, there are more than 1,000 such prisoners. For Minsk to proceed with their release would not be just a matter of bargaining with the West. It would be equally important to appease the Belarusian siloviki (i.e., law enforcement) and propagandists who now have free rein. Even rewarding them with new dwellings may not be enough, as many of them are truly dedicated to the war with alleged Nazism; that is, they believe in their own and Kremlin propaganda regarding the Russian aggression against Ukraine. Much will depend on the outcome of the war, believes Shraibman. If Russia emerges weakened, then Lukashenka will have more room to maneuver. Considering that both in 1917–1919 and in 1991–1992, the independence of several imperially held dominions immediately followed Russia's weakening, the effect in question goes far beyond just Lukashenka (YouTube, April 12).
But even now, bits and pieces are emerging about apparent preparations for such an outcome. For example, in his interview to a Mongolian news agency, the new Belarusian ambassador to that country, Dmitry Gorelik, underscored that Belarus agreed on Russia's use of Belarusian territory for joint exercises—not for aggression (Mfa.gov.by, April 6). Also, when Russia came up with a list of "unfriendly" countries, Belarus prepared its own list, and the latter conspicuously lacked Ukraine (Sputnik.by, April 8). Apparently, the resumption of trade with Ukraine is seen as important in Minsk. Finally, in its Belarusian-language congratulatory note devoted to Russia's Cosmonautics Day (April 12), the Belarusian Ministry of Foreign Affairs underscored the contribution of Barys Kit, an ethnic Belarusian, to space exploration (Facebook.com, April 12). A prominent rocket scientist, who died in 2018 at the age of 107, Kit was a 1944 émigré to the West. The note in question almost certainly looked to have been composed without Moscow's supervision.
In the recent past, Russian observers accused Minsk of sitting on two chairs, which to them was tantamount to infidelity. Today, the Belarusian state is firmly on Russia's side. One, however, has to remember that like Ukraine, Belarus straddles a civilizational fault line, and scores of analysts, including the former director of the recently closed Moscow Carnegie Center, Dmitry Trenin, describe the ongoing war as an inter-civilizational conflict. "The rupture with the West," writes Trenin, "inevitably led Russia to severe hardships, but it finally freed it from the complexes of the follower and of the imitator, [and it] opened the opportunity to re-identify Russia's place, role and goal in the world" (Globalaffairs.ru, April 11). But if that might inspire some Russians, would this same rupture motivate Belarusians, too—especially once the gap between the two proverbial chairs becomes a chasm? This is a crucial question that transcends the metaphor of selling a T-shirt emblazoned with a "Z" and yet supporting the people of Ukraine at the same time. The future of Belarus will surely depend on how it is answered.