In Belarus, Rhetoric Not All That Matters
Publication: Eurasia Daily Monitor Volume: 14 Issue: 56
By: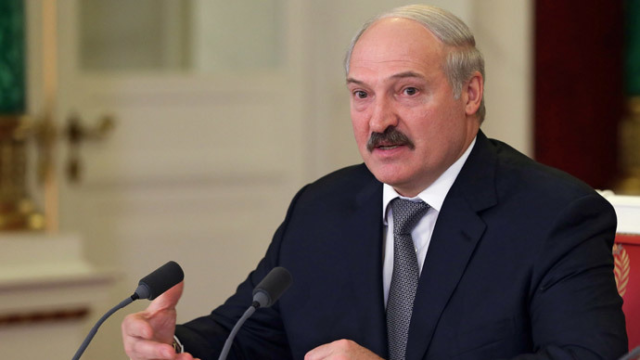 Since April 18, the news in Minsk has been preoccupied with how an employee of the Ministry of Internal Affairs' Directorate for Combating Organized Crime stole $269,150 in cash from a safe at work. This money had earlier been seized by the Directorate from some allegedly corrupt visa support center. A ministry officer who confiscated the money put it inside a safe, in his office. But on Sunday, January 8, his colleague, who had a duplicate key, went into the office, took out the money and left for Ukraine; he then proceeded to Romania where he obtained Romanian citizenship via a fast-track procedure established for applicants whose direct relatives lived in Romania or pre-war Bukovina and/or Bessarabia. Only in April, after the court records were published in Kyiv (Court.gov.ua, April 4), did this story become public knowledge in Belarus. Shortly after securing Romanian citizenship, the former law enforcement officer attempted to fly to the United States. He was apprehended at the airport in Romania because of a request lodged by the Belarusian authorities. He spent one month behind bars but was released because Romania does not extradite its citizens. Belarus's Interior Minister Igor Shunevich pointed out that, considering this was "one of the largest instances of theft" in recent years, Belarusian thieves pale in comparison to their Russian counterparts. There, millions, not thousands of dollars stolen appears to be the threshold for media attention (Tut.by, April 21).
In fact, accusations of large-scale corruption on the part of Russian officials have figured prominently for months, as Belarus and Russia argue over Moscow's selective bans of Belarusian agricultural exports (see EDM, April 10). The recent resolution of a similarly drawn-out bilateral argument over natural gas prices still agitates Belarusian analysts, however. Yury Drakakhrust of Radio Liberty argues that both the gas price dispute and Belarusian President Alyaksandr Lukashenka's tactics to resolve it were in fact bluffs. For instance, by not signing the Eurasian Economic Union's tax code in late 2016 and by not showing up at the December summit of the Collective Security Treaty Organization (CSTO), in St. Petersburg, Lukashenka sought to nudge the West to evince more generosity toward Belarus against the backdrop of Minsk's bilateral tensions with Moscow. But ultimately, Belarus did not achieve that goal, so there was no alternative to a normalization of relations with Russia. As for Russia's own decision to resolve the gas price conflict by way of a compromise, the softening of Moscow's position was driven by growing hostility with Washington (whereby having one more conflict on Russia's hands is a liability) and by the nearing Russian presidential elections (scheduled for 2018). This is no time to bully Belarus into accepting Russia's rules of the game, Drakakhrust asserted. Thus, Lukashenka has once again shown his obstinate character to the Kremlin and got away with it, which will help him down the road. The almost simultaneous cracking down on protest rallies in Minsk (March 25) and Moscow (March 26) is also a peculiar aftereffect of Belarus's unrealized hopes to receive financial aid from the West, Drakakhrust believes (Tut.by, April 17).
Opinions differ, however, as for why the International Monetary Fund (IMF) has not yet paid out the money to Belarus it has been promising since spring 2015. Some liberal economists in Minsk contend that the IMF's procrastination derives from Minsk's reluctance to commit to a far-reaching downsizing of the strikingly inefficient state-owned manufacturing sector (BDG, April 17). While this explanation makes sense, the more likely cause of the delay is the commotion associated with the change of government and lingering vacancies of primary decision-makers in Washington. Nonetheless, a high-level Belarusian delegation visited the IMF headquarters on April 19–21. Sensing that the international financial institution may still soften its position toward Belarus, Russia has already announced a new $1 billion loan for Minsk (Belrynok, April 10). Back in 2010, the IMF increased its credit limit for Belarus from $2.5 billion to $3.6 billion precisely at a time when Russia reneged on its own loan promise; and in December 2010, Russia made crucial financial concessions to Belarus because of its 2007–2010 rapprochement with the West (Grigory Ioffe, "Geostrategic Interest and Democracy Promotion," Europe-Asia Studies, 2013, p. 1,270). Similar geopolitical motivations are unlikely to have weakened since that time on either of Belarus's flanks.
After receiving major gas deal concessions from Russia, Lukashenka wasted no time declaring that it was utter nonsense to conclude that Belarus "had once again begged Russia for help while on [its] knees" (Tut.by, April 20). He also made several assertive pronouncements in his State of the Country address to the parliament, on April 21. Responding to Western criticism of the Belarusian March 25 police crackdown, Lukashenka exclaimed, "Stop jabbing us! You claim that some excessive force was used in Belarus… Did we use water cannons or tear gas against street protesters? We did not! But you did, and at the same time!" "Belarus has no money for risky liberal reforms," Lukashenka further declared (Tut.by, April 21). Although he did not mention the case of Poland in his address, Lukashenka's words obliquely alluded to the massive foreign monetary assistance this western neighbor has enjoyed, which helped to finance its reforms. Indeed, $267 billion of Western funds were or will be spent on Poland between 2004 (when this country joined the European Union) and 2020. In today's dollars, that sum surpasses the entirety of the US-funded Marshall Plan provided to Western Europe after World War II (Bloomberg, April 4). Belarusian domestic discourse and debates on social media frequently point to this reality in neighboring Poland versus the lack of outside support for similar reforms in Belarus.
All that said, much of the opposition nonetheless predictably criticized Lukashenka for allegedly choosing to preserve Belarus's inefficient socio-economic model (Naviny.by, April 23). Yet, Andrei Dmitriev, who chairs the Tell the Truth civic campaign, declared that whatever Lukashenka said in his address to the parliament is not as important as which decisions are going to be taken over the next three months with respect to small business, the electoral code, and industrial development. Important documents on these issues are reportedly awaiting Lukashenka's signature (Dzmitrieu, April 21). Such a qualification is in line with earlier remarks by Belarusian entrepreneur Mikhail Sender, who suggested that Lukashenka is quietly pursuing reforms while denying it publicly (see EDM, April 6). It is therefore instrumental to remember that in Belarus, as in much of the rest of the world, rhetoric is not all that matters—ultimately, actions speak louder than words.