Belarus and Russia Keep a Vigilant Eye on Each Other
Publication: Eurasia Daily Monitor Volume: 14 Issue: 163
By: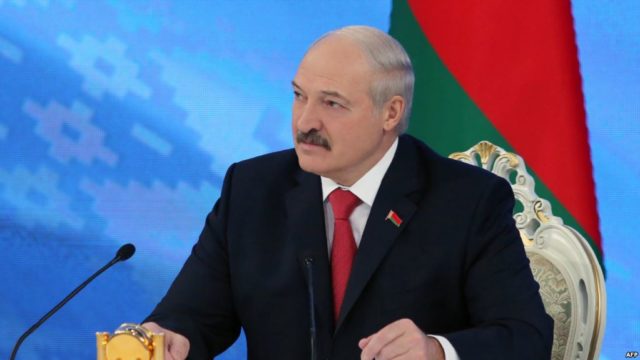 With its "wife abandonment syndrome" (see EDM, December 5, 2016) fostered by the geopolitical reorientation of former satellites, Russia is prone to suspect latent infidelity on the part of Belarus, too. These suspicions regularly come out on Russian TV talk shows; and certain media outlets, Regnum and Eurasia Daily in the first place, essentially specialize in raising such issues.
Thus, Dmitry Bolkunets, an associate of Moscow's Higher School of Economics and a Belarusian citizen, insinuated, in his interview to Regnum, that Belarusian authorities could have been among the beneficiaries of Western aid delivered to Belarusian opposition via Western intermediaries (Regnum, December 7). According to Polish media (Gazeta Finansowa, November 13, Onet, November 17), members of Polish intelligence were used as couriers by the German Intelligence Service (BND) to deliver millions to the opposition in Minsk and, in the process, they allegedly stole 500,000 euros ($589,000). Bolkunets builds on this hypothetical construction (the investigation is still underway) by making a bold assumption that Belarusian authorities might be in cahoots with the alleged thieves (Regnum, December 7). Apparently, Bolkunets does not realize to what extent his suggestion reflects the peculiar business acumen ubiquitous in the country of his residence.
The vast majority of Belarusians obtain their news and information from TV; therefore, the Belarusian government's official reaction to the "anti-Belarusian TV propaganda" warrants a closer look. Late last month, a talk show on Russia's NTV featured a panelist who notably labeled Belarus Russia's cheating wife. In response, the state-owned daily Belarus Segodnya angrily admonished the TV show, saying it was "in bad taste" (see EDM, December 6). However, in a recent article for the privately owned portal Tut.by, political commentator Artyom Shraibman criticizes Minsk for its reaction to this and other such insults, dismissing it as largely irrelevant (Tut.by, December 6).
According to Shraibman, nobody in Russia is going to heed such rebukes published by Belarus's main government daily. In his piece, the Tut.by contributor compares the incident surrounding the recent NTV show to the 2010 anti-Lukashenka campaign on Russian TV, which had culminated in the airing of "Godfather," a quasi-documentary series about Belarusian President Alyaksandr Lukashenka. Shraibman argues that "Godfather" was launched and then abruptly stopped by orders from above. But today, Russian propaganda works quite differently, he asserts. Rather than endorsing each episode of every talk show, the Kremlin has approved a general informational campaign designed to sustain Russian viewers' patriotic rage. First implemented at the peak of the conflict with Ukraine, this campaign has largely worked, as confirmed by the high TV ratings. Viewers are energized by the constant shouting and by guests with other points of view never being given even the slightest opportunity to finish a sentence. These Russian talk shows are elements of the Kremlin's domestic, not foreign policy; so it does not make sense for Minsk to react to their content and expect that the other side will pay any attention, Shraibman stresses. Thus, the principal problem associated with Russian propaganda today, he opines, is not that it reflects some anti-Belarusian attitudes of the denizens of Moscow, but that it makes zombies out of Belarusians, too—that is, alongside Russians. This has already led to a situation whereby ordinary Belarusians are more supportive of Russia's stance on the Ukrainian conflict than the Belarusian leadership itself. Consequently, he contends, Russian TV channels' monopoly on shaping Belarusians' worldview ought to be diluted (Tut.by, December 6).
There are several ways to do so, believes Shraibman. Two of them are to create an independent public television channel (akin to PBS in the United States) in Belarus and/or replace the most odious Russian TV products by locally produced shows. While Belarusian TV shows tend to be of poor quality, they at least do not view Belarus's statehood as an aberration. If none of that is done, Belarus will not learn to participate in modern information wars. Ironically, the case of the three pro-Russian Regnum authors, who already spent one year behind bars and are still awaiting trial (see EDM, December 12, 2016), reflects Minsk's clumsy and unsystematic reaction to such wars. Indeed, these authors were quickly replaced by Moscow-based ones, and the aforementioned example of Dmitry Bolkunets confirms this opinion. "An independent country needs a modicum of hygiene to defend itself from the information threat emanating from the juggernaut of Russian state-run TV. Otherwise, sooner or later, Belarus's modest attempts at a neutral, multi-directional foreign policy will be blocked by its one-directional TV," Shraibman concludes (Tut.by, December 6).
This conclusion resonates with an interview Foreign Minister Vladimir Makei recently gave to Current Time TV, a channel jointly produced by Radio Liberty and Voice of America. According to Makei, "the West needs an independent and sovereign Belarus, not a vassal limitrophe state [i.e., a border country] on the periphery of some empires" (Current Time TV, December 8).
Even Belarusian political commentators enthusiastically committed to the Eurasian Union share this view expressed by Makei. Thus Piotr Petrovsky patiently explains why Belarus is unlikely to transport refined oil products via Russian seaports, despite Vladimir Putin's repeated suggestions to the contrary. According to Petrovsky, this would make Lithuania and Latvia charge more for transit of Belarusian exports other than oil and compromise Belarus in the eyes of Latvia—a neighbor that, unlike Lithuania, is not hostile to Belarus's nuclear power plant currently under construction. It would also undermine Belarus's value as a venue of actual and potential negotiations between Russia and the West. Finally, Petrovsky argues, it would work against Belarus's involvement as a transit state in Chinese One Belt, One Road projects terminating at the Baltic States' seaports (EurasiaExpert, November 14).
According to the most recent survey by VTSIOM, Russia's state-run pollster, Alyaksandr Lukashenka enjoys the trust of 62 percent of Russians—more than any other post-Soviet president, and in fact more than any other foreign leader (TASS, December 5). At least in part, this is because Lukashenka's opinions and his communication style continue to resonate with those of the common man (Svaboda.ru, December 9). Accordingly, it could well be that his vigilance toward Russia's ruling elite may be an asset for Russians as well.