Belarus Stages What It Sees as Major Security Operations
Publication: Eurasia Daily Monitor Volume: 18 Issue: 82
By: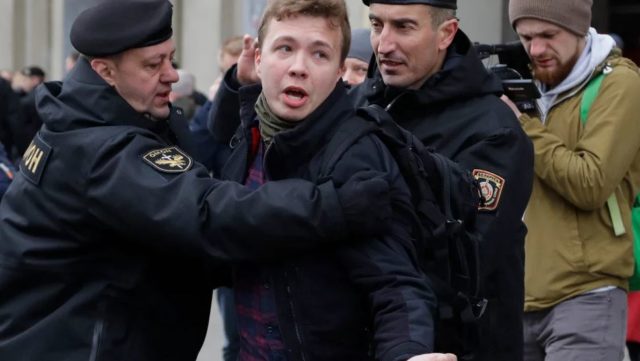 On Sunday, May 23, Belarus made headlines around the world for diverting a commercial flight. Ryanair's Boeing 737-8AS, in transit over Belarus from Athens to Vilnius, had to make an emergency landing in Minsk under the pretext of a bomb planted on board, the alarm raised by Belarusian air traffic controllers. Flight tracker sites indicated the plane was about six miles from the Lithuanian border, north of the Belarusian city of Lida, when it was urged to make a sharp turn with the help of a MiG-29 fighter. The whole incident was concocted with the sole purpose of arresting Roman Protasevich, a 26-year-old Belarusian journalist. Residing in Poland since 2019, he received political asylum there in 2020; Protasevich's previous work experience includes reporting for Euroradio, a Minsk-based media outlet funded by the United States, and for the press service of the controversial Ukrainian volunteer Azov Battalion, frequently accused of attracting extreme-right or Neo-Nazi fighters (Riafan.ru, May 24). Most importantly, however, in the eyes of the Belarusian authorities, has been Protasevich's role in creating the NEXTA Telegram channel, which routinely steered street rallies in Minsk following the disputed August 9 presidential elections. Until September 2020, Protasevich was that channel's editor-in-chief. Minsk accuses Protasevich of actively participating in group actions that grossly violate public order and of inciting social discord (Reform.by, May 24). In February, Belarus sent a request to Poland to extradite Protasevich. For Minsk, even more important than punishing Protasevich for these alleged crimes is the possibility of extracting information about the true extent and funding of NEXTA and, above all, about NEXTA's possible supporters in the corridors of power in Minsk. According to Semion Uralov, the editor of Sonar-2050 (an online outlet devoted to Belarusian-Russian integration), the corresponding suspicion has long been entertained in Minsk (Facebook.com, May 23). Effectively hijacking a commercial flight was Belarusian law enforcement's third major operation within a short period of time, the first being uncovering an alleged coup against President Alyaksandr Lukashenka (see EDM, April 19).
The second recent operation was liquidating TUT.BY, Belarus's most popular media outlet. According to Gemius Global, as of April 2021, its audience in Belarus consisted of 3.303 million, or 63 percent of Belarusian internet users (Freejournalists.info, May 21). Aside from the magnitude of the audience, a distinguishing feature of TUT.BY was that no external funding was involved in its activity. Its earnings originated almost exclusively from commercial advertising. Unlike Belsat or Charter97, TUT.BY never stood out for political radicalism, and its founder and former major stakeholder, Yury Zisser, was even accused by some opposition figures of selling out to the "regime."
TUT.BY was founded in 2000, after the technology journalist Sergei Dmitriev came up with the idea and announced his willingness to share the media project with anyone willing to implement it. The head of the private firm Reliable Software, Yuri Zisser, responded to the call. The name for the portal is an abbreviation of "tuteishiya" (locals), for a long time a token of proto-Belarusian identity. In 2018, TUT.BY for the first time overtook such large Russian platforms as Yandex, Mail.ru and also YouTube in terms of the size of its Belarus-based audience.
Stalwarts of the political regime and opposition-minded activists alike have expressed intense dislike for TUT.BY; both groups have been jealous of its success and professionalism. At one point, Lukashenka reproached Zisser from a high podium for being an "unruly Jew" (see EDM, May 5, 2015), but neither Zisser himself nor TUT.BY suffered any consequences at the time. In August 2018, TUT.BY's editor and journalists were accused of borrowing content from Belta, the government press agency, without paying for it (see EDM, September 7, 2018) and were obliged to pay steep fines.
The political conflagration following the August 9, 2020, presidential elections could not but find its reflection in TUT.BY's publications. To some extent, Yury Zisser's death from cancer, in May 2020, made the outlet more vulnerable, as Zisser's high moral authority used to protect it. As per the peculiar wording of Alexei Dzermant, a pro-government commentator and one of TUT.BY's most avid detractors, "whereas the wise Jew Zisser saw red flags and somehow always found a compromise with the state, the women from TUT.BY's editorial office fell into political hysteria and lost any sense of bounds [sic]" (Facebook.com/alaksiej.dziermant, May 18). Last December, TUT.BY was officially stripped of media outlet status (Deutsche Welle—Russian service, December 3) because of its sympathetic attitude to the protest movement. And in March, TUT.BY journalist Katerina Borisevich was sentenced to a six-month prison term for disclosing that the artist Roman Bondarenko, who died at the hands of riot police, did not have alcohol in his blood (see EDM, March 9).
Clouds continued to thicken over TUT.BY, and on May 18, the news site was blocked; law enforcement officials broke into its headquarters in Minsk and regional offices in Brest, Gomel, Vitebsk, Mogilev and Grodno to conduct searches. Employees who were at work at that time stopped communicating and were locked in the office until late at night. Later, some of them returned home under a non-disclosure agreement; others were detained. At this point, 15 associates remain in police custody, including the editor-in-chief, Marina Zolotova. Yulia Cherniawskaya, Zisser's widow, a cultural anthropologist, blogger and the owner of the internet hosting company Hosting.by, was placed under house arrest. On May 18, she suffered from a hypertension episode and was delivered to a hospital under the supervision of law enforcement. Following her release from the hospital on May 19, her location was unknown for at least 24 hours, to the consternation of her elderly mother in Minsk and her daughter in Israel.
TUT.BY is now being attacked on two counts. On the one hand, the authorities have linked TUT.BY to the Belarus Solidarity Foundation (BySOL), which the government considers to be criminal and illegal. More importantly, TUT.BY continues to be assaulted as a business. In 2019, it received the status of a High-Tech-Park resident and, as such, was granted a discounted corporate tax rate. But now, it has been accused of obtaining this status illegally and underpaying millions in taxes as a result.
Artyom Shraibman, who used to work for TUT.BY, believes that the online news site's regular audience will mostly switch to Telegram channels, including that of TUT.BY itself. This will lead to a further fragmentation of the domestic media market, the radicalization of audiences and a still starker polarization of Belarusians. "The authorities have driven themselves into a rut difficult to get out of. They are afraid to loosen the reins under the assumption that giving furious people more freedom could lead to a replay of August 2020. On the other hand, law enforcement agencies compete with each other in demonstrating their usefulness to the authorities, which implies the need to uncover more enemies" (Carnegie.ru, May 20). According to Yauheni Preiherman, who heads the Minsk Dialogue Council, the assault on TUT.BY is irrational for the authorities because part of its audience will switch to non-Belarusian (largely Russian) media outlets. However, rational considerations have largely been subsumed by heated passions (Belorussky Partizan, May 19).
Most regime loyalists cannot help but gloat over TUT.BY's apparent demise as well as Protasevich's arrest. It remains to be seen whether or not the costs of these endeavors outweigh their benefits in the eyes of those loyalists and of the Belarusian authorities themselves.