Belarus: Stalemate With Russia and Rapprochement With the West
Publication: Eurasia Daily Monitor Volume: 17 Issue: 16
By: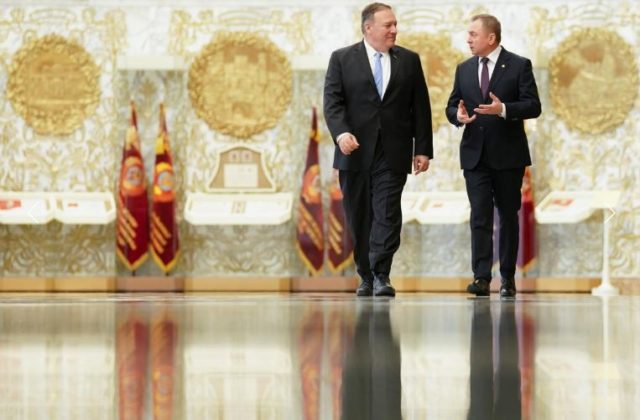 The stalemate in Belarusian-Russian negotiations over oil and natural gas continues. Following President Alyaksandr Lukashenka's emotional speech in the city of Shklov, in which he openly complained that Moscow was only willing to make concessions in exchange for Belarus losing its sovereignty (see EDM, January 29), the analytical community offered differing assessments of the present situation. But three notable viewpoints stand out.
The first, a traditional "patriotic" Russian opinion published by Regnum, declares that Belarus is on the verge of succumbing to a major outburst of social discontent. This is reportedly because Belarusian state-owned enterprises have stopped paying out wages; the negotiated volumes of Russian crude oil sold to Belarus by Russneft will have been delivered by the end of February; "all across Belarus, industrial plants are closing"; and the "people are tired of poverty, uncertainty and forceful Belarusianization along the lines of the squalid 1990s" (Regnum, January 30). While this dark image is downright fanciful, the recent arrest of the directors of all four Belarusian sugar factories delivers some grist to the doomsayers' mill (Interfax, January 30).
The second perspective is equally cataclysmic, although its author, Artyom Shraibman, goes out of his way to underscore that he does not believe the respective chain of events is imminent or even most probable. And yet, he hypothesizes that, in response to Moscow's pressure, Belarus might decide to end its membership in the Eurasian Economic Union, evict the two Russian military installations on its soil, turn off Russian TV channels, close the border, and re-nationalize Beltransgaz, a natural gas pipeline previously sold to Russia. Any of these actions, however, if undertaken, would, at a minimum, jeopardize Belarus's access to the Russian domestic market, potentially devastating the economy (T.me/s/shraibman, January 25). One of Belarus's most important export commodities is food; and some Russian doomsayers already opine that Belarus is about to fall victim to Moscow's newly adopted "Food Security Doctrine." According to the new government guidelines, at least 90 percent of Russia's sugar consumption, 85 percent of meat, and 95 percent of potatoes should be produced within Russia. It is important to note that during the first 11 months of 2019, Belarus sold $3.9 billion worth of food to Russia, which accounted for 78.2 percent of Belarus's total food exports. Although Belarus now exports food to 99 countries, the share of the Russian market is still significant; in 2017, it was as high as 90 percent (Life.ru, January 27).
The third point of view is more optimistic for the Belarusian economy. Thus, Vitaly Tsyhankov, a Minsk-based correspondent for Radio Liberty, thinks that the current haggling crisis is no different than its equivalents in the past and is, therefore, destined to end in some sort of agreement (Svaboda.org, January 27). Kirill Koktysh, a professor at the Moscow Institute for Foreign Relation (the leading school for Russian diplomats) and a native of Minsk, echoed this argument. Koktysh believes that an eventual agreement is unavoidable simply because this year both countries will celebrate the 75th anniversary of the victorious end of World War II (Naviny.by, January 24). As a matter of fact, Lukashenka has already accepted Vladimir Putin's invitation to the May 9 military parade in Moscow (Tut.by, January 27). On several previous occasions, Lukashenka did not participate because of similar celebrations at home.
Meanwhile, Belarus continues to intensify its relationships with the West. Following the signing of the agreement between Belarus and the European Union on the simplification of the visa regime, Schengen visa prices for Belarusians will drop from $60 to $35. This will most probably occur no earlier than June, after the requisite ratifications of the agreement. But there is a fly in the ointment. Beginning on February 2, the EU raised the cost of its regular visas from $60 to $80 and refused to adopt a temporary price freeze for Belarusians (Belta, January 23). Dzianis Melyantsou of the Minsk Dialogue forum critiqued this refusal, saying it undermined the EU's assurances that the European bloc seeks to boost people-to-people contacts with countries in its neighborhood. In stark contrast, he pointed out, Belarus had already unilaterally canceled short-term visas for all EU countries (Facebook.com/melyantsou, January 27).
Finally, on February 1, United States Secretary of State Michael Pompeo paid a visit to Minsk and had a two-hour talk with Lukashenka. "The US wants to help Belarus to stay a sovereign state," Pompeo stated after this meeting. "Our energy producers are ready to provide you with 100 percent of the oil that you need, at competitive prices. All you need to do is ask" (Belta.by, February 1). He continued, "We are aware you and Russia are neighbors and you have a long history together; but we are not talking about you choosing between us and them, we are talking about diplomatic relations. Very soon, we will appoint an ambassador to Belarus" (Svaboda.org, February 1). In response, Belarusian Foreign Minister Vladimir Makei declared, "We would welcome a more active role of the USA in Belarus" (Belta.by, February 1). Makei's statement appears to be in line with Lukashenka's own words, uttered as early as December 2010, when he pleaded with the US to stick to its active policy agenda in the post-Soviet space lest Belarus be exposed to further bullying by Russia. Apparently, Lukashenka thinks in terms of geopolitical counterweights—an approach readily recognizable to anyone with an understanding of the realist school of international relations.
The evolution of Belarus's relations with the outside world has, thus, reached a curious inflection point: a stalemate with its closest neighbor, with whose economy and culture Belarus is closely integrated, and a renaissance in relations with a remote superpower. What comes next will be fascinating to observe.