Moscow Plays Hard Ball in the High North
Publication: Eurasia Daily Monitor Volume: 17 Issue: 17
By: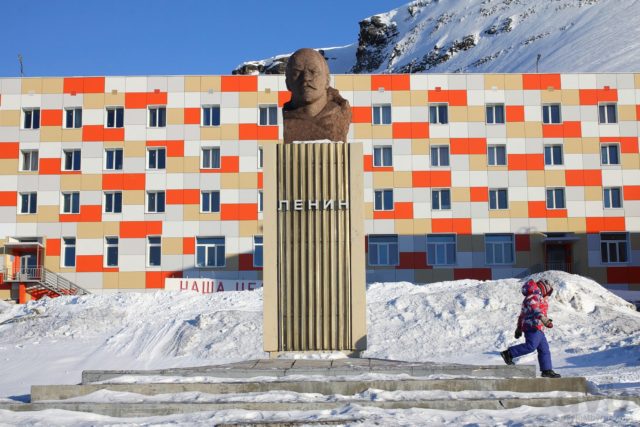 The message from Russian Foreign Minister Sergei Lavrov to his Norwegian counterpart, Ine Marie Eriksen Søreide, on the occasion of the 100th anniversary of the Spitsbergen Treaty was rude even by the standards of Russian diplomacy. Russia has, on several previous occasions, signaled disagreements with various measures Norway has taken to protecting the unique Arctic environment of its Svalbard archipelago. The letter Lavrov sent last week (February 4) describes these measures as "unreasonable" and "unlawful," and it sternly invites Oslo "to conduct bilateral consultations to lift the [local] restrictions from the operations of Russian organizations" (Mid.ru, February 4). Official Russian media followed up with accusations of "crude violations" by Norway of Russia's traditional and legitimate rights to unrestricted access to the archipelago (Rossiiskaya Gazeta, February 5).
Svalbard (the Arctic archipelago's largest island is Spitsbergen), indeed, has a unique legal status fixed by the aforementioned treaty signed just 15 years after Norway became an independent state. It grants Norway sovereignty over the island group but guarantees all state parties to the treaty (originally 14, and presently 46) the right to conduct economic activities and establish settlements there; only Russia (as a successor-state to the Soviet Union) has opted to utilize this right. Coal mining used to be the main form of economic activity; Norway discontinued it in 2017, but Russia keeps exploiting the depleting resource despite the exorbitant production costs. Two Russian mining sites—Grumant and Piramida—are now abandoned ghost towns, but Barentsburg still produces some 100,000 tons a year for local needs and for export to the United Kingdom (Arcticugol.ru, February 8). Lavrov asserted that Russia had long-term plans for strengthening this presence, and "patriotic" commentators have argued that strategic calculations determine this ambition (Svobodnaya Pressa, February 6).
Russia often expresses great interest in natural resources in the Arctic, but its corporations show scant appetite for exploring them, despite government prescriptions and tax cuts (Gazeta.ru, February 2). Ten years ago, the high-profile project on developing the giant Shtokman natural gas field in the Barents Sea fell apart because Norwegian Statoil and French Total found the profit margins too low and the corruption in Russian Gazprom's management too high (Newsru.com, February 7). Technology and know-how for off-shore drilling still remains off-limits for Russian companies. The only success in developing Arctic hydrocarbons has happened on the Yamal Peninsula, where Russia's Novatek constructed the Sabetta liquefied natural gas (LNG) production facility, with generous credits from China (Nezavisimaya Gazeta, January 13). This new gas is exported primarily to the European market, where it competes with Gazprom's pipeline-transported gas (Kommersant, January 20, 2020; see EDM, April 16, May 6, 2019).
Svalbard has no promising hydrocarbon-rich geological formations (other than those nearly depleted coal seams), nor has it any significance for the maritime traffic on the Northern Sea Route, over which Russia seeks to assert sovereign control (Izvestia, August 26, 2019). The archipelago figures prominently, however, on the Russian geo-strategic map for the Arctic, which is now adorned with many new military bases, from the Franz Josef Land to Chukotka (TASS, December 2, 2019). Moscow asserts that the purpose of these bases is strictly defensive, but it actually enjoys the position of military superiority in the High North and seeks to exploit it to political purposes, for instance by questioning the maritime border agreement with the United States in the Bering Sea, signed in 1990 by then–foreign minister Eduard Shevardnadze though never ratified by the Russian parliament (RIA Novosti, January 21; see EDM, January 30).
Pressure on Norway is another manifestation of this forceful policy, and the demilitarized status of Svalbard prescribed by the 1920 Spitsbergen Treaty makes it difficult for Oslo to neutralize the implicit Russian threats (importantly, the treaty does not prevent Norway from employing military assets there for a wide range of peaceful purposes, including transport, search and rescue, and research). Norway relies on membership in the North Atlantic Treaty Organization (NATO), which has had to progressively increase the scale of allied military exercises in Northern Europe. Lavrov duly asserted that Russia would respond to NATO's Defender Europe 2020 exercises, scheduled for May–June (RIA Novosti, February 4; see EDM, January 29). In fact, Moscow has already started its preemptive response with naval exercises in the Norwegian Sea (Murmansky Vestnik, February 6). Last autumn, Russia's Northern Fleet attempted to interfere with the Alliance's Trident Juncture drills by staging missile tests inside the designated exercise area and jamming the GPS signals; quite probably, Russian countermeasures will be even more robust this year (Kommersant, November 13, 2019).
Prevention of military incidents was a key issue discussed on February 6 by Valery Gerasimov, the chief of the Russian General Staff, and Tod D. Walters, Supreme Allied Commander Europe, in Baku, Azerbaijan (Izvestia, February 6). Russian aggressive interference with US and NATO military activities certainly supplies a rich agenda for such talks, but what makes the Arctic a particularly relevant topic is the propensity of the Russian military to take elevated risks with exploiting and testing complex weapon systems in this region. Last summer, the fire on board the AS-31 (Losharik) nuclear submarine claimed 14 lives; and soon after, the explosion during a test of a nuclear-powered 9M730 (Burevestnik) cruise missile killed 5 scientists (Nezavisimaya Gazeta, December 30, 2019; Fontanka, January 10, 2020).
President Vladimir Putin may have dampened his boasts about Russian achievements in developing "wonder missiles," but the military buildup in the High North continues unabated. One of the latest projects is the deployment of ten Resonance-N radars, allegedly capable of detecting hypersonic missile trajectories (Rossiiskaya Gazeta, January 10). Russia claims superiority in developing hypersonic technologies; and building additional defenses against such missiles, particularly around the heavily fortified Kola Peninsula, appears redundant (Voennoe Obozrenie, January 24).
Russia has invested great effort and resources in militarizing the Arctic, portraying this buildup as exclusively defensive but aiming to achieve a position of power, first of all in the Barents region. The northernmost NATO states are committed to developing cooperation in the Arctic but feel compelled to respond to Russian activities, and each step in upgrading the Alliance's containment capabilities prompts a further disproportionate upsurge in Russia's preparations for armed conflict. It is in the High North where a new arms race is now accelerating and involves the highest risks of incidents and accidents, particularly with nuclear weapons. Moscow tends to perceive its capacity to absorb these risks as an important strategic advantage, so the initiatives from its Arctic neighbors to resume cooperation in nuclear risk prevention are seen as a sign of weakness. The combination of diplomatic pressure and military demonstrations has so far failed to secure any political gains for Russia, but it has shown low ability to learn from setbacks and near-disasters.