Belarus: What Did Roman Protasevich's Interview Reveal?
Publication: Eurasia Daily Monitor Volume: 18 Issue: 90
By: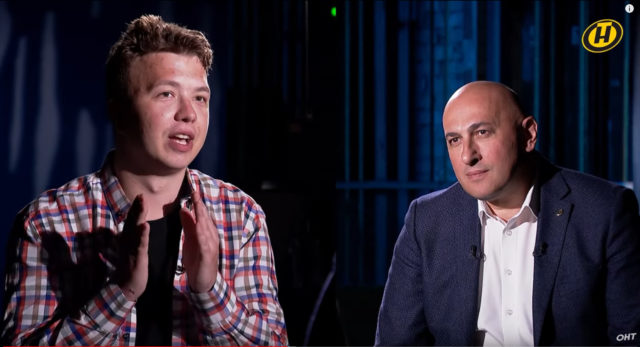 On June 3, Belarusian TV showed an interview with Roman Protasevich, captured by Belarusian intelligence services after the forceful landing of the RyanAir aircraft en route from Athens to Vilnius (YouTube, June 3; EDM, May 24). This 96-minute-long interview was extracted from four-and-a-half-hour of footage. Much of what was not aired is subject to investigation, according to the interviewer Marat Markov, whose subtle and at times smarmy style, far detached from that of cookie-cutter ideological crusaders, created a semblance of objectivity.
Valery Belsky, an assistant to President Alyaksandr Lukashenka, previewed Protasevich's interview one week earlier, writing that Protasevich would "turn inside out the dirty laundry of runaway collaborators, whose livelihood is sustained by neighboring countries. He will tell us about the schemes for financing destructive activities, plans for Belarus and the promises of "donors"…He will tell us about the crimes committed in the east of Ukraine by volunteer battalions, in which this passenger, according to his own confessions, is involved—the photos from his phone have already been presented to the media" (Belta, May 27).
The preview turned out to be accurate, at least in the perception of one side of the Belarusian societal divide. Of course, "perception is reality," which is a counseling formula harnessed by contemporary media. It reflects how we feel when faced with top stories in the news—and Protasevich's interview had half a million viewers on YouTube within the first 24 hours after it aired on TV (ONT, June 4). In other words, preconceived notions often matter more than the story itself. There are, indeed, two contrasting responses that Protasevich's interview has elicited. According to one of them, offered by the state-run media (e.g., Belarus Segodnya, June 4) and Lukashenka-loyalists inside Belarus on their social network accounts, what Protasevich disclosed deals a crushing blow to the foreign-induced protest movement and marks the beginning of moral reckoning and normalization. According to the contrasting response, shared by the opposition-minded media (e.g., Svaboda, June 3) and by most Western observers, the interview is a public spectacle of torture; taking it seriously makes no sense as the interviewee is a hostage, who, quite possibly, was also beaten, threatened and fed with "truth-inducing" drugs. There is no middle ground or nuanced interpretation, which is problematic for making an independent analysis.
A modicum of relief can be extracted from the observation that Protasevich's disclosures fall into two categories: a) predictable and b) those with a potential for launching an investigation and even somewhat altering one's picture of reality. The stories about corruption in the opposition, its leaders jockeying for the attention of Western sponsors, and asking that sanctions be imposed on Belarus belong to the first kind. Not to mention the budget of the Belaruski Dom (Belarusian House) in Warsaw; the monthly rent for Pavel Latushko's apartment in Poland; the team of stylists working on exiled opposition leader Sviatlana Tsikhanouskaya's attire; the interviewee's ego wounded by some of his partners who reportedly enjoy recognition for what he had accomplished; and speculations about who might have leaked Protasevich's itinerary to the KGB. The expression of respect to Lukashenka, whom Protasevich called "the man with balls of steel," also pertains to the same category that possibly accounts for 80 percent of the entire broadcast.
More meaningful and deserving scrutiny are the disclosures of the second kind: Protasevich's accounts of playing an intermediary role between the alleged coup organizers arrested in Moscow on April 12 (EDM, April 19) and Tsikhanouskaya; generous donations of some Russian oligarch to the NEXTA Telegram channel (most probably, by Belarus-born Dmitry Mazepin of UralKalii, a potash producer); the existence of sleeper cells still in Belarus that the organizers of the coup relied upon; the extent of Protasevich's activities within the Ukrainian Azov battalion (Protasevich is leery of the extradition request filed by the self-proclaimed Lugansk People's Republic and begs Lukashenka to deny it); and the makeup of the so-called coordination council of the August-September protest rallies in the form of a Telegram channel chat.
Among other participants of that council, Protasevich mentioned Artyom Shraibman, one of the most reputable voices in the Belarusian opposition-minded community. While Protasevich denied that Shraibman steered the protests, his imputed role was sharing comments on how to make those more successful.
Following the broadcast of the interview, Shraibman promptly left Belarus for Ukraine. Explaining his decision, he underscored that he always resisted the idea of leaving the country but had to change his mind this time. He also mentioned that one of his principles has always been keeping a distance from the processes he analyzes, i.e., non-participation in politics (Shraibman, June 5). However, what was mentioned about Shraibman on Belarusian TV on June 4 justifies his misgivings. As Grigory Azaryonok, a true stalwart militating against Western "poisoning" of Belarusian political life, stressed, "This liberal political scientist was a consultant to the riot. He gave advice. He helped coordinate. You have to understand that this is an American agent, an expert at the Carnegie Center, a graduate of the London School [of Economics]. And we remember: when we say Shraibman, we mean TUT.BY. It is high time we cleanse the country of these agents. I am sure this work will continue" (CTV, June 4).
What befell five arrested activists of the Polish minority is along the same lines. Specifically, three of them were deported to Poland in late May, and Polish President Andrzej Duda has already met with them (Prezident.pl, June 4). However, the two best-known activists, journalist Andrzej Poczobut and the chairwoman of the unrecognized Union of Poles, Andżelika Borys, declined the offer of deportation and remained in jail (Bdg, May 18).
A glimmer of light at the end of the tunnel has evidently not shown up yet in Belarus.