Belarusian Foreign Policy in Circumstances Beyond Minsk's Control
Publication: Eurasia Daily Monitor Volume: 19 Issue: 80
By: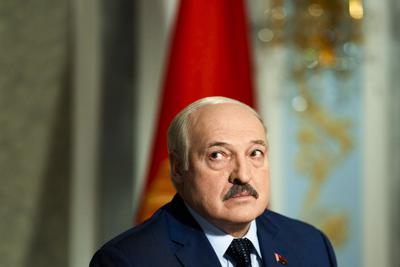 The predominant feature of Belarus's current situation vis-à-vis its neighbors is uncertainty. Will Belarus eventually participate in Russia's military operation in Ukraine? Will Belarus retain its statehood or fall victim to Russia's expansionism? No definitive responses to these questions exist, possibly even in the minds of the Belarusian leadership.
In a recently published op-ed, Yury Drakakhrust of Radio Liberty returns to the question of whether Russia is likely to annex Belarus, and he backs away somewhat from his previously unequivocal "no" (Zerkalo, May 25). As he recalls in his piece, the last time talk of unification entered the public debate was in 2019—in conjunction with the potential extension of Russian President Vladimir Putin's tenure in 2024 by making him the head of a new, united Russian-Belarusian polity. However, in 2020, Russia changed its constitution to allow Putin to run again for the presidency of his own country, so the unification talk subsided, Drarakhrust notes. But Russia's full-scale war against Ukraine this year changed the context in both a political and an ideological sense. Unification referenda have been preannounced for the Moscow-backed Donetsk and Luhansk "people's republics," whereas previously Russia did not move to formally annex them; and the Russia-appointed leader of Kherson Oblast's administration has called for a similar referendum in that Russian-occupied region of Ukraine. The Russian opposition-minded media outlet Meduza (presently based in Riga, Latvia) has insinuated that such a unification plebiscite may be conducted in Belarus, too, if President Alyaksandr Lukashenka can be arm-twisted into agreeing—which does not seem likely (Meduza, May 24). Ideologically speaking, the justification for such a compelled unification can easily be borrowed from Putin's February 21 speech (Kremlin, February 21), in which he principally claimed that Ukraine is an artificial entity created by Soviet planners out of a handful of historical Russian regions. To replicate the same line of reasoning for Belarus is a no-brainer, suggests Drakakhrust; though at the same time, he argues that, at least in terms of practical implementation, this annexation would not be easy for the Kremlin to accomplish (Zerkalo, May 25).
A similar uncertainty pertains to Belarus's participation in the Russian war. Earlier this month, it seemed that this issue was closed. Yet after Poland's President Andrzej Duda visited Kyiv (on May 22), where he heard from his Ukrainian counterpart, Volodymyr Zelenskyy, that "Polish citizens in Ukraine will be granted the same rights that Ukrainian refugees in Poland are currently receiving" (EurActiv, May 23), the situation may have changed. On May 26, Lukashenka announced the creation of a new Southern Operational Command of the Belarusian Armed Forces. "This dynamic time has prompted us to recognize the fact that we immediately need to create this operational direction—along with the West and Northwest [commands], there will also be the southern wing," he declared (Vzglyad, May 26). The Russian "national-patriotic" online newspaper Vzglyad further clarifies that though this new structural command unit is being set up with the would-be danger from Ukraine in mind, it is actually to counterbalance or stave off the potential incursion of the Polish military into western Ukraine (Vzglyad, May 27). The Russian media is, indeed, awash with assertions that Poland can now send two divisions to Ukraine: "Most likely, the 16th and 18th mechanized [divisions], as well as actively use its Air Force and special operations forces. In total, with supporting personnel, this can amount to as many as 50,000 servicemen" (Moskovsky Komsomolets, May 25). Other analysts, like the former Belarusian diplomat Pavel Slyunkin, suggest that the Belarusian Armed Forces are likely to be integrated into Russia's in the event of the latter's pronounced military success (Svaboda.org, May 27).
While it is not clear how persistently and/or strongly Moscow presses Minsk to join its military operation in Ukraine, the Kremlin's overall frustration with the lack of support Russia has received from the other Collective Security Treaty Organization (CSTO) members is both vivid and pronounced. As Vzglyad's chief international commentator put it, Russia spoiled its allies by giving them numerous handouts and freely allowed them to pursue multi-vector foreign policies. But now, this unfounded charitable behavior on Russia's part should end. "The CSTO countries must decide. Either they become one with Russia, turn into an anti-NATO [North Atlantic Treaty Organization], put in resources to support Russia's foreign policy and fight together against all external threats (from the Islamists to the Americans), or they should embark on an independent voyage—in the direction of becoming an Islamic emirate, a Polish colony or a Turkish vilayet" (Vzglyad, May 19).
Apparently, frustration is growing in Minsk, too, though it is largely hidden beneath the veneer of its obligations to Moscow. Indicative of this was Lukashenka's recent letter to United Nations Secretary General António Guterres, in which the Belarusian leader urges the UN's head to take a "really strategic peacekeeping stance" and initiate "meaningful contacts with all the parties involved in the conflict" in order to stop it as soon as possible. "We are no aggressors, as some states try to present us. Belarus has never been the initiator of any wars or conflicts. But we are no traitors either," Lukashenka writes (Lenta.ru, May 23). In other words, barely hidden underneath the help-to-stop-the-war message is another one: our foreign policy is shaped by circumstances we do not control.
It is perhaps natural that somewhat similar circumstances affect the Belarusian opposition. In a recent video posted by Zerkalo, Carnegie Endowment for International Peace nonresident scholar Artyom Shraibman explains why the leader of the opposition-in-exile, Svetlana Tikhanovskaya, supports the toughest economic sanctions against Minsk. (Most Belarusians at home oppose them, as do the founder of the Belarusian Popular Front Zianon Pazniak and the political faction launched by the now-jailed 2020 presidential hopeful Victor Babariko.) According to Shraibman, faced with the choice to a) do nothing, b) promote contacts between the West and Lukashenka, and c) support sanctions, only the latter option comes across to the exiled opposition as acceptable. That is because the first option implies the opposition's irrelevance and the second one legitimizes Lukashenka. So backing more sanctions is chosen by default (YouTube, May 25).
Selecting the policy most helpful to one's own political future is how politicians often make choices. Being mindful of this fact, even if it does not exonerate Lukashenka for his various misdeeds, may tone the rhetoric down a bit and help to see the Belarusian situation more clearly.