Russia's Arctic Strategy Melting Under the Scorch of Sanctions (Part One)
Publication: Eurasia Daily Monitor Volume: 19 Issue: 80
By: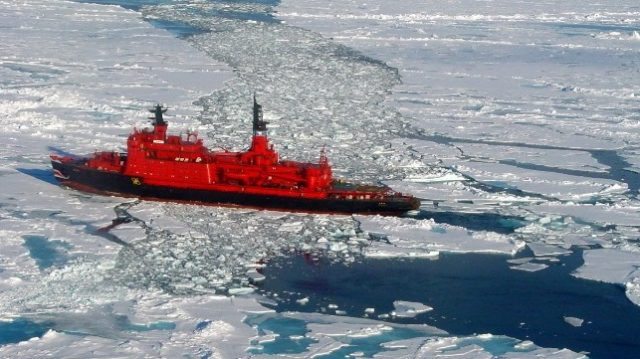 Two government documents—"On the development of the Arctic zone and ensuring national security until 2035" (Pravo.gov.ru, October 26, 2020) and "Energy Strategy 2035" (ES-2035) (Minenergo.gov.ru, accessed May 29, 2022)—outline Russia's vision on its role, place and ambitions in the Arctic macro-region. Aside from other aspects, these documents argue that for Russia to preserve its dominance over the northern polar region, two strategic goals must be achieved. First is exploiting the macro-region's economic potential, which is to be primarily accomplished through an intensification of exports of non-renewable energy resources and liquefied natural gas (LNG) in particular. Second is capitalizing on the local transportation potential of the region, first and foremost establishing the Northern Sea Route (NSR) maritime corridor (which follows Russia's northern coast and links Europe with the Asia-Pacific) as an alternative to the Suez Canal. According to the Russian side, the implementation of both of these measures will assist Russia in its strategic reorientation toward the economically booming Indo-Pacific macro-region—the so-called "Pivot to Asia"—with China becoming Russia's key trade and geopolitical partner.
Prior to the outbreak of Russia's full-scale aggression against Ukraine (February 24), the energy-related aspects of Russian Arctic strategy looked as if they were beginning to bear fruit. In January 2022, Russia's gas giant Novatek concluded a long-term deal with China's ENN Natural Gas and Zhejiang Energy, committing to supply 1 million tons of LNG per annum to the Chinese market for the next 15 years. Earlier, in February 2021, Novatek had signed another LNG contract with the Chinese Shenergy Group (Oilexp.ru, January 11, 2022). Yet, Russia's unprovoked war against its neighbor seemingly halted—if not effectively crippled—the Kremlin's ambitious plans. And Russia now faces four serious challenges:
The first is Western sanctions on advanced technology, including components or industrial processes required for LNG production. The European Union's fifth sanctions package specifically bars EU producers from supplying Russia (directly and indirectly) with such technologies. It is worth noting that after 2014 (following Russia's forcible annexation of Ukraine's Crimean Peninsula), the world's largest industrial gas company, German Linde, continued to provide Russian industry with indispensable technologies vital for the production of LNG. But now, assuming the latest sanctions cannot be evaded, Russia is likely to encounter grave obstacles to completing the strategic Arctic LNG2 mega-project, especially its second and third production lines. More importantly, as even Russia's top officials openly admit (Pravda.ru, April 14), import substitution is unlikely to become a viable solution in this regard. Russia's only LNG-related project that exclusively relies on domestic technologies (Yamal LNG fourth line) is not functioning well, having faced various technical difficulties (Kommersant, April 11).
Second, foreign investors continue to abandon Russia's Arctic-based energy projects. In particular, Shell decided to pull out of the Gydan Energy joint venture (JV) with Gazprom Neft, where it held a 50 percent stake. Notably, Shell and Gazprom Neft had previously planned to use this JV as a foundation for creating a new energy cluster in the Arctic region (the onshore Leskinsky and Pukhutsyayakhsky areas), with the commercialization phase of this proposed project starting in 2028 (Oilcapital.ru, May 23). Furthermore, Japanese Mitsui and JOGMEC as well as French TotalEnergies recently declared their withdrawal from the already-mentioned strategic Arctic LNG2 mega project, due to the "inability to carry out financial transactions, stemming from economic sanctions" (RIA Novosti, March 25).
This news, undoubtedly worrisome for Russia, may be overshadowed by yet another "surprise" with far-reaching detrimental consequences for the country's Arctic-related energy ambitions. Namely, it appears that Chinese investors are also losing interest in Russian Arctic- and High North–based energy deposits. Specifically, at the end of May, a rumor started circulating about the Chinese government instructing its three largest domestic energy firms—Sinopec, China National Petroleum Corp (CNPC) and China National Offshore Oil Corp (CNOOC)—not to "rush ahead with investments in Russia" (The Moscow Times, May 23). Furthermore, Russia sources claimed that at least five large Chinese engineering companies—Bomesc Offshore Engineering, Cosco Shipping Heavy Industry, Penglai Jutal Offshore Engineering, Wison Offshore Engineering and Qingdao McDermott Wuchuan—might stop collaborating with Novatek on its Arctic LNG2 project (Kommersant, May 22). While no official decision on this has yet been made—and Chinese corporations have refrained from any comments on the subject—these developments suggest that Chinese investors, businesses and technology providers are becoming increasingly hesitant of strengthening cooperative ties with Russian counterparts, even in such potentially profitable spheres as energy.
Russia's third challenge in developing LNG production in the Arctic is decreasing access to foreign financial resources. With major Russian banks, including Sber, Gazprombank, VEB.RF, and Otkrytie FC Bank, having come under sanctions, Novatek faces the prospect of severed financial inflows and hindered foreign financial transactions that would have been critical to the completion of Arctic LNG2 (Kommersant, March 3). And with foreign partners abandoning the mega-project, it is unclear how Moscow is planning to solve this challenge.
The fourth problem is restricted Russian access to delivery methods. Notably, Daewoo Shipbuilding & Marine Engineering (DSME), one of the "Big Three" shipbuilders in South Korea and a key partner for Russian LNG producers, recently canceled its contract (worth $872 million; signed in October 2020) with Russian Sovkomflot for the construction of LNG carriers (Arc7 class). These vessels are essential for transporting LNG across Arctic waters. Reportedly, due to financial sanctions, Sovkomflot was physically unable to make payments on the contract; while the Korean side was additionally motivated by opposition to Russia's actions in Ukraine as well as a fear of coming under secondary sanctions. Consequently, Russia will not receive at least six modern LNG carriers designed for Arctic conditions. Yet, the actual scope of this challenge might be even greater: Russian was also hoping to build an additional 15 such vessels in collaboration with another South Korean shipbuilder Samsung Heavy Industries (SHI); this plan has now also likely been derailed (Kommersant, May 25).
Taken together, the "energy" side of Russia's Arctic strategy appears to be in serious trouble. While this does not mean that Russia will not be able to capitalize at all on its vast Arctic-based energy deposits—India and China are likely to continue purchasing Russian oil and gas at a discount—the development of new projects (and their financing) may prove highly problematic.