Belarusian Protests Through Emotional Versus Analytical Lenses
Publication: Eurasia Daily Monitor Volume: 17 Issue: 127
By: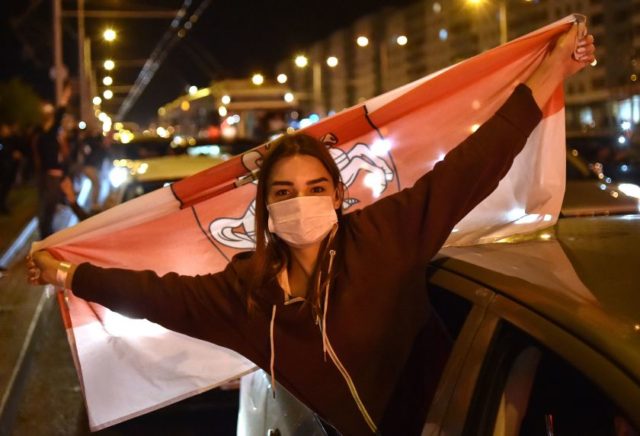 Narratives devoted to the ongoing political turmoil in Belarus fall into two basic categories: emotional and analytical. Attempts to mix both genres do not succeed. "Even if the Belarusian revolution [sic] ends in defeat, it will still go down in history and will have a huge impact on the further development of the country," wrote Valer Karbalevich of Radio Liberty, only to be rebuked by multiple comment posts to the effect that "by no means will the revolution be defeated" (Svaboda.org, September 10). Nevertheless, narratives of both kinds are warranted, each in their own right. And when looked at together, they form a much more complete and objectively truer picture of what is now happening on the ground in Belarus.
On the emotional side, many observers have expressed astonishment and admiration over the scale of the protests involving members of a national community previously thought to be rather pliant or passive. At the same time, vote-rigging and mistreatment of protesters, especially women, elicits indignation. The bonds of solidarity and the emergence of networks of mutual support in what heretofore looked like an atomized society generates pride and commitment to resist the brutal handlers of the regime to the bitter end. The moral authority of the female leaders of the protest movement is currently sky-high, with Svetlana Tikhanovskaya largely a symbol of the protest and Maria Kolesnikova rising to the level of its political head. The circumstances of the latter's September 7 abduction; the distorted version of what happened next, shared by President Alyaksandr Lukashenka (RBC, September 8); and the actual chronicle of Kolesnikova's intransigence, culminating in her choosing imprisonment in Belarus over personal freedom abroad (Nv.ua, September 8) will surely be rehashed repeatedly by future scholars and dramatists alike. Incidentally, Kolesnikova's treatment by the authorities invokes the memory of the famous 1964 quip of the poet Anna Akhmatova about the Soviets' handling of Joseph Brodsky (Nobel laureate in literature, in 1987). When he was sentenced to forced hard labor in the High North, Akhmatova exclaimed, "What a biography they are making for our red-headed one—as if he had hired someone to do it." Kolesnikova will now also stand trial, officially accused of making "public calls for the seizure of power" (article 361 of Belarus's criminal code) (Tut.by, September 9).
More analytically inclined authors have arrived at somewhat different conclusions. First, if the Belarusian authorities switch to pointed and less demonstrative repressions, the protests are likely to subside. And the advent of cold weather may further facilitate that outcome. If, however, repressions remain as clumsy as they are today, protests will linger, but the authorities are unlikely to flinch (see Jamestown.org, September 10).
Second, Russia has become the principal arbiter in Belarus's domestic conflict, whereas the West's ability to affect it is limited. This outcome is recognized by the now-exiled leaders of the protest movement itself: for example, Pavel Latushko of the Coordination Council, said that the opposition body, created to negotiate the putative transfer of power in Minsk, has been trying to connect with the Kremlin (Lenta.ru, September 7). This same outcome is de facto recognized in the West: notably, Deputy Secretary of State Stephen Biegun recently conducted detailed Belarus-related negotiations in Moscow. Most revealingly, Moscow's key role was confirmed by Lukashenka himself, whose two-hour-long interview to Russian journalists on September 9 contained one primary message: "The West seeks to carry out a color revolution in Belarus solely in order to prepare a springboard for the same revolution in Russia. Therefore, by supporting me you are saving yourself. By suppressing the protest in Belarus, I am actually defending Russia" (YouTube, September 9). Following their meeting in Sochi yesterday (September 14), Lukashenka and Vladimir Putin, as expected, did not sign any bilateral documents and did not hold a press conference afterward. All that is known for sure at the moment is that Russia will issue a $1.5 billion loan to Belarus (Lenta.ru, September 14). Yet, conjectures about the content of the meeting abound. The most detailed hypothesis, authored by Arseny Sivitsky and Yury Tsarik, posits inter alia that Putin would like to a) limit the revision of the constitution, immediately followed by new presidential elections, to just one year; b) suggest Lukashenka's voluntary exile to Russia; and c) ensure the release of most political prisoners, especially of Victor Babariko and Maria Kolesnikova, who will be allowed to register a political party (Forstrategy, September 14). Incidentally, in his improvised speech immediately preceding the meeting with Putin, Lukashenka mentioned that he is aware of multiple conspiracy theories about the agenda of this meeting (RIA Novosti, September 14).
Finally, there is an economic side to the Belarusian protests that the aforementioned Russian loan cannot fully address. The country used to extract economic rent from Russia—namely, revenue from large price discounts on hydrocarbons. After this rent diminished, it made it more difficult for Lukashenka to maintain the loyalty of the political elites; whereas in every sector of the economy (except for information technology, which is oriented toward the United States market), personal incomes stagnated. Creating a non-rent-based economic alternative is only possible through long-term foreign investment, which requires good returns and protections of investor's rights. In any case, the path to that alternative is not short and runs through protracted economic decline. But the Belarusian protestors are demanding to see prompt results. This impatience does not bode well for Belarus regardless of who is at the helm of power (Finizvestia.ru, August 21).
When looked through emotional versus analytical lenses, the developments in Belarus suggest divergent reactions. No wonder that Western policymakers are at a crossroads. For example, the idea on the part of some US senators to punish Minsk by withholding sending an ambassador (Svaboda.org, September 2) understandably stems from the emotional perspective; but it is worth pointing out that the absence of a diplomatic envoy since 2008 had arguably diminished US influence in Belarus for a decade—resulting in a shortage of levers to pull today. Likewise, from the emotional perspective (Facebook.com/people/Alexandr-Feduta, September 11), the fact that Minsk has just reiterated its invitation for the Pope to visit Belarus (Svaboda.org, September 11) is seen as a cynical ploy because it follows the authorities' denial of reentry to the leader of Belarusian Catholics (see EDM, September 8). However, the Pope could prove to become an influential mediator; otherwise, all mediation will only come from Russia. Clearly, the analytical lens cannot be fully subdued to emotion when it comes to crafting smart policy.