Belarusians Worry About the Economy
Publication: Eurasia Daily Monitor Volume: 17 Issue: 64
By: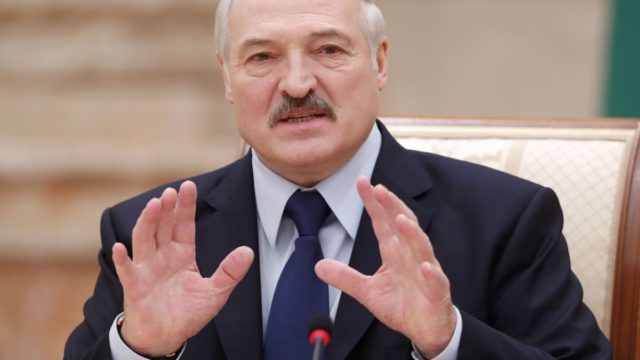 Belarus has been preoccupied in recent days with President Alyaksandr Lukashenka's decision not to cancel this year's annual May 9 Victory Day military parade, which marks arguably the country's most important public holiday. "I must say that we cannot cancel the parade," declared Lukashenka on Sunday, May 3. "I thought about it at length. Of course, this is an emotional and deeply ideological thing. It must be remembered that those people [World War II veterans] were dying, perhaps also from viruses and other diseases. But sometimes they did not […] think about it. And they died for us, no matter how lofty it sounds. And just think what people will say… They will say we canceled because we were afraid." At the same time, the president warned the organizers that "no one should be dragged to this event," including not the relatively few surviving Belarusian veterans of the war (Tut.by, May 3). Lukashenka issued an invitation to foreign heads of states (particularly of post-Soviet countries) to come to Minsk for the parade. But as the government newspaper Zviazda acknowledges, the Belarusian leader realizes that some of his foreign peers may choose not to come—not only out of fear of infection in the middle of a pandemic but also to "save face" or avoid looking hypocritical since they imposed quarantines and curfews in their own countries (Zviazda, May 5). "Let us hope someone arrives. But if they do not, we will hold a parade ourselves, as usual," Lukashenka mused. At the same time, he called on Russian television to cover the ceremonies in Minsk.
Moscow-based observers called the upcoming parade in Minsk a "feast in a time of plague" (Lenta.ru, May 3), and Belarusian opposition commentators notably employed the same terminology (Svaboda.org, May 5). Meanwhile, Alexander Klaskovsky, a veteran of opposition journalism in Belarus, claims, arguably not without grounds, that the decision to hold the Victory Day celebrations in the middle of a pandemic was at least partially motivated by Lukashenka's desire to take a swipe at Russian President Vladimir Putin and undermine the notion that he takes his marching orders from the Kremlin leader. To wit, the military parade in Moscow was postponed indefinitely due to the COVID-19 crisis (see EDM, April 16, 21, 22). "Putin is in the bunker, whereas Lukashenka is on horseback," Klaskovsky notes (Naviny, May 6).
The long-time journalist also pays attention to how Lukashenka preannounced a recent phone call with his Russian counterpart: "Putin asked for a conversation," said Lukashenka, "And he will call me today at 5 PM." Moreover, Klaskovsky spotlights the remarkable divergence in how the May 5 Lukashenka-Putin conversation was described by the two presidents' respective press services. The readout from the Belarusian side emphasized that the call "was about preparations for the celebration of the 75th anniversary of the Great Victory" and that Lukashenka informed Putin about the parade and the situation in Belarus as a whole, including, at the very end, fighting the pandemic. The Kremlin's press service, on the other hand, reported that the leaders discussed the epidemiological situation and "some issues of interaction within the Union State." Not a word pertained to the parade (Naviny, May 6).
Last month, the polling firm Satio published the results of its April 17–22 representative survey of 1,011 Belarusian urbanites aged 18–64 devoted to their attitudes to the pandemic. Among other findings, the poll revealed that Belarusians' utmost fear is of falling wages due to the pandemic. Fifty-two percent have already recorded a decline in their incomes in recent weeks. At the same time, 90 percent do not expect economic recovery earlier than in six months; almost half anticipate an even more protracted recession. According to the authors of the study, Belarusians are much more pessimistic in this regard than citizens of other countries at similar stages of the coronavirus outbreak (Satio.by, April 2020).
Considering that Belarusians' attention to their economy is at least as focused as to the pandemic itself, it is little wonder that, domestically, COVID-19 has not muscled out media coverage regarding the former. Thus, as Tut.by reported last week (April 29), Belarus purchased 80,000 tons of Saudi oil, which will arrive in the Lithuanian port of Klaipeda on May 11 (Tut.by, April 29). Moreover, President Alyaksandr Lukashenka ordered to build the Gomel–Gorki connector between the two branches of the Druzhba oil pipeline on Belarusian territory and thus enable flexible sharing of imported petroleum between Belarus's Novopolotsk- and Mozyr-based refineries. The government emphasized that the connector will facilitate diversification of imported oil suppliers as, heretofore, oil coming from Klaipeda could only reach Novopolotsk, whereas oil delivered through the Odesa–Brody pipeline (i.e., via Ukraine) could only end up in Mozyr (Tut.by, April 29). At the same time, Russian sellers have been asked to deliver just 1.1 million tons of crude instead of the usual 2 million. The main reason is that Europe's demand for refined oil has shrunk on account of the pandemic. At the same time, Belarus appears unable to take advantage of the current level of oil prices to stash oil for a rainy day. This is because the national storage capacity does not exceed 900,000 tons, which is equivalent to what Belarus imports every two weeks (Tut.by, May 1).
Minsk is presently negotiating loans from the International Monetary Fund (IMF), World Bank and European Investment Bank (EIB), with the aim of obtaining $2.5 billion to boost its social programs (Svaboda.org, April 27). It does not sound likely that Minsk will dare extract rental payments from Russia for its two military installations in Belarus—the early missile-detection station in Gantsevichi and a submarine-monitoring station in Vileika. Russia's lease on both expires on June 6, 2021, but the independent military expert Alexander Alesin believes that, in the present climate, Lukashenka will not risk further worsening the relationship despite his statements to the contrary in his interview with Echo Moskvy in December 2019 (Naviny, April 28).
A sliver of good economic news has been the appearance of the first sample of the electric buses that will soon be produced by MAZ, Belarus's major automobile plant largely specializing in trucks (Tut.by, May 5). They can cover 300 kilometers without a recharge—much farther than the ubiquitous yellow electric buses, produced by Belkommunmash, that now fill the streets of the Belarusian capital (ABW, June 27, 2019). A recharge, however, is much-needed for the entire national economy, whose 2020 slump is expected to reach 3.5 percent, even according to the most optimistic scenario. As such, the country is girding for more tough times ahead.