Belarus's Independence and Its Putative Defenders at a Time of War
Publication: Eurasia Daily Monitor Volume: 20 Issue: 40
By: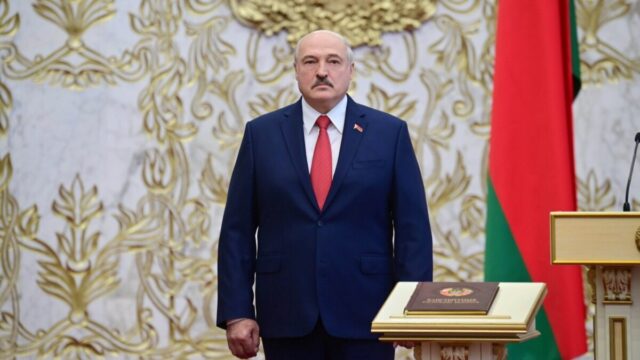 The Belarusian political regime headed by President Alyaksandr Lukashenka is almost 29 years old, and its endurance should be scrutinized by advanced political scientists. Suffice it to say that it has lived under Western-imposed sanctions since 1996, albeit with intermissions, such as between 2015 and 2020. It has been arguably the world leader regarding predictions of imminent collapse. The current sanctions regime is even tougher than that of 2010–2015, and yet by most accounts, Minsk fares relatively well with the economy only shrinking by 4.7 percent from 2021 to 2022—that is, short of the 6.5-percent forecast from the World Bank (Ilex.by, January 23)—and exports shrinking by 4.2 percent. And that is despite the sanctions-triggered 30-percent slump in exports to the European Union, Belarus's second-biggest trading partner.
If the endurance of Lukashenka's government is approximated by a function—subject to calibration by researchers—then the independent variables involved would most probably include various relations, including those with Russia, the West, faraway countries and the domestic opposition, whose active part is currently either jailed or has left the country. Whereas relations with Russia have not registered any noticeable change recently, other relations have been affected by significant events vigorously discussed by political commentators.
"Why Does the EU Procrastinate With New Sanctions Against Minsk?" Such is the title of Radio Free Europe/Radio Liberty's interview with its Brussels-based associate Rikard Jozwiak. According to him, out of two versions of Lukashenka's political behavior—limited autonomy from the Kremlin and a total lack thereof—the first version constitutes the dominant way of thinking for the EU, despite the opposition of Poland and the Baltic states, which think otherwise. Also, multiple sources informed Jozwiak that Kyiv insists on treating Minsk with the utmost caution—despite official denials of the Ukrainian government. Consequently, Brussels is prone to treating Russia and Belarus differently (Svaboda, March 1).
Recently, official Minsk's relations with the opposition have figured even more prominently than with the EU. On February 26, the Telegram channel of former Belarusian security personnel now in exile, the so-called BYPOL, reported two explosions at the Machulishchy military airfield near Minsk. Allegedly with the help of drones, an attack on a Russian A-50 radar-detection aircraft was committed. Alexander Azarov, the leader of BYPOL, claimed the attack was organized by this radical wing of the opposition (Gazetaby, February 27). For several days, the Belarusian government kept mum and subsequently denied any damage, insisting that this same plane, "allegedly destroyed and blown up by extremists," had "successfully met, accompanied and ensured, together with the group of fighter jets, the safety of the board number 1 during landing"—that is, the landing of Lukashenka's plane returning from China (T.me/pul_1, March 3).
However, on March 7, Lukashenka suddenly declared that the major perpetrator of the attack—which, allegedly, did not cause significant damage and yet Minsk still asked Moscow to replace the A-50—was apprehended together with his 20 associates. The perpetrator is reportedly a dual citizen of Russia and Ukraine who was born in Kryvyi Rih, resided in Crimea, has relatives in Austria and was recruited by Ukrainian intelligence back in 2014. He also supposedly received six to eight months of high-tech training under the Central Intelligence Agency's supervision (Sputnik.by, March 7). Lukashenka also pledged to conduct sweeping arrests of sleeper cells' members in Belarus (Sputnik.by, March 7) and insinuated that, tasked by the United States, Ukraine wants to draw Belarus into war (RIA Novosti, March 7).
This story is still developing. And the role of the Ukrainian agent's Belarusian associates remains unclear.
The other major event falling within the "relations with the opposition" category is the 10-year jail sentence meted out to Ales Bialiatski, a Nobel Peace Prize laureate and head of Viasna, a human rights watchdog. He was sentenced for "smuggling of money by an organized group in 2016–2021" and for "funding protests" in 2020 (Svaboda, March 3). This verdict and those pertaining to his three associates, who were given sentences ranging from seven to nine years, have triggered indignation in the West. It is important to realize, though, that, in the atmosphere of acute international confrontation, even a Nobel Prize is treated as a mark of distinction significant in the eyes of a hostile civilization and therefore even more challenging in the eyes of its self-declared antagonists. In doing this, Lukashenka ups the ante in putative negotiations with the West, which he will likely hold at some point.
Curiously, Marek Budzisz, a Polish expert on Belarus, believes that the Belarusian opposition's militant stand (i.e., declared desire to "liberate" Belarus by force) as well as internecine fight will only consolidate Lukashenka's power base. According to Budzisz, retaining Belarus's statehood is a task more important than fighting for democracy; moreover, the latter may lead to the loss of the former (Svaboda, March 2). While this opinion is not altogether unique—this author shares the Polish expert's sentiments—what is curious is that it most probably matches the opinion of Bialiatski, a prominent regime fighter. Otherwise, he would not have issued an appeal for the national consolidation of Belarusians from a courtroom, the appeal that some opposition-minded commentators labeled as premature (see EDM, March 1).
In the meantime, Lukashenka paid a visit to Beijing, "one of the major poles in the multipolar world," where he held a four-hour talk with Chinese President Xi Jinping. Belarus's trade with China is experiencing rapid growth, with Belarusian exports worth $1.61 billion (mostly potash and food) and imports worth $4.18 billion (Belta, March 1, 2). According to Pavel Matsukevich, a former Belarusian diplomat now in exile, Lukashenka is a key informer for Beijing on the post-Soviet space, including Russia's war against Ukraine. He also believes that China is one of a few centers of power that Lukashenka can count on in his own zeal to protect Belarus's independence from Moscow (T.me/pulslenina, March 1).
That seems to square the circle. Yes, Lukashenka is a dictator in the eyes of many. And yet, the West should keep in mind that the fate of retaining Belarusian statehood is contingent on his personal commitment to it.