What the Election of Czech President Petr Pavel Portends for Sino-EU Relations
Publication: Eurasia Daily Monitor Volume: 20 Issue: 40
By: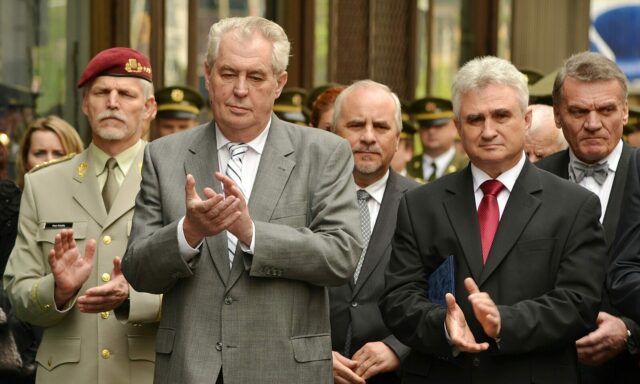 On March 9, Czech president-elect and former North Atlantic Treaty Organization (NATO) Chairman Petr Pavel will take office in the Prague Castle. As only the fourth president of the republic, Pavel plays a central role in shaping presidential norms and influencing the political climate of the nation. While the president serves mainly as a figurehead and foreign emissary, charismatic Czech presidents of the past have broken this mold and become more powerful than the constitutional framers envisioned. Presidents Vaclav Havel (1993–2003), Vaclav Klaus (2003–2013) and Milos Zeman (2013–2023) each left lasting legacies on the political history of the Czech Republic during their respective 10-year reigns.
Pavel's mandate appears to be even more consequential than past presidencies due to the uncharacteristically important role of foreign policy in Czech politics since the 2022 Russian invasion of Ukraine. The Czech Republic has become a sanctuary state for Ukrainian refugees (see EDM, September 21, 2022; January 10), its energy security has been jeopardized (Kafkadesk, January 24) and its foreign policy consensus has ­­dramatically shifted away from both Russia and China. Given that conducting foreign affairs is the core responsibility of the president in the parliamentary republic, the importance of this year's election was not lost on the electorate. Voter turnout in the elections surpassed 70 percent in the final round of voting, with Pavel being elected by the widest margin ever recorded in his victory over businessman and former prime minister Andrej Babis (Radio.cz, January 28).
During his upcoming mandate, President Pavel promises to decidedly shift the Czech Republic's foreign policy stance away from the East and back in line with Brussels—and perhaps even further to Washington. Pavel's predecessor, Milos Zeman, focused his foreign policy mission on attempting to reinvigorate trade with China and Russia while limiting the perceived Czech overreliance on trade with Germany and the European Union (DW, January 31, 2018). Zeman's Kremlin-friendly position became untenable after the Russo-Czech diplomatic fallout following the attack by Russian operatives on Czech ammunition supplies in Vrbětice, (Radio.cz, January 28, 2021). With Russia out of the picture, Zeman doubled down on his mission to increase the Czech Republic's economic ties with China instead.
While some Chinese investments transpired under the Zeman presidency, they were mainly prestige investments, including the sales of major Czech football club Slavia Prague and the historic brewery Lobkowicz, as well as a minority stake in Czech Airlines. The single biggest economic change was an increase in Chinese tourists, but this proved to be fleeting due to COVID-19 travel restrictions imposed by Beijing. Even by Zeman's own admission, Chinese investment promises were not met and export growth to China was underwhelming (Hospodarske noviny, January 20, 2020).
Pavel's election promises to align Prague Castle with the center-right Czech Parliament, which has begrudgingly watched Zeman's attempt to woo Beijing. In fact, the parliament has already hinted at abandoning the "16+1" format that was organized by China in 2012. The forum was initially billed as China's "gateway to Europe" through infrastructure investment in Central and Eastern Europe, but it has been largely underwhelming for both sides. Notable members of parliament have questioned the organization's raison d'etre, and it would not be surprising to see the new government in Prague follow the lead of the Baltic states by formally cutting ties with the forum (iRozhlas, May 22, 2022). Pavel has already demonstrated his hawkishness toward Beijing and Moscow, and he has shown unconditional support for the Ukrainian cause, recently making news with the statement: "Ukraine deserves to be part of NATO" (Prague Morning, January 1).
Not only is Pavel's foreign policy outlook overtly contrary to Zeman's but so is Pavel's demeanor, which is stoic and reserved in nature. Throughout his campaign, Pavel emphasized that he will bring "dignity back to Prague Castle" (Euractiv, January 30). His predecessor Zeman presented himself as a "common man" who did not need to follow presidential etiquette. He became best known in the West for his public displays of drunkenness, his controversial statements to foreign emissaries and for once aiming a model Kalashnikov rifle at journalists during a press conference (Euractiv, June 17, 2019). Moreover, in a country where it is common (especially among the younger generations) to speak English and German, Zeman prefers to speak Russian (typical of the older generations from the former Soviet bloc). Pavel, by contrast, was educated in the United Kingdom and speaks excellent English in addition to French and Russian.
Domestic and foreign commentators alike frame President-elect Pavel's inauguration as a return to normalcy and a promise of more stability in Prague. Commentators have even compared Pavel to Vaclav Havel, who became a sweetheart in the West for his "values-based" political approach (DW, January 30). However, we must consider that Havel was head of state in the optimistic post-communist era of the 1990s. Pavel's policy convictions may be inspired by Havel, but he will operate in a much different geopolitical reality. Today, the EU exports over 10 percent of its goods to the Chinese market and receives major investment from Chinese financial institutions (Ec.europa.eu, accessed March 7).
Pavel is a disruptor who brings political risk to EU countries with significant exposure to China. He has already verbally promised to visit Taiwan, which no EU head of state has done, breaching a significant norm that China has worked hard to enforce. A Chinese Foreign Ministry spokeswoman criticized Pavel for "stepping on China's red line, seriously interfering in China's domestic affairs and hurting the feelings of the Chinese people" (Fmprc.gov.cn, January 30). In another statement, Pavel was warned of causing "irreparable damage" to Sino-Czech bilateral relations (Taipei Times, February 2). China is not a stranger to sending menacing diplomatic communiques, but if Pavel follows through with visiting Taiwan, then Beijing will almost certainly react with more serious measures, with the implications reaching well beyond Sino-Czech relations.
If China's reaction to Pavel visiting Taiwan is anything like its reaction to Taipei opening a Taiwanese Representative Office in Vilnius, then the Czech Republic and the EU more broadly will have to reconcile their trade relations with China (Fmprc.gov.cn, November 19, 2021). China's imposition of export, import and investment bans on Lithuania was a major political event but has so far carried limited economic consequences. The Czech Republic, however, is among the most industrialized countries in the EU and is an integral part of the supply chain for German auto parts ($12.5 billion), electronics ($18.6 billion) and machinery ($14.7 billion) (Oec.world, accessed March 5). If China were to retaliate against German carmakers or appliance companies with Czech suppliers, then the EU would be forced to make some uncomfortable decisions including whether to comply with potential secondary sanctions.