Belarus's Political Crisis Reverberates in Russia and Poland
Publication: Eurasia Daily Monitor Volume: 18 Issue: 94
By: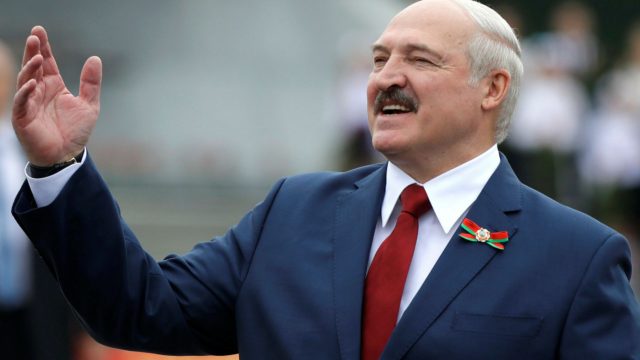 The political crisis in Belarus and reactions to it have impacted this country's relationships with all of its neighbors. Predictably, Russia's role in keeping the Belarusian economy afloat has become even more significant as a result of Western sanctions and air blockade of Belarus. And if the European Union imposes sanctions on Belarus's potash and refined oil exporters—as the European Parliament has insisted the bloc should (Onliner, June 10)—Moscow's position will amount to that of the sole guarantor of Belarus's survival. It is in Russia's interest that President Alyaksandr Lukashenka "be significantly weakened," Yauheni Preiherman of the Minsk Dialogue Council emphasizes, "and this is what has transpired" (Svaboda.org, June 8). To Preiherman, the fact that the domestic confrontation in Belarus does not show signs of abating is tantamount to "demonstrating that we are not prepared to be a full-fledged independent country." Predictably, Preiherman's message received a hostile reception by most in the Belarusian opposition, much like his initial April 2020 warning to that same effect (see EDM, April 22, 2020).
Russia's position features more nuances, however. For one thing, the pending completion of the Nord Stream Two pipeline at the end of this year will lead to a substantial decline in natural gas transit through Belarus. Thus, whereas 9.6 billion cubic meters of gas was transported through Belarus to Europe during the first quarter of 2021, the projected numbers for this year's remaining quarters are 9.18, 8.84 and then only 1.92 billion, respectively. This means a $350 million loss in transit fees for Minsk (Naviny, June 12).
At the official level, Russia's noncommittal attitude to events in Belarus is demonstrated with increasing frequency. When, on June 10, Russian Ambassador Yevgeny Lukyanov was asked about Belarusian political prisoners, Lukyanov retorted by posing a question of his own: "What does Russia have to do with this?" And after being presented with the observation that due to the Kremlin's support for Lukashenka, pro-Russian sentiment in Belarus has noticeably decreased, Lukyanov opined that "Russia is no girl that everyone should like. You do not need to love us. […] You were being prepped for the usual fate of a country where the color revolution won. Do you like what happened in Ukraine? If you do, you are on one side of the barricade, and I am on the other." The ambassador also announced that Russia would delay opening the land border with Belarus for unrestricted movement. This means that only Russian citizens and holders of residence permits in Russia, employees of Belarusian companies working on a rotational basis, as well as those Belarusians coming in for medical treatment, to visit close relatives, or to attend a funeral, can enter Russia (Gazetaby, June 10).
Alexander Shpakovsky, a staunch Minsk-based Lukashenka supporter and a frequent participant of major political talk shows on Russian TV, has noticed that condescending jokes about the Belarusian president and Belarus more generally have been on the rise lately. He attributes that to the guidance of Staraya Square—i.e., the Russian Presidential Administration. The probable message behind this guidance is to insinuate that Russia is more democratic than Belarus, which is what liberal-minded Belarusians might appreciate. Yet the problem with this message, as Shpakovsky observes, is that those liberal-minded Belarusians do not watch Russian TV. In contrast, "true Belarusian patriots" (that is, Lukashenka-supporters) who do, are repelled by those jokes; so the image of Russia and the cause of Belarus-Russia integration are not served well (Facebook.com, June 9).
On June 7, Lukashenka signed a decree about Belarus's new holiday, the Day of National Unity, to be celebrated on September 17 (BelTA, June 7). This is the date when, in 1939, the Soviet Red Army entered Poland due to prior arrangements with Nazi Germany; as a result, western Belarus, as well as western Ukraine, were united with their respective Soviet republics. This anniversary was never celebrated before, despite some past suggestions that it should. That restraint stemmed from Minsk's desire to preserve its relationship with Poland (and the West in general). But now that Poland seemed to have provided support to what Minsk calls a "color revolution," the decision was made to provoke Warsaw. Indeed, the Polish Institute of National Memory called the new Belarusian state holiday a commemoration of the "day of two totalitarianisms' unity" (Svaboda.org, June 8). Valer Karbalevich of Radio Liberty recalls that from August 1939 to June 1941, the Soviet Union and Germany were allies. Their joint military parade in Brest on September 22, 1939, bears resounding testimony to that fact (Ex-press.by, June 8).
The Belarusian authorities' decision on officially marking September 17 as National Unity Day was doubly problematic and exacerbated by what was simultaneously happening across the border. Namely, on the same day that Lukashenka initiated the new holiday, Polish President Andrzej Duda paid a visit to Zaleszany, a Belarusian village in easternmost Poland, where, in 1946, a former Polish Home Army (formally disbanded the previous year) detachment led by Romuald Rajs (Bury) is widely believed to have assassinated 79 Belarusians, including women and children. Accompanied by an Orthodox priest, Duda paid tribute to those victims. This unquestionably positive move on the part of the Polish authorities was long overdue, however, and, therefore, had some trappings of damage control. Adding to this effect, Duda did not mention who the perpetrators were, presumably, so as not to antagonize the extreme nationalist fringe that has organized several marches glorifying Bury and other so-called cursed soldiers whom Minsk strongly objected to (see EDM, March 4, 2020). Also, following Svetlana Tikhanovskaya's meeting with Warsaw mayor (and Civic Platform party member) Rafał Trzaskowski, the prominent Polish parliamentarian Ryszard Terlecki (of the ruling Law and Justice party) mockingly suggested that Tikhanovskaya would be better off seeking advice in Moscow, thus unduly involving her in domestic political disputes that have nothing to do with Belarus (Svaboda.org, June 11; Polsat, June 5).
It is symptomatic of the bitterness and broken relations with Poland that Lukashenka's administration is currently quick to deny any contacts with Belarus's western neighbor. Notably, presidential press secretary Nataliya Eismont made a point of asserting that the deportation (and therefore release from jail) of three Belarusian ethnic-Polish activists to Poland had been solicited by the former Kazakhstani president, Nursultan Nazarbayev, and certainly not by anybody from Poland itself (BelTA, June 7). For now, Minsk does not look ready to back down from its publicly antagonistic stance.