Berkut Riot Police Used to Falsify Ukrainian Parliamentary Elections
Publication: Eurasia Daily Monitor Volume: 9 Issue: 209
By: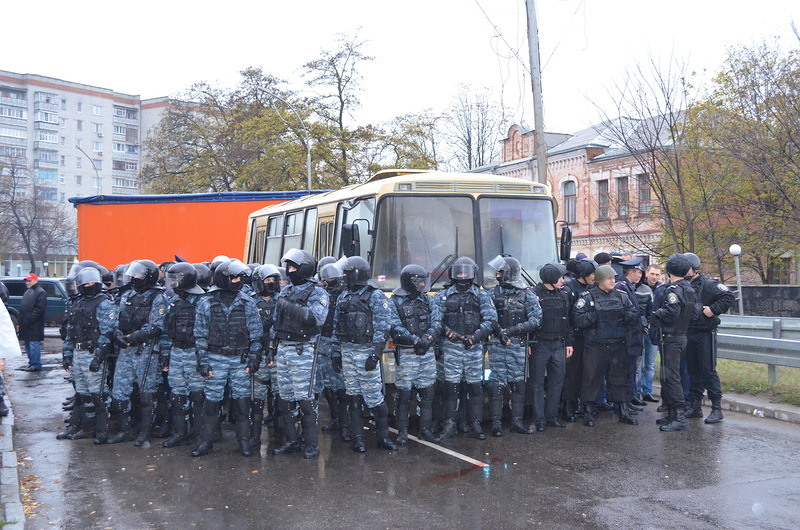 The Ministry of Interior's Berkut riot police has never intervened in Ukrainian elections to the same degree as during the October 28 parliamentary elections. Berkut assisted regional governors in securing victories for pro-regime candidates through electoral fraud by storming election precincts, taking away counted votes and spraying tear gas to disperse those protesting against the fraudulent practices (videos can be viewed here: https://www.youtube.com/watch?v=18RjxXKmuWE&feature=player_embedded;
https://www.youtube.com/watch?v=HM-YBxvzkZo&feature=player_embedded;
https://www.youtube.com/watch?v=Yc2WIDjmfE8&feature=player_embedded).
During the 2004 Orange Revolution, Berkut was unreliable and sympathetic to the opposition; President Leonid Kuchma was forced to rely on Crimean Interior Ministry BARS Internal Troops to prevent an opposition takeover of the presidential administration. In 2007—while Ukraine had a parliamentary system of government—Prime Minister Viktor Yanukovych and President Viktor Yushchenko clashed over who had jurisdiction over Berkut and other law enforcement agencies (see EDM, January 25; June 1, 2007). In fall 2010, Yanukovych returned Ukraine to the presidential system defined by the 1996 constitution, and all security forces are now under his control. The growing "Putinization" of Ukraine's security forces has been taking place since early 2010 (see EDM, June 22, 2010; March 6). Berkut has received additional budget funds and new equipment and is increasingly used as the president and Party of Region's "Praetorian Guard."
Berkut has been deployed more and more to intimidate anti-government demonstrators and prevent them from gaining access to buildings and open spaces where they seek to protest (examples on video at: https://www.youtube.com/watch?v=P6eSM8KA3x4; https://www.youtube.com/watch?v=KYlQDt8klBg). In November 2011, in Donetsk, Berkut attacked veterans of the 1986 Chernobyl nuclear accident who were protesting cuts to their pensions, leading to the death of a pensioner (https://www.youtube.com/watch?v=gtzdRW_-dUM). Since 2010, Amnesty International has issued statements protesting police violence and torture and mistreatment of prisoners (https://www.amnesty.org/en/news/ukraine-investigation-must-unveil-2012-05-14). Berkut forces used tear gas for the first time in July 2012 against those protesting the controversial new language law (see video at https://www.pravda.com.ua/news/2012/10/3/6973946/; Jamestown Foundation Blog, July 9).
In the October 28 elections, on the orders of regional governors, Berkut intervened on behalf of single mandate candidates supported by the Party of Regions. Ruling party–linked candidates were defeated by the opposition in Kyiv, Cherkasy, Volyn, Vynnytsya, Mykolaiv and other oblasts, but these results were allegedly overturned through Berkut interventions in election precincts (https://www.youtube.com/watch?v=86D2G150G_E).
In Pervomaysk, Mykolaiv oblast, the authorities faced what was described as an "uprising" (https://www.ord-ua.com/2012/11/03/pervomajska-bijnya/). Opposition candidate Arkadiy Kornatsky won 39 percent of the vote, compared to 34 percent cast for deputy regional governor and Party of Regions candidate Vitaliy Travyanko. Fearing election fraud, protestors began arriving from throughout the oblast to support Kornatsky, and villagers organized by the Peasant Front used five Kamaz trucks and burning tires to block the path of Berkut vehicles.
Berkut reinforcements were brought in from neighboring oblasts and rumors circulated that Interior Ministry Internal Troops had been mobilized. Fifty heavily armed and masked Berkut officers stormed the election commission and brutally attacked everybody present, including commissioners, firing tear gas. They grabbed the tabulated election ballots and retreated to their truck. With the roads barricaded, Berkut officers attempted to destroy the ballots in their vehicle. Berkut and officials from regional governor Mykola Kruglov's administration changed the election results on the computer openly in front of witnesses from a 5.9-percent victory for Kornatsky to a 5.88-percent victory for Travyanko (see screen shot at https://www.ord-ua.com/2012/11/03/pervomajska-bijnya/).
Kornatsky is a successful and popular local entrepreneur in the food processing business in Kherson and Mykolayiv oblasts. Since 2010, Kornatsky's Agrocompany has been the subject of numerous attempts of corporate raiding through tax inspections, fabricated criminal investigations, as well as personal, telephone and mail surveillance by the Security Service (SBU). These actions paralyzed the work of his company; and with 20 criminal cases opened against Kornatsky, he fled abroad with his family (https://lb.ua/news/2012/10/04/173203_kandidat_oppozitsii_pokinul.html).
Similarly, in Cherkasy oblast, opposition candidate Leonid Datsenko defeated Bohdan Hubsky by 4,000 votes. In retaliation, Hubsky used Berkut forces to steal the ballots and official electoral stamps (Kyiv Post, November 12). In total, there are 13 disputed districts where the opposition is demanding repeat elections (Ukrayinska Pravda, November 5; https://www.kyivpost.com/content/ukraine/thirteen-districts-where-election-fraud-is-alleged-315821.html).
The 13 opposition candidates from the disputed districts discussed similar fraud tactics used against them on the independent television channel TVi (see video at https://lb.ua/news/2012/11/08/178179_tv.html?utm_source=lbua&utm_medium=link&utm_campaign=mainitem). When the ballots with opposition victories were delivered to District Election Commissions (DEC) to be counted, fraud began in the form of power cuts inside the building, delaying tactics, seizure of votes by unknown persons of "sporting appearance" (i.e. organized crime enforcers) and tampering of bags containing the votes. The opposition drew up an extensive list of officials and judges they accuse of involvement in election fraud (https://www.pravda.com.ua/articles/2012/11/6/6976897/). However, Prosecutor-General Pshonka said Berkut's intervention in the electoral procedures was "legal" (https://www.pravda.com.ua/news/2012/11/12/6977316/).
The Organization for Security and Cooperation in Europe's (OSCE) November 9 Interim Report has confirmed this use of riot police by the authorities and "observed the presence of special security forces outside or inside seven DECs […], in some cases blocking access to the premises. In Mykolaiv Oblast, special forces entered DEC 132 and seized Precinct Election Commission (PEC) protocols, following a court order to deliver them to the court." The OSCE "noted two cases where changes in the preliminary results posted on the CEC [Central Election Commission] website after 100 per cent [sic] of polling stations had been processed resulted in the candidate who had initially come in second winning the seat." This occurred in Vinnytsia and Mykolaiv Oblasts) where changes were made to "the results after they had already been entered into the system" (https://www.osce.org/odihr/elections/97077).
In addition to flagrant interference in election procedures, after the elections, Berkut also attempted to prevent and disperse large numbers of opposition protestors gathering near the Central Election Commission. The riot police confiscated tents to prevent permanent protests (photos at https://www.pravda.com.ua/photo-video/2012/11/6/6976842/). The high-level order given to Berkut to retreat was probably out of fear of similar incidents occurring that led to widespread Western condemnation of post-election police brutality in Minsk in December 2010.
The authorities are resorting to such blatant fraud, widely condemned in the West, because the elections have not gone well. The Party of Regions has lost between 25–30 percent of its votes (2 million voters) compared to elections in 2006 and 2007. The ruling Party of Regions and Communist Party were defeated in the proportional vote, winning 43 percent compared to the 50 percent of the vote received by the three opposition parties. The Central Election Commission declared a winning margin of parliamentary seats of just 185 Party of Regions to 178 opposition deputies (https://www.pravda.com.ua/news/2012/11/11/6977258/). And of the remaining 51 single mandate deputies in the legislature, 13 are still disputed by the opposition.
Frustration built up over two years among Ukrainians was evident during the 2012 elections. The October 28 election and its consequences is a harbinger of what awaits Ukraine in the presidential elections campaign, which begins in eighteen months.