Beset by Cash Flow Problems, Russia and Kazakhstan Consider Leasing Baikonur Cosmodrome to Other Countries
Publication: Eurasia Daily Monitor Volume: 13 Issue: 127
By: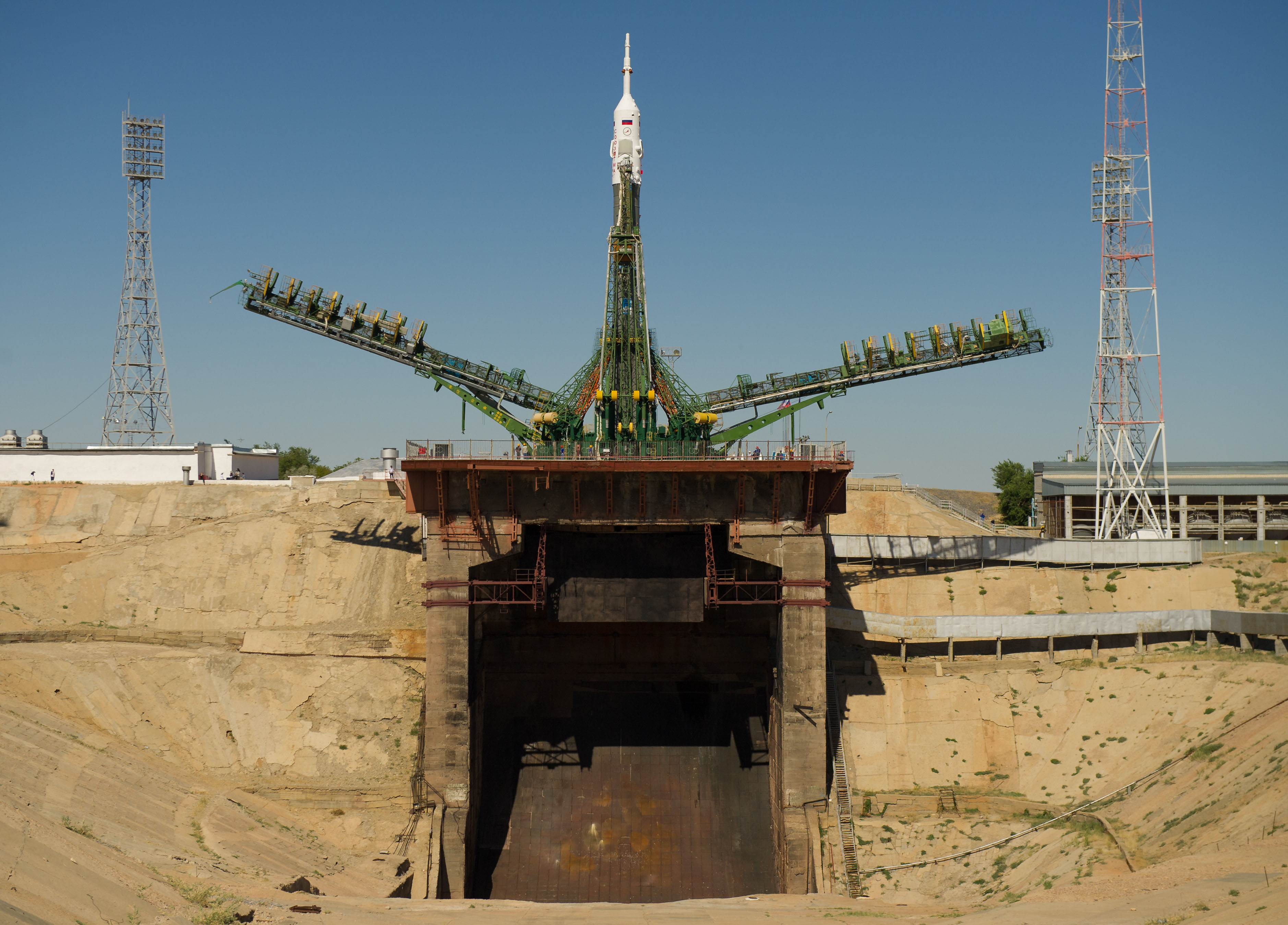 Kazakhstan's Baikonur Cosmodrome is the oldest and largest space launch facility in the world, built in 1955 as a test range for the Soviet Union's first intercontinental ballistic missile (ICBM), the R-7. It covers 2,600 square miles, measuring 47 miles from north to south and 56 miles from east to west, and contains 15 launch pads (Esa.int, September 14, 2004). On July 8, Kazakhstan's First Deputy Prime Minister Bakytzhan Sagintaev offered a tantalizing glimpse into the facility's future, telling reporters that Russia and Kazakhstan are considering the idea of leasing Baikonur to countries with space programs lacking their own launch facilities. "The [Russian and Kazakhstani] presidents ordered us to develop a new scheme. One of our objectives is to attract countries with space ambitions," Sagintaev noted (RIA Novosti, July 8).
Since its inception, Baikonur Cosmodrome was the Soviet Union's leading space launch facility and a site completely closed to foreigners. Following breakup of the Soviet Union in 1991, Russia and Kazakhstan have grappled with developing a mutually beneficial relationship over Russia's ongoing use of the facility. The Russia Federation has been leasing Baikonur from Kazakhstan since 1994.
Significantly, the sanctions imposed by the United States and the European Union on Russia since 2014, as a result of Moscow's aggression against Ukraine, have not impacted growing US-European interaction with Russian space assets (RT, March 28, 2015; Rbth.com, November 25, 2015; Sputnik News, April 14, 2016; TASS, June 20, 2016). Since the National Aeronautical and Space Administration (NASA) retired the Space Shuttle fleet in 2011, the US has relied on Russia's single-use Soyuz spacecraft for ferrying astronauts and most of its provisions to the International Space Station (ISS). The Soyuz is a version of the Vostok rocket that took Yuri Gagarin from Baikonur into space in 1961.
The European Space Agency (ESA), which operates the Guiana Space Center (CSG) in French Guiana, also utilizes Baikonur. From that space launch facility in Kazakhstan, the ESA, on March 14, sent up its ExoMars mission, carrying a Trace Gas Orbiter and Schiaparelli "entry, descent and landing demonstrator module" atop a Proton-M rocket (Russianspaceweb.com, March 14.) ESA is planning a second ExoMars mission in 2018, which includes a drill-carrying rover with a suite of instruments designed for exobiology and geochemistry research. While the rover is being built by the Europeans, the surface landing platform is Russian (Esa.int, May 2) In 2012, the ESA sought Russian involvement in the ExoMars missions after NASA dropped out of participating (The Moscow Times, March 14).
Beyond using Baikonur, the ESA has been firing Soyuz launch rockets from the CSG since 2011. The Soyuz launchers are sent from the Progress State Research and Production Rocket Space Center in Samara on a three day rail journey to St. Petersburg, where they are transferred onto ships for the 15-day ocean voyage to Guiana (Esa.int, April 1, 2011).
The global recession, which began in 2008, and more recently, record-low energy prices coupled with Western sanctions imposed on Russia since 2014, have battered the state budgets of not only Russia but Kazakhstan as well. All this has negatively impacted their bilateral space cooperation. Increased use of the Baikonur Cosmodrome by foreign governments eager to launch their telecommunications satellites into space have covered some, but not all of the site's operating costs. This cash flow problem has led to to tensions between Russia and Kazakhstan over Moscow's future use of the facility (see EDM, October 24, 2012; Silk Road Reporters, September 10, 2014; The Japan Times, May 22, 2015).
Fiscal constraints have already postponed the development of the Baiterek Space Complex, a joint project of Kazakhstan and Russia launched in 2004 to create a structure for eco-friendly carrier rocket launches at the Baikonur Cosmodrome. A final decision on its construction is now scheduled for September 2016 (Sputnik News, November 27, 2015; July 8, 2016).
In an effort to lessen Russia's dependency on Baikonur and broaden its options, on November 21, 2007, Russian Deputy Prime Minister Sergei Ivanov announced that President Vladimir Putin had signed a decree to create the Vostochny Cosmodrome in the Amur Region (TASS, November 21, 2007). However, the Vostochny Cosmodrome has been plagued with problems; its first launch was on April 28 (RT, April 28).
As for the immediate future, Russian Deputy Prime Minister Dmitry Rogozin told reporters on July 8 that that both Russia and Kazakhstan intend to promote long-term cooperation to further maintain, develop and use Baikonur Cosmodrome efficiently, despite Russia constructing the Vostochny Cosmodrome. "Russia is not leaving Baikonur as this is our joint undertaking," he remarked (TASS, July 8).
Others are less sure of Russia's interest in long-term collaboration, particularly in light of the development of the Vostochny space launch facility. According to the editor-in-chief of Space Research and Technology magazine, Nurlan Aselkan, while all Russian officials state that Russia's lease of Baikonur will continue as agreed until 2050, "a process of the Russians leaving the Cosmodrome has started" (Central Asia Monitor, June 8). As the Vostochny Cosmodrome will not have the capacity for manned launches, Russian use of Baikonur to send astronauts to the ISS will, out of necessity, continue for the foreseeable future.
In contrast to Vostochny Cosmodrome, which has no further launches planned until 2017, Baikonur has been responsible for one third of the world's space launches this year. As of July 12, 44 rockets took off worldwide since the beginning of the year. Of these, 15 were Russian—14 of them from Baikonur Cosmodrome. The US followed with 11 launches, China with 9, India—4, Europe—3, and Japan and North Korea with one each (Russianspaceweb.com, July 14).
Amid ongoing political tensions between Russia and Europe and the United States, the Baikonur Cosmodrome stands as a symbol of ongoing East-West collaboration. And all the other serious Western dispute with Russia notwithstanding, it seems likely that in the area of space cooperation they will achieve compromises to their mutual benefit, as they have done in the past. The ESA and Kazakhstan, which was recently awarded a non-permanent seat to the United Nations Security Council, have shared interests in both lessening political tensions as well as using Russian space assets to further cooperation. Many space-sector actors would find it detrimental if political forces in Washington and Brussels would stymie such efforts, particularly as they lack significant alternatives.