NATO's Summit Takes Half-Way Measures on the Black Sea Region (Part One)
Publication: Eurasia Daily Monitor Volume: 13 Issue: 128
By: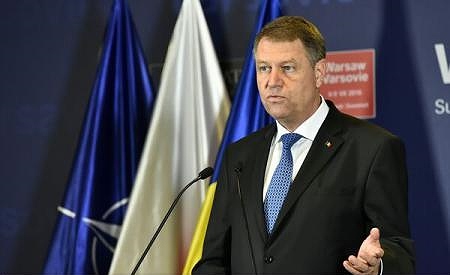 It was a summit of modest expectations and modest results for the North Atlantic Treaty Organization (NATO) in Warsaw on July 8–9. These results are of an interim nature: building blocks for further decisions at upcoming ministerial meetings, not waiting until the next summit. The Warsaw results do not, as yet, correlate with the growth in Russia's capacity to threaten, intimidate, or subvert the Alliance generally and its eastern—now "frontline"—member countries in particular.
NATO's summit in Warsaw on July 8–9 approved overdue decisions to shift from vague "reassurance" measures (introduced at the 2014 Wales Summit) to actual deterrence and potentially to defense measures on NATO's Eastern flank.
The pre-summit debates had foreshadowed a lack of balance in terms of deterrence measures for the Eastern flank's informal sectors: the Baltic States and Poland in the north and the Black Sea region (Romania, Bulgaria, Turkey) in the south. The summit's decisions have not significantly re-balanced that approach, heavily weighted toward the northern sector (although the measures taken are insufficient even there, requiring further development). The differentiated approach reflects, in part, differentiated risk assessments for the north and the south of the Eastern flank. It also partly reflects the Allies' uneven political focus on the two areas of what is otherwise recognized as an indivisible flank (see EDM, June 24).
Admittedly, the Black Sea region did better this time than it had at NATO's previous summits in terms of allied attention and planning. This is mainly a result of Romania's persistent work in recent years, under Presidents Traian Basescu and Klaus Iohannis (originating from two different parties, reflecting the national consensus) to bring the Black Sea region closer to NATO's preoccupations. And Russia's ongoing threats in this region helped inadvertently in this regard. Although not yet commensurate with the magnitude of the risks, this summit's decisions have laid a foundation for a more substantive presence and role of NATO in this region.
The summit's communiqué includes this reference to the Black Sea region in the section dealing with Russian challenges: "We condemn Russia's ongoing and wide-ranging military build-up in Crimea, and are concerned by Russia's efforts and stated plans for further military build-up in the Black Sea region (Nato.int, July 9, para. 17). This sentence is taken word for word from the communiqué of the NATO foreign affairs ministers' meeting in Antalya, May 2015, and does not answer to Russia's accelerating military build-up since then.
As always in the wake of a NATO summit, the communiqué is richly instructive through its ways of grouping issues into paragraphs, its carefully calculated formulations, fine semantic nuances, selective use of majuscules, and innovative word usages ("NATO buzzwords"), all negotiated among Allies meticulously.
This communiqué groups the Baltic and Black Sea together in a paragraph addressing the "evolving challenges in the Baltic and Black Sea regions… Russia continues to strengthen its military posture, increase its military activities, deploy new high-end capabilities, and challenge regional security." The formulation suggests that NATO takes the military challenges in the Black Sea region no less seriously than those in the Baltic region, and that the Eastern flank's security is indivisible.
However, in the same paragraph, "Our response will be tailored to specific circumstances in each region… We will continue to support, as appropriate, regional efforts by the Black Sea littoral states aimed at ensuring security and stability" (Nato.int, July 9, para. 23).
"Tailored" is a recurrent (see above and below) buzzword, underscoring differentiation: NATO does not (yet?) envisage the same level of deterrence and defense measures in the Black Sea region as it does for the Baltic region. Rather, any measures within the Black Sea region ("regional efforts by littoral states") shall be supported by Allies from outside this region. On the Baltic States and Poland, however, the communiqué never uses the word "regional," but speaks of NATO efforts on an alliance-wide basis; while certain countries are assigned certain responsibilities to ensure the in-theater presence (Nato.int, July 9, para. 40).
The term "regional," suggesting a tenuous link to NATO, instead of a reassuring direct link, was cited by Bulgaria among its reasons (perhaps pretexts) for turning down Romania's proposal to hold regular joint naval exercises in the Black Sea. The pro-NATO element within the Bulgarian government seems receptive to a NATO-flagged, rather than trilateral (regional) framework for naval exercises.
NATO's summit has decided to "develop tailored forward presence in the southeastern part of the Alliance territory. Appropriate measures, tailored to the Black Sea region and including the Romanian initiative to establish a multinational framework brigade to help improve integrated training of Allied units under Headquarters Multinational Division Southeast, will contribute to the Alliance's strengthened deterrence and defense posture, situational awareness, and peacetime demonstration of NATO's intent to operate without constraint. It will also provide a strong signal of support to regional security. Options for a strengthened NATO air and maritime presence will be assessed" (Nato.int, July 9, para. 41).
Supplementing NATO's efforts, the United States shall undertake by its own decision a "Transatlantic Capability Enhancement and Training Initiative" (TACET) in the Baltic region, as well as a "Combined Joint Enhanced Training Initiative" (CJET) with Romania and Bulgaria. TACET and CJET are elements in the United States' European Reassurance Initiative (ERI), parallel to and coordinated with NATO, but undertaken by the US in its own name, directly with the beneficiary countries. As formulated, the enhancement refers to capability and training in one region, and just to training in the other region (Nato.int, July 9, para. 78).
NATO defines its forward presence as "enhanced" in the Baltic region, with emphasis on a NATO-wide approach and stationing of combat-ready battalions from earmarked Western allied countries (Nato.int, July 9, para. 40). But it defines it as a "tailored" presence in the Black Sea region (para. 41), based on a regional approach, joint training on an intermittent basis (rather than rotation of stationary troops), and no earmarks as yet for the participation of Western troops. As regards a maritime presence, "assessing options" (para. 41) implies a reconsideration of the proposed framework for holding joint naval exercises in the Black Sea. This would need to be a NATO framework, rather than a trilateral one.