Bidzina Ivanishvili Expounds His Political Plans
Publication: Eurasia Daily Monitor Volume: 8 Issue: 205
By: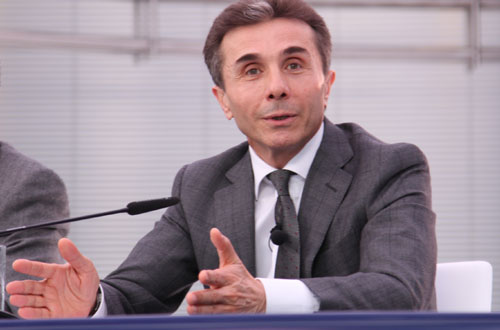 Bidzina Ivanishvili, whose confirmed $5.5 billion worth of assets outside Georgia is equal to one half of Georgia's annual GDP, expatiated on his political plans at his first-ever news conference on November 1. The session followed up Ivanishvili's October 7 and October 12 program documents, published as "open letters" (see EDM, October 14, 19). Hosted by Ivanishvili in his $50 million Tbilisi residence, attended by several hundred Georgian journalists, and lasting four and a half hours, the session confirmed Ivanishvili's goal to take power in Georgia (Civil Georgia, November 2, 3, 4).

Ivanishvili intends to launch a public movement, "Georgian Dream," led by him personally, and to contest the 2012 parliamentary elections. He is confident of winning the "absolute majority" of parliamentary seats with his Dream movement. He presumes that President Mikheil Saakashvili plans to falsify the election results, but that the governing party will receive so few votes anyway as to render falsification pointless: "even Saakashvili's own circle no longer needs him," adding "even Saakashvili's mother will not vote for him."

According to Ivanishvili, immediately following his hoped-for victory, Dream would impeach Saakashvili in parliament by October 2012, unless the president tenders his resignation without completing his term of office. Ivanishvili expects his party to be so strong as to not need to form a bloc. Short of a bloc, it would only cooperate with a few "healthy forces" from the existing opposition, and look "as much as possible for new faces" as allies.

Under Georgian law, only citizens may form or finance political parties, or run for elective office. Ivanishvili, however, holds Russian citizenship and French citizenship. His Georgian citizenship lapsed on October 11, 2011, as Georgia does not allow double citizenship. Non-citizen residents may only form non-political public organizations (NGOs), which is how Ivanishvili designates his planned Dream movement. He does not explain, but only hints, how he would form and finance this electoral movement, and run himself for top office, in disregard of Georgian law. "The Georgian population together with the international community will force [sic] Saakashvili to restore my Georgian citizenship. And if this fails to happen, we have parallel plans. Either way we will come into power through the elections." Conversely, if Ivanishvili's movement is barred from running, "the elections will be illegitimate."

In his program documents, Ivanishvili had proposed to reduce the state presidency's powers, and run himself either for chairman of parliament or prime minister (reserving the right of first pick for himself), for an undefined duration that he would himself determine. In a follow-up interview he admitted to "going into politics unprepared [for the task]." But he believes that his sudden entry into the political arena has created "a new reality" in Georgia and "frightened the authorities" (Civil Georgia, October 25).

Ivanishvili dismisses almost all of Georgia's myriad opposition factions as useless. To him, the only "healthy forces" in the opposition are Irakli Alasania's Our Georgia-Free Democrats (who recently executed the latest split in a series of mergers and splits among opposition factions) and the Republican Party (with two parliamentary seats in its own right). On November 1, Ivanishvili again offered to cooperate (as distinct from running on joint lists) with these groups. These two groups call for regime change as an immediate goal in itself, without offering alternative programs of governance. But they are classified as moderate since they decided (after hesitations) to pursue regime change through elections and within the constitutional timetable. Militant opposition groups do not adhere to those processes.

In his initial program documents in October, Ivanishvili had admitted that Russia carried out an "unprecedented aggression" against Georgia in August 2008, but claimed that Saakashvili had provoked the conflict through a "reckless" foreign policy. In his marathon November 1 news conference, Ivanishvili went further, accusing Saakashvili of having started the war. In both cases he failed to mention Georgia's internationally recognized territorial integrity. He now references the 2009 report coordinated by Swiss diplomat, Heidi Tagliavini, as a basis for his own view.

In fact, the Tagliavini report (a collective work and a political composite) is deliberately ambiguous on a chapter-by-chapter basis, a challenge even for more professional observers than Ivanishvili to parse and interpret in toto. The only quasi-certainty about that report from the outset was its potential for being abused by Russia-First politicians, within and outside Georgia, in the short-to-medium term.

Ivanishvili's entry into politics came unexpectedly even for himself at the age of 56. It is not his only new dilettante activity at this time. On October 25 he announced new plans for an art museum in Tbilisi at a cost of hundreds of millions of dollars. Rather than collecting impressionist art as he has thus far, Ivanishvili will from now on focus on collecting contemporary art for this public museum. His personal bid to buy state power might cost Georgia far more than the gift of his art collection.