Boko Haram: Two Years on Shekau and Buhari Still Face Pressure Over the Chibok Schoolgirls
Publication: Terrorism Monitor Volume: 14 Issue: 10
By: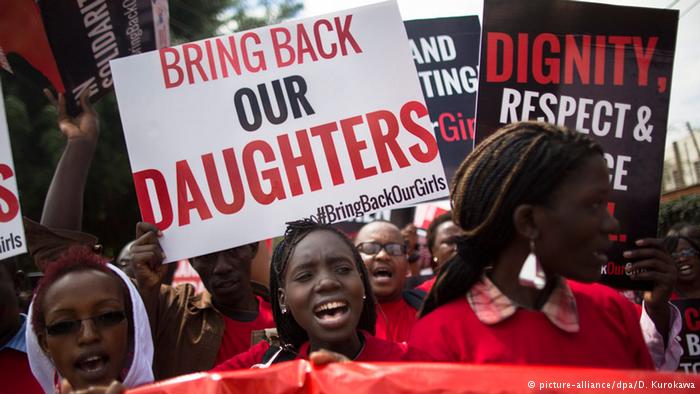 The two-year anniversary of Boko Haram's kidnapping of more than 250 schoolgirls in Chibok, Borno State, Nigeria passed on April 13, 2016. Evidently, international interest in the Chibok kidnapping has waned. Even after CNN aired footage from a video showing 15 of the schoolgirls there was little buzz on the airwaves. The footage was from one of two "proof-of-life" videos from Boko Haram that can be dated to December 2015, and it constituted the first images of the hostages seen in nearly two years.
In Nigeria, by contrast, the #BringBackOurGirls movement and the media have maintained pressure on President Muhammadu Buhari and his administration to stay focused on freeing the Chibok schoolgirls, even as Buhari and his administration have kept up a counter-insurgency operation that has weakened Boko Haram. Nevertheless, if Buhari, who took office in May 2015, cannot free any of the Chibok schoolgirl hostages, his legacy may be marred by this perceived failure.
This article discusses the pressures on both Buhari and Boko Haram leader Abubakar Shekau to negotiate over the Chibok schoolgirl hostages, especially in the context of Boko Haram's strained relations with Islamic State (IS); the role of Shekau's spokesman Abu Zinnira in holding some of the Chibok schoolgirls; and the calculations that Buhari is likely undertaking regarding the effect of conceding to Boko Haram demands on the sustainability of his counter-insurgency efforts.
Pressure on Shekau as Islamic State Support Wanes
Pressure to negotiate a ransom for the Chibok schoolgirls is not only on Buhari; there is growing incentive for Boko Haram leader Shekau to reach a deal. Shekau has seen Boko Haram forces weakened and forced to retreat into Nigeria's borderlands during the Nigerian government's ongoing military offensive. Moreover, Shekau can no longer count on outside support from al-Qaeda, from whose orbit Boko Haram departed when Shekau pledged allegiance to Islamic State leader Abubakar al-Baghdadi in March 2015. Shekau then became the wali, or governor, of IS' so-called "West Africa Province" (Terrorism Monitor, December 17, 2015).
Despite Shekau's pledge and the initial praise for the Chibok kidnapping in IS' Dabiq magazine in October 2014, IS has not maintained its financial, logistical, and moral support. In fact, since late 2015, IS has largely ignored Boko Haram. Current circumstances preventing a deepening of their relationship can be blamed for this, as opposed to tensions between the two groups.
Such circumstances include the following:
First, the new IS leader in Libya, Shaykh Abd-al-Qadir al-Najdi, appears to no longer prioritize Nigeria or West Africa Province unlike his predecessor the late Abu-al-Mughirah al-Qahtani (al-Akhbar, January 14, 2014). Under al-Qahtani, Nigeria and Libya were often associated together as a broader theater to which foreign fighters could "migrate to Africa." Al-Najdi, however, seems to see Libya only in connection to Syria and Iraq, and not Nigeria. Exemplifying this, Nigerians are now featured in IS media fighting in Libya without any reference to West Africa Province. Al-Najdi may have decided not to expend waning resources on West Africa Province, and instead to focus on consolidating IS' control over Sirte and nearby oil-producing areas in Libya as a "fallback option" if IS is routed from Raqqa and Mosul.
Second, the former al-Qaeda in the Islamic Maghreb (AQIM) poet and defector to IS, Shaybah al-Hamad, played a coordinating role between Boko Haram and other IS "provinces" on Twitter, arranging behind-the-scenes communications before Shekau's pledge between IS and Boko Haram members (or former Ansaru members who tacitly accepted Shekau as "governor" of what would become West Africa Province) (Osun Defender, March 8, 2015). However, al-Hamad, who is believed to be Algerian, has been missing since mid-2015. It is possible he was killed along with other AQIM defectors to IS during an Algerian government crackdown (Daily Star, March 14).
Third, at the time Shekau pledged allegiance to al-Baghdadi, Mali-based Movement for Unity [Monotheism] and Jihad in West Africa (MUJAO) leaders, Abu Walid al-Sahrawi and Hamadou al-Kheiry, also pledged allegiance to al-Baghdadi. This meant there were contiguous IS forces from Nigeria through northern Niger and Mali up to Libya. Since mid-2015, however, MUJAO has dwindled under pressure from more numerous and united AQIM and al-Mourabitoun forces, which eliminated some MUJAO forces after they defected from al-Qaeda (Lemag.ma, September 17, 2015). This has left Boko Haram with no direct supply line to Libya, while shipments to Boko Harm via Chad are more likely to be intercepted as part of Chad's ongoing cooperation with Nigeria to counter Boko Haram's arms trafficking (Pulse.ng, April 21).
Fourth, Boko Haram's unanticipated territorial losses in Shekau's declared "Islamic State" in northeastern Nigeria—a territory announced prior to Shekau's 2015 pledge to al-Baghdadi—has reduced Boko Haram's attractiveness to IS. Boko Haram is no longer "breaking" the Nigeria-Cameroon border like it was in 2014 and thus supporting IS' media strategy to publicize attempts to "break" the Iraqi-Syrian and Tunisian-Libyan borders. More broadly, Boko Haram now holds few territories that IS can advertise to show governance, which in Boko Haram's case involved sharia punishments and large assemblies of civilians praying under Boko Haram's watch. Instead, Boko Haram has mostly been retreating in 2016 (Vanguard, April 12). This is contrary to the IS brand for its West Africa Province and other 'provinces', and reduces incentive for deeper collaboration.
Fifth, and finally, despite pledging and re-affirming his allegiance to al-Baghdadi, Shekau has retained his interest in the Lake Chad region and has been more "provincial" than the IS worldview. For example, while Shekau no longer appears publicly in videos per IS regulations for the leaders of its "provinces," Shekau issued audio recordings in August 2015 and September 2015. These recordings threatened the "Nigerian tyrant Buhari" and sought to dispel rumors in the media, started by Chadian President Idris Deby, that Shekau had been "decapitated" in an internal coup by former Mali-based militant Mahamat Daoud, who opposed Shekau's pledge al-Baghdadi (Guardian [Nigeria], August 16, 2015; Naji.com, September 20, 2015). Both of these audios were not official IS media productions, although they were in the name of West Africa Province and promoted on IS Twitter accounts. This may indicate that instead of these recordings originating from IS' centralized media agencies, Shekau pushed for their release because he was concerned about losing his support base in the Lake Chad region. After a six-month hiatus in video production from November 2015 until April 2016, IS also released a video of West Africa Province confirming Shekau as governor after rumors on Nigerian online media suggested that Shekau was surrendering (This Day, April 2) This also suggests that West Africa Province is still oriented towards the Lake Chad region, rather than the global Caliphate, insofar as Shekau-related communications are concerned. It could also imply that Shekau maintains a degree of autonomy and that the integration of Boko Haram with IS is, as a consequence, still incomplete (IS may nonetheless be able to cater to Shekau's Lake Chad region focus by reviving MUJAO as its "Greater Sahara Province" and allowing Shekau to reign over his preferred Lake Chad region).
Understanding Abu Zinnira
As a result of the lack of support and guidance from IS, Shekau is likely independently negotiating for the release of the Chibok schoolgirls via his spokesman, Abu Zinnira, who he designated to that role after Boko Haram's first internationally publicized kidnapping-for-ransom of a French family of seven in Cameroon in February 2013 (Premium Times, March 19, 2013; Sahara Reporters, March 19, 2013). The video that CNN received of the 15 schoolgirls featured Abu Zinnira asking the schoolgirls questions about their names and background. It is possible that, given of the similarity of the questioning style and tone of voice, Abu Zinnira was also the unidentified interviewer in the first Boko Haram video of the schoolgirls from May 2014.
Abu Zinnira also seems to represent Ansaru influence on Boko Haram. A video posted to Youtube in February 2015 by Abu Zinnira, for example, details Usman Dan Fodio's Caliphate in Nigeria in the 19th century and suggests that it culminated with al-Baghdadi's declaration of a Caliphate in Mosul, Iraq in 2014 (Youtube, February 8, 2015). Usman Dan Fodio was exclusively part of the Ansaru narrative until Shekau's first video claiming the Chibok kidnapping in May 2014, when the Boko Haram leader claimed "Usman Dan Fodio is our own." Moreover, the kidnapping of the French family and four other kidnappings in Cameroon in 2013 and 2014 not only bore Ansaru tactical influence, with one kidnapping jointly claimed by Boko Haram and Ansaru, but also began at the time when Ansaru began phasing out of Nigeria and some its members likely would have joined with Boko Haram (France24.com, November 16, 2013).
Abu Zinnira's apparent relation to Ansaru is consistent with the likely role of some former Ansaru kidnapping experts in the Chibok operation. Moreover, some Ansaru members' integration into Boko Haram under Shekau's leadership in what later became West Africa Province would also explain why there was the IS-tailored messaging in Shekau's first video claim of the Chibok kidnapping. In that video, Shekau not only referred to Usman Dan Fodio, but also chanted distinctly IS slogans in the opening scene, such as "The Islamic State remains, the Islamic State is established" in Arabic (Youtube, May 5, 2014).
If Abu Zinnira has been overseeing the Chibok schoolgirls since the May 2014 video and is responsible for the latest video broadcast by CNN, and if he has been Shekau's spokesman since "day one" of the kidnapping, then it means that Shekau himself likely has a degree of control over the schoolgirls' fate. In turn, this makes it unlikely that separate deals can be made with the alleged factions that are holding the schoolgirls. Rather, Shekau through Abu Zinnira is likely still in control.
Buhari's Options
Given Shekau's likely desire for resources that are not coming from IS and the potential value of the Chibok schoolgirls, Shekau may see an exchange for the schoolgirls as an important part of a Boko Haram rejuvenation. This may, however, be exactly what President Buhari fears in a deal. In fact, the more than three-million dollars and 20 freed members from prison that Boko Haram received in exchange from the French family kidnapped in northern Cameroon in April 2013 provided an important boost for Boko Haram at that time (despite the infighting over the money it also caused) and may be a "lesson learned" for Buhari (AFK Insider, March 9).
In terms of strategy, Shekau and Abu Zinnira may be seeking a staggered negotiation in which the 15 schoolgirls shown in the video broadcast by CNN are released for a large sum of money, after which a second group, then a third, and a fourth are exchanged. The question then is how many groups are there? The latest proof-of-life video only shows 15 schoolgirls. Supposing Shekau only directly controls those 15 schoolgirls, controls only a few groups, or even that only some of the schoolgirls are still alive, would it then be worth Buhari making a deal with Boko Haram while dozens of other schoolgirls remain captive who Boko Haram could later use to blackmail the government?
Alternatively, Buhari could continue to send the military on search and destroy operations deep into Sambisa Forest in hopes of locating the schoolgirls (This Day, May 3). The arrests this year of high-level Boko Haram members and associates—such as former Ansaru mastermind Khalid al-Barnawi in Kogi State in April, and Abdalla Adamou, Boko Haram's lead kidnapping negotiator, in Cameroon in February—could yield valuable intelligence on the schoolgirls' location to support a covert rescue operation (Vanguard, April 3). A military operation, however, runs the risk of many, or possibly all, of the schoolgirls being killed during the rescue attempt. Moreover, some of the schoolgirls may have been brought across the Cameroonian border to Boko Haram camps in Mayo-Sava, where the Nigerian military has no access and Cameroonian forces still have only a small presence.
President Buhari could also play the waiting game. Shekau has enemies and rivals within Boko Haram, and likely also AQIM, as a result of his pledge to al-Baghdadi. He could be assassinated, injured, fall ill, or killed in a military strike or an internal coup. If Shekau was no longer the Boko Haram leader, the dynamics of the group's hold over the schoolgirls could change and lead to new opportunities to negotiate their release. Moreover, if AQIM and Boko Haram formed a new alliance in the wake of Shekau's demise, it is possible AQIM would encourage the schoolgirls' release because al-Qaeda has generally opposed the enslavement of even "infidel" women as a net negative to al-Qaeda's brand.
At the same time, any delay in negotiations runs risks for Buhari. Shekau could set his own terms by upping the ante with a new video of the schoolgirls to place psychological pressure on Nigerian society and Buhari to negotiate. Now that Boko Haram communications all go through IS, however, such a threat would likely need to be vetted by the IS' centralized media team (the video broadcast by CNN was not intended for the public, which is why there was no branding on it).
At present, it seems Buhari is too concerned about the possibilities for corruption by intermediaries in any payment to Boko Haram. Thus, in the short-term, it seems Buhari will wait until Boko Haram provides a more conclusive connection to Shekau himself beyond Abu Zinnira, as well as proof that more than 15 schoolgirls are alive and well.
Continued Threat
The fate of the Chibok schoolgirls remains more than a humanitarian issue. A deal could make or break Boko Haram's finances moving forward. A failure to make a deal could also tarnish President Buhari's legacy and, if his opponents accuse him of neglecting the schoolgirls on what is a deeply emotional issue, affect his chances of winning the next presidential election. A change in political power in Nigeria, even several years from now, could also disrupt Nigeria's momentum against Boko Haram.
That Boko Haram has held the Chibok schoolgirls captive for two years without any of them being rescued suggests that despite setbacks the militants' well-established logistics networks in the Lake Chad region are still in place. Meanwhile, the group's ties to IS and its continued ability to carry out major operations, sporadic though these have become, indicate Boko Haram remains a significant threat and that its current decline will not necessarily be permanent.