Bracing for a New Low? 2023 Outlook for Ukrainian-Hungarian Relations
Publication: Eurasia Daily Monitor Volume: 20 Issue: 24
By: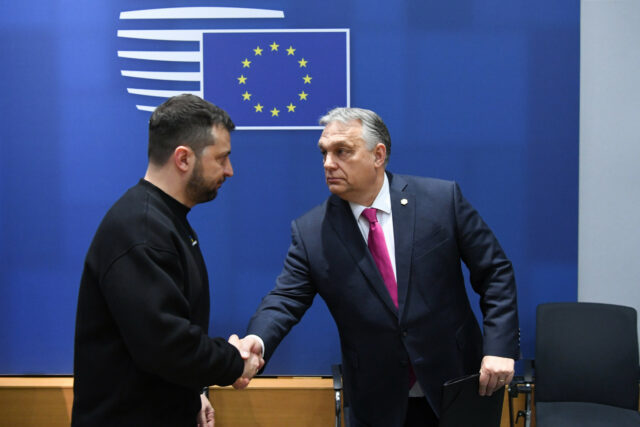 The year 2023 began with a series of alarming signs for the already troubled relationship between Hungary and Ukraine. Speaking to conservative-minded international journalists on January 26, Hungarian Prime Minister Viktor Orbán reportedly compared Ukraine to Afghanistan, characterizing the war-torn country as a "no man's land" (Telex.hu, January 27). Orbán further declared that the North Atlantic Treaty Organization (NATO) is inching ever closer to a direct confrontation with Russia, pointing to recent decisions among key NATO allies such as the decision to finally supply Kyiv with badly needed main battle tanks.
The Ukrainian Foreign Ministry responded by summoning the Hungarian ambassador to Kyiv, decrying Orbán's statements as "categorically unacceptable" and calling on Budapest to stop "the anti-Ukrainian rhetoric" (444.hu, January 31). Another notable reaction came from Borys Filatov, the mayor of Dnipro, who responded to Orbán's statements with a highly profane letter, which became subject to scrutiny in Budapest (T.me/borys_filatovv, January 28). Hungary's ruling Fidesz party and the pro-government media considered Filatov's letter an insult to not only the Hungarian premier but also the Hungarian nation as a whole (Index.hu, January 30).
All this comes shortly after Ukrainian Foreign Minister Dmytro Kuleba stipulated late last year that nothing will change in Ukrainian-Hungarian relations "as long as Viktor Orbán remains the prime minister of Hungary" (YouTube, December 29, 2022). Kuleba also added that Hungarian Foreign Minister Péter Szijjártó remains his only European Union counterpart who has not spoken with him since Russia re-invaded Ukraine in February 2022.
Budapest's troubled relations with Kyiv date back to well before Russia's all-out war against Ukraine began; however, these ties became especially strained in 2022, largely due to Orbán's close political proximity to Russia and his controversial stance on the war. Among others, Orbán—aside from his initially strong statement condemning Russia's actions on February 24, 2022—has repeatedly failed to label Russia as the aggressor, instigated a direct political conflict with Ukrainian President Volodymyr Zelenskyy in the run-up to the 2022 Hungarian elections and spoke out against the EU sanctions regime against Russia (see EDM, November 2, 2022). Furthermore, the Hungarian government is currently running a domestic propaganda campaign against EU sanctions over their alleged economic costs, which critics point out is much lower compared to how the Fidesz government portrays them (Lakmusz.hu, January 30).
Currently, Hungary is among a select few European states that have not sent weapons to Ukraine directly, while Szijjártó recently claimed that a tenth EU sanctions package against Russia would be a "giant mistake" (M1 Híradó, January 23). Continuously echoed by the pro-government media empire, Budapest's semi-official stance on the war is that Kyiv should initiate ceasefire talks with Moscow, while the EU and the United States should begin direct talks with Russia to cultivate peace in Ukraine (Kormany.hu, October 11, 2022). Yet, this approach is quite controversial, given that Orbán's roadmap to peace would not only avoid giving Kyiv an actual seat at the negotiating table but would also force Ukraine to accept the loss of its sovereign territory.
Meanwhile, Hungary, despite its recent moves to tone down future individual sanctions imposed on Russian oligarchs close to the Kremlin and repeated refusal to impose future EU sanctions, particularly in the area of energy, has never officially vetoed any of the past aid packages (Szabad Európa, January 17). In exchange for a conditional EU nod to greenlighting Hungary's EU funds, which were withheld due to alleged democratic backsliding in Hungary, Orbán, in December 2022, gave up his longstanding opposition to joint EU aid to Ukraine for 2023 (Portfolio.hu, December 12, 2022). On January 23, the Hungarian government agreed to allocate another 500 million euros ($550 million) for military and defense aid to Ukraine through the European Peace Facility, while the EU's economic sanctions against Moscow were also unanimously prolonged for another six months on January 27 (Telex.hu, January 23).
And despite all the alarming signs in Ukrainian-Hungarian relations, Orbán reassured Zelenskyy that Hungary will continue to provide humanitarian and financial support to Ukraine after the two met in Brussels during the historic European Council summit on February 9 for the first time since Russia's re-invasion of Ukraine in February 2022 (444.hu, February 9).
With such a tense year behind them, what does 2023 hold for Ukrainian-Hungarian relations, and how much of a risk does Orbán's controversial stance on Ukraine entail for EU unity against Russia?
Looking back on 2022, the baseline expectation is that this highly controversial stance will continue. Hungary will most likely not stand in the way of future EU action on Ukraine but will repeatedly express skepticism and opposition. Budapest might also move to kill proposals from other European countries before they can be considered by the joint EU decision-making bodies, where vetoes are less likely.
Simultaneously, a reset in bilateral relations remains highly unlikely. Judging by Kuleba's words, Ukraine appears to have given up on repairing ties with Hungary, at least for the time being, and will likely focus on strengthening its relations with more geopolitically important Western partners. Largely, the same can be expected in Budapest: Although the Hungarian premier accepted Zelenskyy's recent invitation to pay his first official visit to Kyiv (as most European heads of state have done in recent months), it remains unclear when and if Orbán will do so, with the Hungarian Prime Minister's office adding that the visit will happen when and if it is "necessary and timely" (444.hu, February 9).
Hungarian President Katalin Novák—a former leading figure in Fidesz and Orbán's close confidant—has been the highest-ranking Hungarian official to visit Ukraine (November 2022) since the re-invasion began. Unlike most Fidesz politicians, Novák has repeatedly spoken out against Russia over its actions in Ukraine (Népszava, November 26, 2022). However, the president's role is largely ceremonial in the Hungarian political system.
The likelihood of Orbán not changing course in favor of Ukraine comes down to his motivations to maintain popular support for the ruling Fidesz party, as its core voter base has become increasingly pro-Russian in recent years. Indeed, a large share of Fidesz supporters believe that Kyiv is just as much responsible for the war as Moscow (Népszava, August 22, 2022). As Hungary heads for much-anticipated local and EU parliamentary elections next spring and domestic support for Fidesz has dropped in the wake of Hungary's ongoing economic crisis (24.hu, January 4), Orbán is expected to focus on keeping his voter base intact, as reaching out to Zelenskyy, who is deeply unpopular among Fidesz voters (Atv.hu, January 12), would most likely alienate a large share of potential voters. Furthermore, blaming Western sanctions for the economic hardship in Hungary and the country's cost-of-living crisis could help the Fidesz government divert attention away from its own political irresponsibility.
While a bilateral reset remains unlikely, a significant worsening of ties might occur if tensions intensify over the long-running dispute about minority rights of ethnic Hungarians in Ukraine's Zakarpattia region. The Verkhovna Rada (Ukraine's parliament) recently adopted a new minority law, which Kyiv believes is capable of solving the issue (Infostart.hu, December 30, 2022). Overall, the new measure is meant to protect the rights of national minorities living within Ukraine, including the right to self-identification. However, both Budapest and the local Hungarian minority representatives in Zakarpattia think otherwise, fearing that the newly enacted law will instead curb ethnic Hungarians' access to Hungarian-language education (Forbes Magyarország, January 6).
And if Ukrainian-Hungarian relations continue to deteriorate, based on the experience of recent years, Budapest may choose to block Kyiv's path to EU membership unless the situation of ethnic minorities in Ukraine is entirely settled. As Hungarian Minister of the Prime Minister's Office Gergely Gulyás recently declared, "If Ukraine does not change its [minority] language law, there will be no way for the country to join either NATO or the EU" (Atv.hu, February 10).