The Case for US Assent to Ukraine's Further Dismemberment (Part One)
Publication: Eurasia Daily Monitor Volume: 20 Issue: 25
By: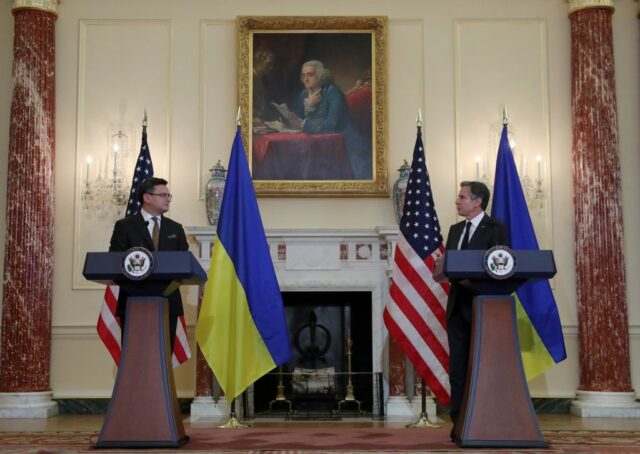 The boldest prescription yet for a United States–abetted defeat of Ukraine by Russia—and, ipso facto, a Western defeat—has come out of one unit of the RAND Corporation in Washington, DC. It envisages large territorial concessions by Ukraine to Russia—in effect, more and even more land for peace, albeit a precarious peace. It is, thus far, quite possibly, the most comprehensive prescription of this kind in the public domain originating from the foreign policy establishment (neither "populist," "isolationist" nor "academic realist"). The Biden administration appears to be the primary addressee of this report (Rand.org, January 2023).
The paper is premised on a negative definition of US interests: namely, what Washington does not wish to happen as a consequence of its (however limited) support for Ukraine. The report identifies three "paramount interests" and "top priorities" for the US:
Minimizing the risks of escalation that could lead to direct conflict between the US/North Atlantic Treaty Organization (NATO) and Russia. If Ukraine were to rout the Russian military and regain Ukraine's territories, the risk of a Russian-NATO war would spike.
Averting any situation that might prompt Russia to threaten or use a non-strategic nuclear weapon. Western retaliation (even if non-nuclear) to Russian nuclear use would produce a direct US-Russian conflict or a NATO-Russian war and the breakdown in transatlantic unity.
Avoiding a "long war" between Ukraine and Russia. If the war in Ukraine were to end, the risks of escalation between Russia and the US and NATO or the likelihood of a direct clash between them would diminish significantly. The United States could then focus on other foreign policy priorities elsewhere (see below).
The report, however, does not address US strategic rationales and objectives for supporting Ukraine in the first place and the appropriate extent of such support. This omission is surprising since the paper recommends a lower level of US engagement without assessing the considerations that have produced both the current level of engagement and its self-denying limitations.
Those considerations, reflecting a range of values and interests in the US government and society, include: enabling Ukraine to defend its sovereign territory (namely, this time, from further amputations after those suffered in 2014); upholding Ukraine's right to choose its security alignment (watered down by the Alliance from "Ukraine will be a member of NATO"); resisting Russia's unprovoked aggression (a case of serial Russian recidivism, with proselytizing effects on other potential aggressors); standing up for Ukrainian democracy in the face of Russia's expansionist tyranny; securing NATO's member and partner countries on the Alliance's eastern front (euphemism: "flank"); and, overarchingly, the necessity for neo-containment of Russia.
All those considerations relate, directly or indirectly, to the European balance of power, of which Ukraine has been the fulcrum throughout the 20th century (if not earlier) and remains so to date. The RAND report, nevertheless, does not address this core issue of European security, nor the concerns of the NATO allies directly affected by it. Instead, the report confines itself to a minimalist or negative conception of US interests and objectives: essentially, what not to do, what to avoid doing and how to reduce the existing level of engagement.
Having defined US interests in this way, the report postulates a wide gap between Washington and Kyiv in terms of their respective "priorities"—although priorities can be understood as interests in this case. The paper suggests that US interests are not coterminous with the extent of Ukraine's recovered territorial control. While Ukraine's top priority is, "understandably," to regain its Russian-controlled territories, the top priorities for the US are to avert escalation to a Russia-NATO war, Russian nuclear use or a long war between Ukraine and Russia.
This way of framing the problem leads to suggestions that Ukraine should desist from seeking to regain its territories: namely, all those territories that are currently under Russian control. According to the RAND paper, attempts to regain Crimea should be ruled out because Russia could respond with nuclear threats or use if necessary. Apart from Crimea, Russia's long-term control of areas beyond the February 24, 2022, frontlines would impact Ukraine's economy "far less severely," as compared with the areas that Russia already held before February 24. Areas under Russian control as of December 2022 (i.e., seized in the first and second invasions) are "unlikely to prove hugely economically significant." And, ultimately, the now-existing frontlines "do not deprive Kyiv of economically vital areas that would dramatically affect the country's viability." The implication is that Ukraine does not have compelling material reasons for regaining the Russian-occupied territories, whether considering those seized in the first or second Russian invasion.
The economic consequences of losing Crimea, most of Donbas and the Azov Sea littoral areas are, however, "hugely significant" indeed; in fact, they actually serve to "deprive Ukraine of economically vital areas dramatically affecting its viability." These areas generated the lion's share of Ukraine's export-oriented industrial production, a considerable share of its agricultural exports (currently stolen and exported as "Russian" produce) and served as major Ukrainian export outlets, which Russia currently occupies or interdicts.
Apart from these economic considerations, Ukraine's leadership and public opinion would turn down proposals to desist from trying to liberate the occupied territories. According to the latest opinion survey conducted by the well-respected Democratic Initiatives Foundation and Razumkov Centre, 54 percent of respondents support fighting to eject Russian troops from the entire territory of Ukraine and restore the borders as of January 2014. Only 18 percent are prepared to trade some parts of the occupied territories in exchange for the cessation of hostilities; and of those, only 8 percent would give up Crimea in such a tradeoff. And 60 percent believe that a negotiated peace with Russia is impossible because Moscow does not honor these agreements (Dif.org.ua, January 5, accessed February 8).
Such polling results have been consistent throughout the 12 months of Russia's re-invasion of Ukraine. They indicate that Ukrainian territorial concessions are neither politically feasible nor apt to buy peace with Russia (see Part Two).