Breakaway Abkhazia Begins New Year With a New Phase of Political Turmoil
Publication: Eurasia Daily Monitor Volume: 15 Issue: 11
By: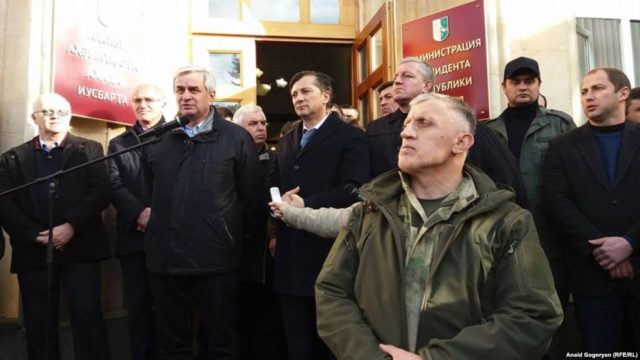 The Russian-occupied Georgian region of Abkhazia was hit by a new political scandal on the eve of 2018. Its proximate cause did not appear overly significant at the time, and yet the turmoil it unleashed illustrates the unstable political climate of this breakaway territory. Specifically, on December 25, 2017, Raul Khajimba, the Moscow-backed separatist "president" of Abkhazia, released from prison Giorgi Lukava, an ethnic Georgian who lived in the region. Lukava was arrested by separatists 7 years ago and has been serving a 20-year prison sentence for alleged attacks against various Abkhaz separatist leaders while he was a member of the now-disbanded Georgian partisan military group Forest Brothers (Radiotavisupleba.ge, Pia.ge, December 25, 2017; The Messengere, December 27, 2017).
The release caused an uproar among Abkhazia's opposition factions, which condemned Khajimba for pardoning "the terrorist." They accused him of "betrayal" and "blasphemy" over the memory of those who died during the war with Georgia (Amtsakhara.org, Kyarazaa.ru, December 29, 2017).
Khajimba is no friend of Georgia and Georgians. In fact, he widely known for being virulently anti-Georgian, with a long track record of anti-Georgian activities. A former KGB officer, he was the Kremlin's favorite candidate during every presidential election since 2004–2005. Finally, he managed to be elected president with a narrow majority in 2014, following the anti-Georgian street protests that saw the previous separatist president, Alexander Ankvab, ousted in June 2014 (see EDM, June 12, 2014; Tabula.ge, August 25, 2014).
Nevertheless, Abkhazian security services still felt the need to defend their boss's decision. They tried to explain that Lukava's release was part of a tripartite prisoner exchange process, initiated "in response to the request of the authorities of the Republic of South Ossetia [sic]," with its active phase taking place in March 2016. As they argued, Lukava was on the release list for some time now, but his transfer had not happened up to this point for a number of reasons (Sgbra.ru, December 29, 2017).
The opposition was unsatisfied with this explanation, however, and took the opportunity to attack the unpopular Abkhazian "head of state." The Amtsakhara party (which, in fact, supported the ousted president, Alexander Ankvab) called a political council meeting on January 2 and announced a rally in front of the building of the presidential administration on January 3 (Civil Georgia, January 4, 2018).
Facing growing protests, Khajimba tried to explain himself. His official statement largely reiterated the security services' rationale, but added that Lukava's release was part of a wider deal that also saw another ethnic Georgian, Giorgi Giunashvili, released by Ossetian separatists. In exchange, Khajimba said, the Georgian side released ethnic Abkhaz Roland Zhiba, a suspect in the killing of former Abkhazian resident Kvitsinia B. (Presidentofabkhazia.org, January 3).
Despite these explanations, the opposition went ahead and organized rallies in front of the buildings of the parliament and the presidential administration. In response, the separatist legislature held an emergency session and established a seven-member commission to investigate the details of Lukava's release (Civil Georgia, Abkhazinform.com, January 4).
Khajimba is no stranger to political discontent. As noted above, he came to power on a wave of widespread protests; and after his election, he has already weathered major political turmoil and street demonstrations from the opposition once before. Moreover, the region has weathered almost continuous political crises for many years now. Some analysts have attributed this to the assumption that the 2008 Russian-Georgian war removed the alleged Georgian threat, which gave separatists "the luxury of being able to have even more turbulent domestic politics" (Civil Georgia, January 15). Yet, this argument fails to account for the fact that separatist politics in Abkhazia, fractured among various political clans, criminal groups and an impoverished populace, was equally tumultuous even before the 2008 war (see EDM, June 12, 2014).
Thus far, Abkhazians have yet to thoroughly dissect and analyze the real causes of their region's perpetual political crisis. And Moscow does not seem inclined to step in and stabilize the situation either, as long as these local political disturbances do not threaten Russia's entrenched power in the region. Previously, Moscow only mediated, sending its viceroys to Abkhazia when local Kremlin-backed proxies were in danger of losing elections (see EDM, June 14, 2014). In fact, the Kremlin may actually prefer the Abkhaz to remain preoccupied with incessant infighting as this keeps them from focusing on the more likely roots of their troubles: the separatist war against Georgia, which brought serious socio-economic, demographic and cultural devastation, as well as the 2008 Russian-Georgian war and the profound dependence on Russian financial assistance (meager as it is—see EDM, June 29, 2015) this conflict engendered. Subsequently, it seems highly unlikely that Abkhazia's political crisis will subside anytime soon, leaving thousands of local residents caught in a cycle of instability.