Brief: JNIM Consolidates Control Around Gao, Timbuktu
Publication: Terrorism Monitor Volume: 21 Issue: 19
By: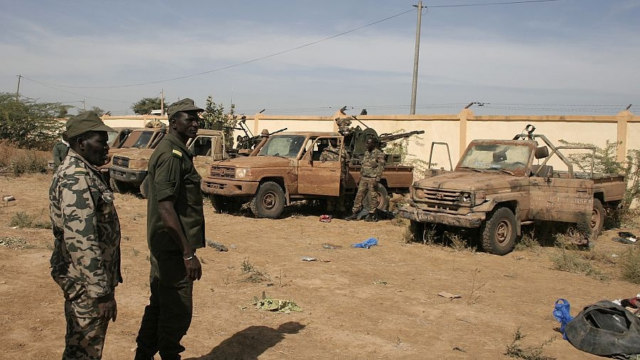 The town of Gao in northern Mali has been a key hub of jihadist operations since 2012. At that time, the Movement for Unity and Jihad in West Africa (MUJWA) controlled Gao, while al-Qaeda in the Islamic Maghreb (AQIM) controlled Timbuktu, and Ansar al-Din controlled Kidal. Just over ten years later, these three groups, which have since merged to form the Group for Supporters of Islam and Muslims (JNIM), are again threatening Gao under the JNIM banner (France24, November 16, 2012). JNIM's latest attacks targeted the Bamba military camp near Gao (successfully seizing it) as well as a boat traveling along the Niger River near Timbuktu. This heightened the collective sense of siege in the two towns, as evidenced by the cancellation of flights to the cities by the region's only carrier, Sky Mali (africanboulevard.com, September 12).
After the Bamba military camp takeover by JNIM, the group proceeded to use suicide vehicle-borne improvised explosive devices (SVBIED) and rockets to attack another military camp in Gao (rfi.fr, September 8). Altogether, in just the three days of insurgent warfare that surrounded these attacks, JNIM killed approximately 120 people in Gao and Timbuktu (Twitter/@war_noir, September 6). Not only were JNIM's attacks effective, but the Malian military also appeared under-prepared; a reconnaissance plane crashed over Gao while counter-terrorism operations were underway (frapanews.com, September 11).
JNIM's threats to Gao and Timbuktu are also straining the Malian army at a time when JNIM's rival, Islamic State in Greater Sahara (ISGS), is also seeking to capture Menaka, a nearby city that lies along the border with Niger (see Terrorism Monitor, April 28). While JNIM has successfully worked with civilians in the past—convincing some to embrace their conception of sharia—ISGS reportedly killed more than 900 civilians between March and September 2022 (imangahdien.com, September 12, 2022). Even so, ISCS has managed to double the amount of territory it controls in Mali over the last year, according to the United Nations (aljazeera.com, August 27).
The impact of JNIM and ISGS's offensives goes beyond a loss of life and land, impacting Malian society more broadly. For example, nearly 8,000 schools have been forced to shut down across the Sahel as a result of jihadist violence, mostly in the last year (actuniger.com, September 8). As youth unemployment is known to contribute to the groups' recruitment, joblessness and the lack of a basic education may cause young Malians to become more susceptible to JNIM and ISGS recruitment efforts.
This fits into JNIM's larger strategy as the group continues to implement its signature blockades in areas it controls throughout the Sahel in order to extract concessions from civilians. Concessions include, for example, demands that the local population does not cooperate with Russia's Wagner Group or local civilian defense forces (lemonde.fr, September 8). One of the reasons why JNIM's latest attacks in Timbuktu and Gao may have been so successful is that their blockades along the way have frustrated Malian army logistics. Nevertheless, as the security environment deteriorates amid coups and growing instability throughout West Africa—alongside the recent French withdrawal—JNIM and ISGS are likely to be optimistic about their ability to lay siege to additional towns in Mali and neighboring countries.