Brief: The Philippines on the Verge of Victory Against Abu Sayyaf
Publication: Terrorism Monitor Volume: 21 Issue: 3
By: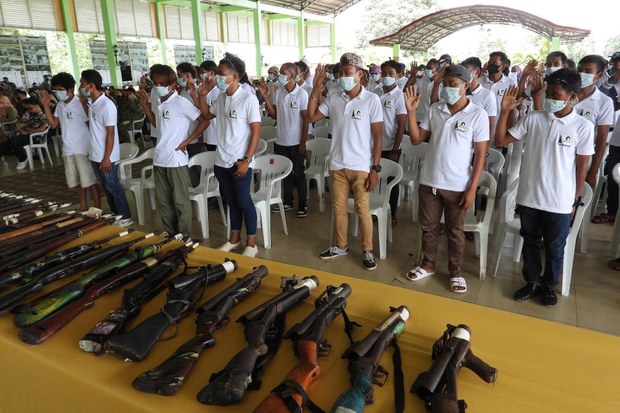 Abu Sayyaf's origins date to the period after the Soviet army left Afghanistan in 1989. However, its most lethal attacks began occurring in the years surrounding 9/11 and reached a peak in the 2010s. The U.S. designated Abu Sayyaf as a terrorist group in 1997. Now, more than 25 years later, the Philippines has gained the confidence to declare victory against the group (fas.org, October 21, 2003).
According to the Western Mindanao Command (Wesmincon) head, Arturo Rojas, the fact that Abu Sayyaf took no hostages in Mindanao in 2022 indicates that the group is now "a thing of the past" (rappler.com, January 4). Also reflecting the progress made against Abu Sayyaf was U.S. Secretary of Defense Lloyd J. Austin III's visit to Mindanao on February 1. Secretary Austin met with the U.S. Special Operations Task Force operating on the island and "highlighted the interoperability of the U.S-Philippine alliance", citing the "successes we've had with counterterrorism cooperation" (defense.gov, February 1). Secretary Austin emphasized that "more than hundreds of Abu Sayyaf and terrorist jihadists have already surrendered, and they're are now leading a peaceful life" and highlighted the U.S.'s contribution to the defeat of Abu Sayyaf and other Islamic State (IS)-loyal militants in a months-long battle in 2017 around the city of Marawi (defense.gov, February 2).
The rise in the number of Abu Sayyaf militants surrendering also points to the group's demoralization. On January 14, for example, five Abu Sayyaf members surrendered, turning over their weapons and ammunition and accepting interrogation. They were then aided by the Municipal Social Welfare and Development Office to receive social services, financial assistance, skills training, and other support generally given to surrendered Abu Sayyaf members (pna.gov.ph, January 14). In addition, they received health and medical assistance from U.S. troops at Camp Navarro, the main site of Secretary Austin's visit (manilatimes.net, January 24).
This approach is intended to encourage additional members of Abu Sayyaf to surrender and utilize the country's de-radicalization and reintegration programs. Only one week before the five Abu Sayyaf members surrendered, another commander who was loyal to IS, Majid Said, also surrendered alongside two dozen of his fighters and his deputy (rappler.com, January 9). In the long-run, these surrenders could lead to the general reduction of attacks in their former area of operations, which were centered around Patikul on Sulu Island. In the short-term, however, this has not been the case, as Patikul still saw a Philippine soldier killed in an ambush two weeks after Majid Said's surrender (philstar.com, January 26).
As a result of these surrenders and the Philippine military's killing of Abu Sayyaf members in various operations, the military now estimates Abu Sayyaf has only 130 active fighters remaining in its strongholds (benarnews.org, November 8, 2022). This is less than half their strength, with 134 fighters and 40 logisticians having previously surrendered to government forces. While Abu Sayyaf cannot be considered fully defeated yet, the group is no longer remotely the same threat to the Philippines as it was five years ago, when Abu Sayyaf and its IS-loyal allies were capable of occupying a town as significant as Marawi.