Briefs
Publication: Terrorism Monitor Volume: 14 Issue: 19
By: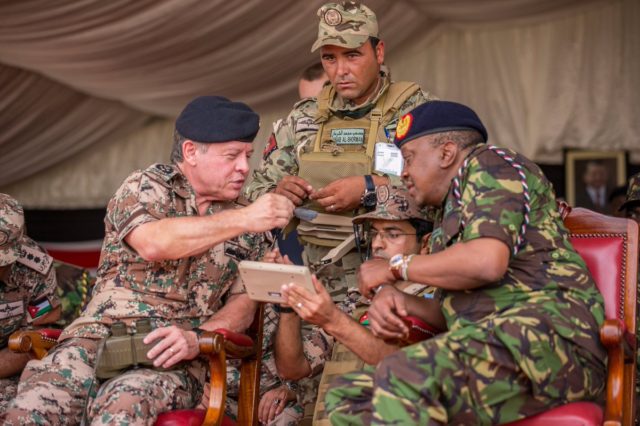 KENYA: SEEKING PARTNERS FOR A NEW TERROR STRATEGY
Jordan's King Abdullah has promised greater counter terrorism support to Kenya during a meeting with Kenyan President Uhuru Kenyatta in Nairobi. The visit has received a good deal of publicity in Kenya, where the two leaders were photographed greeting each other on the tarmac of Jomo Kenyatta International Airport, both dressed in military fatigues (The East African, September 26). The two leaders then viewed an anti-terrorism training exercise, with units from both the Kenyan Defense Forces and the Jordanian military simulating a response to an aircraft hijacking and an attack on a village (Daily Nation, September 26).
Kenya is keen to obtain greater international support for its anti-terrorism efforts. Nairobi's recently announced National Strategy to Counter Violent Extremism revises efforts to tackle extremism at home and calls for greater coordination with international partners (see Terrorism Monitor, September 30). The Jordanian visit offers some well-timed publicity for President Kenyatta in this respect.
Nairobi already receives anti-terror support from the West, including from the United States as part of the Partnership for Regional East Africa Counterterrorism, or PREACT. Nevertheless, Kenya's relationship with the West on terrorism issues is not always a comfortable one. Kenyatta has shown himself happy in the past to use the so-called war on terror to put his Western allies under pressure, warning in May that Kenya could scale back its military engagement in Somalia if international partners did not help fund its efforts (Africanews, May 22). That was likely posturing on the Kenyan president's part – al-Shabaab poses a more immediate threat to his country than to the West – but the tactic appears to have had some success, with the European Union recently stepping in to ensure African Union troops in Somalia receive their pay (The Star [Kenya], September 26).
Meanwhile, rights groups accused Kenya's U.S. and UK-trained Anti-Terrorism Police Unit (ATPU) of rights abuses and extrajudicial killings, and Western security officials privately complain Kenyan security services frequently ignore their recommendations. Despite the tensions, the relationship with the West is crucial for Kenya. For all the fanfare in Kenya, the anti-terror aspect of the Jordanian deal centers on training for Kenyan military pilots, while trade ties were the major focus of the leaders' meeting (Africanews, September 26).
For Jordan, King Abdullah's visit was more an opportunity to open up an African market to Jordan's defense and other industries; certainly that is how the monarch's trip was framed back home (Jordan Times, September 26).
PHILIPPINES: COLORFUL LANGUAGE BUT LITTLE ACTION ON ABU SAYYAF
Philippine President Rodrigo Duterte called for U.S. military advisers in the country's south to be withdrawn on September 12, arguing that they were targets for Abu Sayyaf militants operating in Mindanao (Daily Inquirer, September 13).  The comments come amid a torrent of anti-American rhetoric from Duterte, which has included insulting President Barack Obama and vowing to end joint military exercises (Daily Inquirer, September 28).  For all his colorful language, however, there has yet to be any official signs of disengagement with the United States (Daily Inquirer, September 29).
The ramping up of this kind of language maybe partly because Duterte is courting Chinese investment, including for a proposed railway system in Mindanao, something China appears minded to do (Manila Bulletin, August). The focus on China has even led Duterte to indicate he could set aside a longstanding dispute between the two nations over islands in the South China Sea (Daily Inquirer, February 29).
In fact, such a concessions seem unlikely as it would call into question Duterte's nationalist credentials, and row back on comments he made during his election campaign when he assured voters he would jet ski to the islands and plant his country's flag there himself (Asian Economist, April 27).
Similarly, Duterte can ill afford to have U.S. advisers pull out of Mindanao.
U.S. forces have been in Mindanao since 2002, aiding the Philippines' military in its fight against Abu Sayyaf, and while more than a decade of military operations has failed to dislodge the group, U.S. involvement has immeasurably strengthened the Philippines' military's effectiveness. Joint operations ended last year, but a small number of U.S. military advisers remain and it is these that Duterte wants removed.
Since taking up the presidency in June, Duterte has maintained a relatively conciliatory stance towards Abu Sayyaf, focusing instead on his violent and much criticized anti-drugs efforts. Now the Philippines' president appears set to change tack.
At the beginning of the month, a bombing claimed by Abu Sayyaf killed 15 people in Davao, where Duterte used to be mayor. In the aftermath of the blast, the Philippines' president, speaking from Laos where was taking part in an ASEAN meeting, vowed he would "crush" the militants and "eat" them alive (Philippine Star, September 7).
Should the Philippines' president attempt to tackle Abu Sayyaf in a similar manner to how he has dealt with drug dealers, he may feel constrained by his U.S. military allies, but such a move would surely seem unwise. Possibly Duteret's comments are simply bluster. Certainly it remains to be seen whether they herald any real change, either in relation to the U.S. advisers or in terms of his strategy for taking on the militants.