Briefs
Publication: Terrorism Monitor Volume: 14 Issue: 20
By: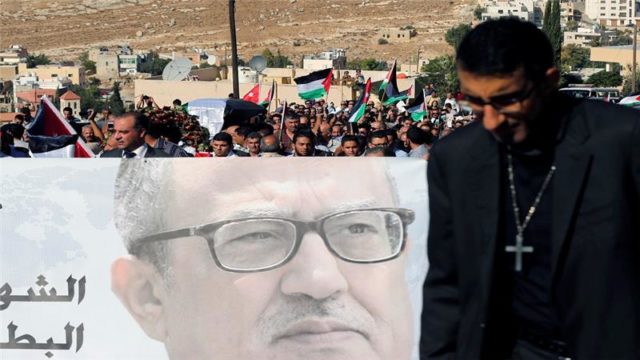 JORDAN: SATIRIST'S KILLING HIGHLIGHTS RADICALIZATION FEARS
Protesters in Jordan demanded the resignation of both Prime Minister Hani al-Malki and Interior Minister Salama Hammad in September, following the murder of Nahed Hattar, a satirical writer who was shot dead on the steps of a court building in Amman. Although the government condemned Hattar's killing at the time, the protesters – many of them members of Hattar's tribe – claimed the government had not done enough to protect him. The government quickly imposed a ban on reporting about the killing (Petra, September 26).
Hattar, who was from Jordan's Christian minority (as well as a supporter of Syrian President Bashar al-Assad), had been attending court to face criminal charges over a cartoon he shared on Facebook that was said to be offensive to Muslims. Hattar's suspected killer, a former prayer leader described by the Jordan Times as a known extremist, later gave himself up to the police (Jordan Times, September 25).
Rights groups say Hattar's killing shows Jordan's disregard for free speech and have called for greater protections for the right to freedom of expression (RefWorld, September 26). Jordan has long been willing, however, to restrict the media in favor of "maintaining stability." More pertinently, the incident highlights concerns over the problem of radicalization in Jordan.
Jordan introduced anti-terror legislation in 2006, following a series of bombings at three hotels across Amman that left more than 60 people dead. It broadened the law in 2014 with the aim of targeting extremists returning home from the conflict in neighboring Syria, but the reforms have also been used to restrict journalists and target members of the opposition with no clear links to terrorism (Memo, August 28, 2015).
The government maintains the changes to the law were necessary, and Jordan certainly faces a threat from returning fighters and a growing wave of radicalization. In findings this year by the UN's gender equality agency, 85 percent of those surveyed for a report on radicalization and women said radicalization was occurring among communities in Jordan (UN Women, March 2016). More than that, 74 percent said it was taking place in universities. The report highlighted the cities of Zarqa, Maan, Salt, Irbid and Rusaifa as areas where radicalization was a particular problem.
When Hattar posted the cartoon that landed him in court, he was subject to a social media backlash. He quickly took it down and apologized. The government may have hoped that bringing charges against him was a concession of sorts to certain elements within Jordanian society, but it had a very different effect. If Jordan wants to combat radicalization at home, it needs to think carefully about the message its actions on journalists and writers like Hatter send out.
KUWAIT: SECURITY RESTRICTIONS AMID IS THREAT
An Egyptian man crashed a garbage truck into a vehicle carrying five U.S. servicemen in Kuwait on October 6 in an apparent attempted suicide attack. The incident was initially thought to be an accident, with the soldiers, who appear to have been traveling in a civilian vehicle, helping the truck driver who suffered multiple injuries in the collision. But Kuwaiti investigators later reportedly found a suicide belt, an Islamic State (IS) banner and a handwritten note pledging allegiance to IS in the man's vehicle (Kuwait Times, October 7).
The attempted suicide attack, if that is what it was, appears to have been a lone wolf incident. An embassy media statement released in the following days said U.S. authorities were not aware of any credible threats against U.S. citizens in Kuwait (US Embassy, October 9).
IS previously carried out a devastating attack in Kuwait City. In June 2015, a suicide bomber blew himself up in the city's Shia Imam al-Sadiq Mosque, killing 27 people and wounding hundreds more (al-Jazeera, June 27, 2015). Authorities have since mounted a security crackdown. In July, the state news agency announced security forces had thwarted three IS plots, including plans for another mosque bombing during the Eid holiday (KUNA, July 3).
That suggests that while IS may have inspired the apparent failed attack by the Egyptian truck driver, it remains focused on attempts to foment sectarian conflict. Even the reported failed attack came at a time of potentially heightened tensions – ahead of Ashoura, a major Shia festival marking the death in the battle of Karbala of Imam Hussein, the grandson of the Prophet Mohammed.
Kuwait has historically been relatively free of Sunni-Shia tensions, with Shias – who make up between 15-30 percent of Kuwait's population – living side-by-side with their Sunni counterparts. Nonetheless, Kuwait must safeguard against any stoking of tensions, whether through terrorist attack or on social media, something of which the leadership is well aware (Arab News, June 28). Kuwait's Emir Sheikh Sabah al-Ahmad al-Sabah has himself done much to soothe tensions. After the 2015 bombing, he quickly attended the scene at the Imam al-Sadiq Mosque, against the advice of his security services.
Opportunistic lone wolf attacks, however, are more difficult to defend against. Kuwait faces the same difficulties as its international allies in this regard. As a consequence, Kuwaitis have had to put up with a tightening of security in public places and restrictions on crowds, including a ban this year on open-air Eid prayers (Gulf News, September 19). Such efforts will be familiar to many of the Gulf state's allies, particularly in Europe, where concerns about IS have also led to greater policing of public events.
[For more on the IS threat in the Gulf, see Terrorism Monitor July, 22.]