Briefs
Publication: Terrorism Monitor Volume: 15 Issue: 6
By: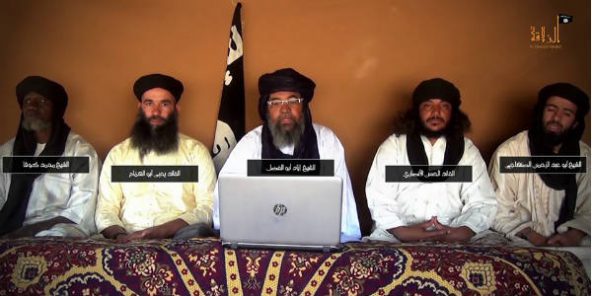 Mali: al-Qaeda Alliance a Warning to Islamic State
An attack on a Malian military base in Boulikessi that left 11 soldiers dead has been claimed by the newly formed jihadist alliance Jamaat Nusrat al-Islam wal Muslimeen, led by the Ansar Dine chief Iyad Ag Ghali. Although initial reports attributed the March 5 attack to Ansarul Islam, Ghali's group later claimed responsibility in a statement to the Mauritanian Nouakchott News Agency (MaliJet, March 10; RFI, March 10).
The attack came just days after the formation of the new group, which brings together some of Mali's main jihadist players under the al-Qaeda umbrella and boosts the groups local standing relative to jihadist rival Islamic State (IS).
Jamaat Nusrat al-Islam wal Muslimeen, or "Support for Islam and Muslims", is an alliance between Ghali's Ansar Dine with al-Mourabitoun, led by Mokhtar Belmokhtar, and al-Qaeda in the Islamic Maghreb's (AQIM) Sahara division (AfricaNews, March 3). Also part of the new alliance is Amadou Koufa, the founder of the Macina Liberation Front.
Koufa appeared alongside Ghali and AQIM officials, including Yahya Abu al-Hammam, in a video on March 2 pledging allegiance to al-Qaeda's Ayman al-Zawahiri and announcing the merger (Jeune Afrique, March 2). Although a long-time acquaintance of Ghali, having fought with him in Timbuktu in 2012, Koufa appeared to have fallen out with the Ansar Dine leader last year and was reportedly toying with the idea of joining IS (Maliweb, January 5).
Clearly he has since been tempted back to the al-Qaeda fold. That may have something to do with putting Ghali, a Tuareg militant who has for years battled the Malian government, in overall charge. In doing so, al-Qaeda has brought its factions together under a local leader, highlighting an operational difference with IS, which frequently favors placing foreigners in leadership roles.
As well as their personal ties, Ghali's leadership was likely a draw for Koufa, whose own group is a Fulani jihadist movement that is as concerned with defending Fulani herding communities as it is with the spread of sharia.
The new alliance does little to simplify the fractured landscape of non-state actors in Mali (see Terrorism Monitor, January 27). However, it does help consolidate al-Qaeda's influence in the region. Ghali, who founded the Popular Movement for the Liberation of Azawad in the 1980s, has a certain political legitimacy as well as appeal to Tuareg groups outside Mali.
There was already coordination between the groups, but the alliance is also something of a warning from al-Qaeda to IS that the group intends to keep the Sahel firmly within its zone of influence.
Yemen: Two Years of Conflict Leaves AQAP Stronger
Fighters with al-Qaeda in the Arabian Peninsula (AQAP) have staged a series of attacks on United Arab Emirates (UAE)-backed forces in Yemen's south, just days after a sustained U.S. aerial bombardment. The attacks highlight the continued resilience of AQAP amid a Saudi-led campaign to roll back Houthi advances and reinstate the government of Abdrabbuh Mansour Hadi that is now more than two years old. The campaign has failed to reduce the perceived Houthi threat to Saudi Arabia and has instead strengthened AQAP.
The group's recent attacks targeted the Hadrami Elite Forces, a pro-government force open only to local Hadrami fighters. According to reports on social media, the group fired grad rockets at a checkpoint in al-Ghabar district on March 10 and attacked a camp in al-Dhilaah on March 15.
These were the first attacks in the wake of a five-day campaign of U.S. airstrikes against AQAP targets in Abyan, al-Baida and Shabwa provinces (Gulf Today, March 7). AQAP leader Saad Atif was thought to be present in Shabwa at the time of the bombing raids (Yemen Times, March 3). Meanwhile, another AQAP leader, Qasim Khalil, and former Guantanamo Bay detainee Yasir al-Silmi were among those killed (Asharq al-Awsat, March 10).
Despite the air raids, AQAP is little diminished in Yemen; instead, the country's ongoing conflict has served to strengthen it. The group's resources — bolstered by its capture of al-Mukalla in April 2015 — and its greater willingness to engage with the local population, has put it far ahead of rival jihadists Islamic State in Yemen (as Michael Horton explores in this issue of Terrorism Monitor, March 24).
Following its attacks on the Hadrami Elite Forces, AQAP played on that local goodwill in a statement on Telegram on March 16, stating "the sons of the honorable Hadramiyah tribes are not our adversaries nor are they our targets," and calling on Hadramawt tribes to withdraw support for UAE-backed forces (SITE, March 17).
The UAE along with anti-Houthi militias seized control of the Yemeni port of Aden from Houthi fighters in mid-2015 (al-Jazeera, July 23, 2015). That has been one of the few clear successes of the Saudi-led coalition's operations in Yemen. There have been few others since. Instead, aid organizations warn of a massive humanitarian crisis, with 60 percent of Yemen's population facing food insecurity (New Arab, 23 March). With Hodeida, Yemen's largest commercial port, under a Saudi-led blockade and the Saudi closure of Sanaa airport also hampering relief efforts, the situation is unlikely to change.
Instead the conflict is rumbling on, with AQAP proving to be the main beneficiary.