Briefs
Publication: Terrorism Monitor Volume: 17 Issue: 4
By: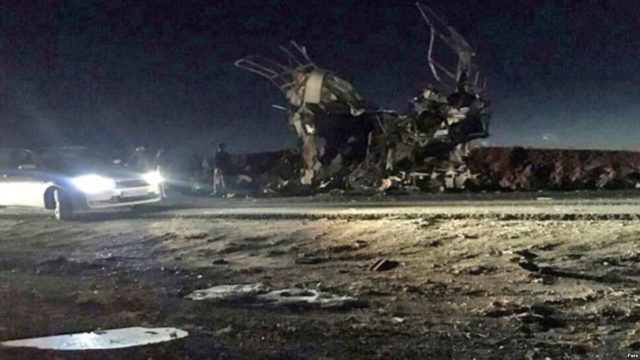 Iran: Jaish al-Adl Attack Could See Increased Iran-India Cooperation
Brian M. Perkins
Iran has seen a recent surge in terrorism incidents within the country over the past year, particularly in the provinces of Khuzestan and Sistan-e-Baluchistan. Among the most notable incidents have been attacks on the Ahvaz military parade and in the port city of Chabahar. Most recently, a suicide vehicle borne explosive device (SVBIED) attack targeting an Islamic Revolutionary Guard Corps (IRGC) bus killed at least 27 on a road between Kash and Zahedan in Sistan-e-Baluchistan. Jaish al-Adl later claimed responsibility for the attack against the "oppressive" Iranian regime (ILNA, February 14). Jaish al-Adl is known to operate out of Pakistan, launching attacks in Iran before retreating back across the border.
Pakistan has a sordid history of militancy in its bordering provinces, with the former Federally Administered Tribal Area, now a part of the Khyber Pakhtunkhwa province, being a longstanding haven for Taliban fighters that primarily targeted the Afghan government. However, as the Taliban increased its control over the provinces of Afghanistan, the border regions with Iran have begun to garner more headlines as the groups operating there are hostile to both countries.
Pakistan has seen a similar escalation of attacks against government and economic interests in Baluchistan and Sindh by local Baluch nationalist and separatist groups, particularly the Baluchistan Liberation Army (See Terrorism Monitor, January 25). These groups share similar grievances against the Pakistani government as their counterparts have with Iran and have selected similar targets.
Given the overlapping similarities in the shared grievances, lineage, and operational areas, it is not a stretch to consider that these groups have or could coordinate with one another, whether through logistics networks or through training.
Pakistan has a clear economic interest in stemming the rise of the various militant groups in the region to ensure work on the China-Pakistan Economic Corridor continues and that it remains a viable project. Meanwhile, Iran has expressed its frustration with the lack of effort from Pakistan to ensure that its border regions are not safe havens for groups seeking to attack the Iranian government. The IRGC has also launched cross border raids on militant groups hiding in Pakistan on multiple occasions.
The two countries worked jointly to put down the Baloch insurgency between 1974 and 1977 and it would be mutually beneficial for the two to conduct similar joint military operations to clear the region of militants that threaten the security of both nations. However, it is unclear if Pakistan's move closer to Saudi Arabia will prevent such cooperation moving forward. Meanwhile, India has ramped up its efforts to combat terrorist organizations on Pakistani soil and the Iranian and Indian governments have agreed to cooperate more closely on combating terrorism in the region. Such an agreement could see an escalation of surreptitious military operations within Pakistan by its neighbors. [1]
Notes
[1] See Tweet from Sayed Abbas Araghchi on February 16 https://twitter.com/araghchi/status/1096802730881048578
*** 
Future of Uighur Fighters in Syria Pulls China Deeper into the Middle East
Brian M. Perkins
The United States' impending withdrawal from Syria has sparked considerable concern from the various groups fighting against Islamic State (IS), as well as concerns regarding the return of foreign fighters. China is keen to capitalize on what the country sees as a fortuitous, strategic opportunity that the U.S. withdrawal creates in order to become a primary player in the Middle East. The withdrawal will fundamentally change the balance of power for those involved, increasing the influence from China, whose partnership with Russia has increased while its relations with Turkey have grown increasingly strained.
China has slowly become more involved with the war in Syria over the past several years through humanitarian aid, arms sales, intelligence support, and helping Russia block various UN Security Council resolutions. China has, for the most part, steered clear of direct military involvement, though there have been past reports that China would deploy special forces to the country (New Arab, November 29, 2017). China has significant economic interests in the country, as evidenced by the showing at the Damascus International Fair in September and billions of dollars pledged in investment and reconstruction (Xinhua, September 11, 2018).
Aside from the geopolitical and economic benefits of increased involvement, China is facing a real threat from the return of Uighur foreign fighters and is thus invested in ending the war. While the number of Uighur's fighting in Syria is unclear, estimates have ranged to as many as 5,000 in 2017. (MEMO, May 9, 2017). The largest and most influential Uighur militant group in Syria is the Turkistan Islamic Party (TIP), which is allied with Hayat Tahrir al-Sham (HTS). On February 19, TIP released a video, as it has in the past, encouraging jihad and lone wolf style attacks in China's Xinjiang region. In addition to TIP, there are several other predominantly Uighur groups that operate throughout Syria and have outwardly expressed a desire to use their training to fight the Chinese government. Another predominantly Uighur group, the Katibat al-Ghuraba al-Turkistan (KGT), has recently featured in a video released on February 15, with the HTS-linked Malhama Tactical group, the training of Uighur fighters. During the video, Malhama Tactical's leader, Abu Salman Belarus, stated that the training was to prepare the men to fight the Chinese government (SITE, February 15).
China is clearly interested in the war drawing to a close in order to secure its economic interests in Syria and preserve its internal security. However, the end of the war poses an equally, if not more, complex security threat to China, as there are several possible scenarios regarding Uighur fighters. The end of the conflict in Syria is unlikely to see the eradication of Uighur fighters there. While a significant number will return to China, these trained fighters are likely to become more geographically dispersed. Once dispersed, they will likely continue attempts to wage war against the Chinese government by targeting various economic interests. Another potential scenario is that as the war draws to a close these fighters establish cells in Syria and move underground—as many of the groups will likely do—only to rear their heads again when reconstruction, and Chinese investment, begins.