Briefs
Publication: Terrorism Monitor Volume: 19 Issue: 11
By: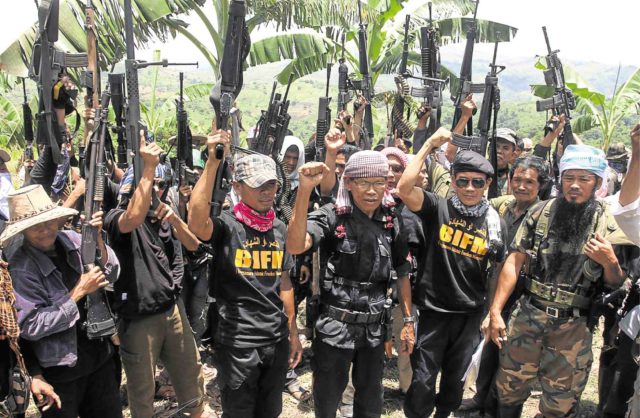 Peru's Shining Path Guerillas Launch New Attacks in Apurimac Valley
Jacob Zenn
For nearly a decade, Peru's Shining Path (Sendero Luminoso) Marxist militants have been in decline, with the group's political wing becoming more active than the militant wing (Terrorism Monitor, May 15, 2014). However, on May 24, the group took Peru by surprise when it carried out an attack in Satipo Province, Junín region in the Apurímac jungle valley, which for years has been the group's main area of operations. Unlike the group's original aim to create a Marxist state, now Shining Path focuses on drug trafficking. The 18 victims of the May 24 attack accordingly were in a brothel area run by drug traffickers, although as a reminder of the group's ideology, the fighters sprayed Marxist graffiti at the attack site (mercopress.com, May 26). Further, the fighters left Marxist pamphlets at the crime scene signed in the group's now official name, the Militarized Communist Party of Peru (Twitter.com/@Pedro_vrae, May 24).
The Shining Path attack comes amid a growing number of counter-drug trafficking operations by the Peruvian
police (peru21.pe, April 29). This is putting a stranglehold on the group's revenue, which is forcing it into conflict with rival drug traffickers to control key routes. The group is also strongly opposed to Peruvian presidential candidate, Keiko Fujimori, whom it labeled a "traitor" in its pamphlets. Ironically, the latest attack has actually boosted Fujimori's prospects, with her labeling her left-leaning opponent, Pedro Castillo, as ideologically similar, and even sympathetic, to the Shining Path (laprensalatina.com, May27). At a pro-Keiko Fujimori demonstration in Lima after the attack, her supporters also held banners stating "No to Communism" and "No to Terrorism" (elperiodicodearagon.com, May 30).
The attack is also unlikely to win Shining Path any public support. The Peruvian archbishop in Trujillo issued a condemnation of the "cruel assassins" and called for respect for the "sanctity of life" (infovaticana.com, May 26). Given that the attack will seemingly work against the group's interests— which is likely to result in greater policy monitoring of the drug trafficking routes and helping Fujimori's election campaign—one potential explanation for the decision to carry out this latest violence in Apurímac Valley is that the group is suffering from leadership losses. The group's deputy leader, Jorge Quispe Palomino (a.k.a. "Raúl"), was killed by Peruvian police in March (elperuano.pe, March 31). Other longtime leaders from the 1980s, including Comrade Artemio, have also been arrested in the past decade (Hot Issue, April 11, 2012).
Therefore, with an ideology whose legitimacy has been weakened as a result of global Communism's downfall and whose history of massacres has lost it public support, Shining Path is now primarily a drug trafficking group. However, its continued killings, including the latest May 24 attack, will do little to revive the group. Moreover, Keiko Fujimori's father, Alberto, who is in prison on corruption charges, is known for having dealt severe blows to Shining Path during his tenure in office from 1990 to 2000. If his daughter wins the next election, she will likely deliver the final knock out punch to the group's very existence.
***
Philippines Suppresses Comeback Attempt by Maute Militant Group
Jacob Zenn
Four years since the Armed Forces of the Philippines engaged in a multi-month battle against Islamic State (IS)-allied militants in Marawi, led by Omar and Abdullah Maute and Abu Sayyaf commander Isnilon Hapilon, the army is still working to prevent the resurrection of Maute's followers. While both Maute brothers and Hapilon were killed in October 2017 during the battle in Marawi, recent killings and arrests indicate their movement, though struggling, is still not defeated (abc.net.au, October 22, 2017). The first incident was on May 6, when Philippine soldiers located a militant named Sarip in the Maute's hometown of Butig, killed him, and arrested three other militants. Assistance from local villagers in making the arrests indicated that the army was winning support from the local population (philstar.com, May 6).
On May 28, five members of the Maute Group also surrendered to the army. They claimed they had served the group as couriers to scout on army movements and buy food supplies, and were indoctrinated into the group's jihadist ideology. Nevertheless, as a result of sustained pressure by special forces, they finally decided to give up the fight and called on other members to do the same (sunstar.com.ph, May 28).
Shortly after their surrender, nine other Maute Group members were arrested and two others escaped during a special forces operation near Marawi on May 29. Various weapons and types of ammunition were also captured, indicating the group still poses a lethal threat, even though they have carried out increasingly few attacks since 2017. The arrested members had attempted to flee by shooting at the soldiers, but were ultimately subdued (sunstar.com.ph, May 29).
While the Maute Group threat may be subsiding, another related threat, however, persists. As these operations against Maute Group were underway, in early May, approximately 200 Bangsamoro Islamic Freedom Fighters (BIFF) invaded the town of Datu Paglas in Maguindanao, Mindanao and occupied the market in the town center. Unlike the multi-month counter-terrorism campaign in Marawi in 2017, this time the army was able to remove the militants in six hours of fighting (inquirer.net, May 9). That the invasion occurred exactly four years after the battle of Marawi appears to be a coincidence, as no indications emerged that BIFF was attempting to symbolically time their attack. Rather, it was the fifth time this year that BIFF had attempted to take the town, suggesting that their growing confidence in attacking Datu Paglas.
Just as civilians aided the army's capture of Maute Group militants elsewhere, it was the Moro Islamic Liberation Front (MILF) who captured the BIFF members in Datu Paglas as they were retreating from the fighting (pna.gov.ph, May 11). BIFF, like its allied Maute Group, is loyal to IS, and broke away from MILF when that organization entered into a peace agreement with the Philippines government in return for regional autonomy. Since then, MILF has assisted the army in cracking down on BIFF fighters. This has proven to be a force enhancer for the army, but as the series of recent BIFF invasions of Data Paglas demonstrate, neither that organization, nor the Maute Group, are defeated. BIFF, however, appears more powerful than the Maute Group, which is no longer launching invasions of towns. Instead, the Maute Group is increasingly seeing its members killed or arrested by the army.