Briefs
Publication: Terrorism Monitor Volume: 19 Issue: 24
By: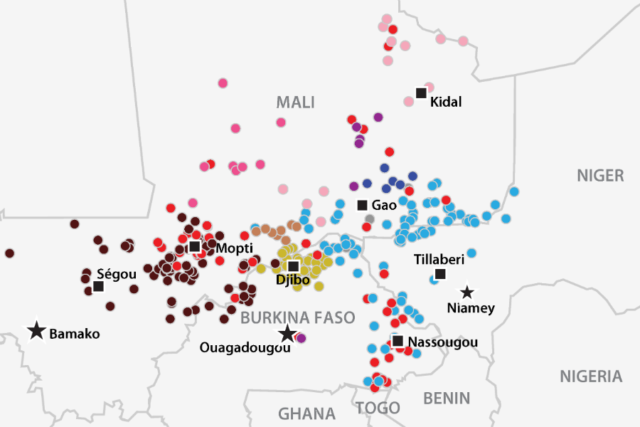 Al-Qaeda's Sahelian Affiliates Increases Attack Tempo in Mali, Burkina Faso and Benin
Jacob Zenn
The Sahelian al-Qaeda affiliate, Group for Supporters of Islam and Muslims (JNIM), has not been attracting as many headlines as other historically al-Qaeda-aligned groups, such as the Taliban, in recent months. However, JNIM's militancy in the Sahel continues to progress as the group expands its areas of operations, including to Benin, entrenches itself in strongholds in the Mali-Niger-Burkina Faso border region, and carries out attacks with increasing effectiveness. While the world focuses on Afghanistan, JNIM is gradually developing the capacity to contest state power in not only Mali, but also neighboring Sahelian states.
On December 8, for example, JNIM attacked a United Nations Multidimensional Integrated Stabilization Mission in Mali (MINUSMA) logistics convoy in Bandiagara in the Dogon region of Mali (Twitter.com/@UN_MINUSMA, December 8). Although seven MINUSMA troops were killed and others injured and this was the largest number of fatalities for MINUSMA troops in any attack this year, it was not widely reported. Nonetheless, it reflected JNIM's capacity to hamper MINUSMA operations in ways that the international community often overlooks. JNIM's unofficial video of the aftermath of the attack also showed the wreckage of one of the vehicles in the MINUSMA convoy, which was completely obliterated (Twitter.com/@FadimaAbou, December 9).
On another front one week earlier, JNIM also carried out an attack in Porga, Benin, near the border with Burkina Faso, which injured several Burkinabe soldiers (Jeune Afrique, December 2). The Beninese troops struck a landmine, which was likely placed by JNIM because it has operated in the vicinity of the Burkina Faso and Beninese border and carried out an attack in Benin's neighbor, Togo, from Burkina Faso in November (Terrorism Monitor, November 19). While the attack on MINUSMA demonstrated JNIM's entrenchment in Mali, this attack in Benin indicated JNIM expansion.
If these attacks in Mali and Benin did not indicate JNIM entrenchment and expansion enough, a video from JNIM's Serma, Mali-based brigade revealed the group's strength. Released on December 7 by the group's al-Nafeer media agency, it showed seven sport-utility vehicles and a dozen motorcycles all carrying armed and uniformed militants with Islamic flags in the desert (Twitter.com/@ocisse691, December 9). While this video may have been for propaganda purposes, the apparent lack of concern about Malian air strikes highlights the ability of JNIM to freely maneuver throughout the Sahel region.
The Malian government, meanwhile, appears to be considering negotiations as a means to respond to JNIM's continued attacks (crisisgroup.org, December 10). In particular, the hope is that Mali's highest Islamic authorities will have the respect and trust from JNIM leaders, and they can come to some form of ceasefire agreement. It would, however, betray reality to expect JNIM to surrender and abandon the fight unless serious concessions were granted to JNIM, such as autonomous Islamic rule over at least some portion of northern Mali and the Malian border regions.
At present, such concessions are unlikely to be granted by the Malian government. JNIM may, therefore, have a long-term strategy of mixing negotiations with insurgency until, at some point, international forces, and especially France, withdraw troops from the Sahel and accept, or even encourage, the Malian government to make concessions to JNIM to reduce its attacks. JNIM would then acquire rule over territories under its control similar to the way that the Taliban has done in Afghanistan. Despite this possibility, a full collapse of the Malian government along the lines of the outcome of the Afghan government is unlikely, and it does not seem that JNIM will have a chance of ruling all of Mali in the foreseeable future.
*****
Disrupted Jihadist Plots in France and Germany Reflect New and Old Terrorism Trendlines
Jacob Zenn
Although Islamic State (IS)-inspired attacks have decreased in Europe over the past few years, lone actors continue to search for ways to carry out attacks (Terrorism Monitor, October 21). Two attempted, but foiled, attacks reveal the enduring threat of jihadism in Europe. One attack involved two 23-year-old men outside of Paris, who pledged loyalty to IS and sought to conduct a mass-stabbing of "disbelievers" during Christmas in Paris (Le Figaro, December 8).
Both would-be attackers had also stockpiled IS propaganda videos in their residences, although one of the suspects claimed he never intended to conduct the attack (Daily Mail, December 8). According to French police, this was the fourth such jihadist plot broken up in 2021. Three other jihadist plots in 2021, however, were not disrupted in France, including two stabbings of female police officers in April and May (France 24, May 28).
One trendline of the attacks in France is they involved knives, rather guns or explosives, as seen in other successful jihadist attacks in Europe in 2021 and in the infamous IS Paris massacre in 2016 (Deutsche Welle, November 2). However, another attack broken up in Hamburg, Germany in December involved a German-Moroccan who attempted to purchase a hand grenade and gun online and had jihadist propaganda materials in his home (Bild, December 10). Had this this attack occurred, it would have defied the trend of predominantly knife or "garage extremist" attacks, the latter involving "dirty bombs," but often failing to detonate or being disrupted by security forces (Terrorism Monitor, November 19).
Most notable about the Hamburg plot was that the would-be attacker's cousin's house was also searched and revealed substances used to make explosives, including several hundred metal nuts and screws (Times of Israel, December 10). In addition, the would-be attacker's father had been a preacher at the Hamburg al-Quds Mosque where several of the 9/11 plotters had originally met. Thus, this attacker came from a "jihadi family" and was a member of its second generation, as children of IS supporters and foreign fighter returnees will eventually become in one generation into the future.
Germany itself has fared better than France in 2021 in counter-terrorism, having only one seemingly successful plot suffered this year. This was a stabbing by a Syrian with jihadist motives that occurred on a train one month before the Hamburg plot and injured several passengers near Nuremburg (Deutsche Welle, November 6). This attack, in contrast to the one in Hamburg, demonstrated the trendline in Europe of attackers using knives and, therefore, not being "successful" in causing serious levels of fatalities.