India Responds to New Kashmiri Militant Factions' Campaign Against Civilians
Publication: Terrorism Monitor Volume: 19 Issue: 23
By: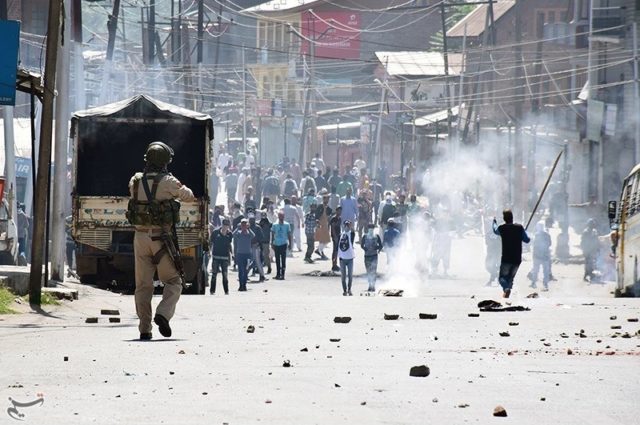 After a period of relative dormancy, India's restive Kashmir region has been struck by violence again, witnessing an increase in the targeted killings of civilians. In October alone, there were 45 deaths, including 13 civilians and 12 security force personnel. With the killing of a well-known pharmacist, Makhnalal Bindroo, and street vendor, Virender Paswan, in Srinagar on October 5, militants from newly emerging factions have triggered a new cycle of violence.
Several days after the killings of Bindroo and Paswan, armed militants shot dead the principal and a teacher of a government school in Srinagar after identifying them as Hindus and separating them from Muslim staff (Tribune India, October 8). A week later, on October 16 and October 17, three more civilians, all from Bihar State, were killed in Srinagar and Kulgam (India Today, October 18; Hindustan Times, October 16).
Kashmiri militants have also targeted Muslims who have been working with local Hindu communities or Hindus who have moved to Kashmir for work. For example, a Muslim carpenter from Uttar Pradesh was shot dead by militants on October 16 in Pulwama. As this spree of "point-blank" killings continued into November, local Kashmir-Hindu communities, which are called Pandit; non-local Hindu and Sikh settlers; and non-local Muslims who were mistaken as Hindus have been on the receiving end of militants' violence in Kashmir (Kashmir Observer, November 8).
Motives Behind Kashmiri Militants' Violence: A Look at Islamic State in Hind Province
 These civilian killings in Kashmir aim to instil fear among the local Kashmiri Hindu community and non-native Hindus who work in Jammu and Kashmir. As Pakistan-based militant groups like Lashkar e-Taiba, Jaish-e-Muhamad, and Hizbul Mujahideen (HM) are lying low or are fragmenting due to ongoing counter-terrorism operations, new and shadowy militants' factions have been forming.
These factions are often termed as 'hybrid terrorists' by Indian government agencies due to their covert engagement with terrorist groups. They often have no previous record of subversive activities in Kashmir and they rely on social media and body-cam audio-visuals as propaganda (The Hindu, July 5; The Tribune, August 22, 2020). By shifting their operational tactics to targeted killings and guerrilla ambushes, they are poised to carry out more attacks in Kashmir. The factions include The Resistance Front (TRF), which has threatened the non-native Hindu population, counter-terrorism officials, and even locals helping people from other states settle in Kashmir (News18.com, October 18). Besides TRF, two other factions now operating in Kashmir are People's Anti-Fascist Front (PAFF) and Islamic State Hind Province (ISHP).
The October 5 killing of street vendor Virender Paswan in Srinagar was claimed by ISHP, which is affiliated to the global Islamic State (IS) network. Since then, the faction has threatened to carry out more of such attacks in not only Kashmir but in other parts of India. Besides the attack on Paswan, ISHP claimed a grenade blast near Triveni Gate of an army camp in Pathankot, Punjab on November 22. ISHP has issued several death threats to prominent citizens for their affiliations with the Bharatiya Janata Party (BJP)-led central government. ISHP also threatened to kill Gauatam Gambhir, who is a former cricketer and BJP legislator, and Aditya Raj Kaul, who is a senior journalist of Kashmiri origin, for his anti-militant and anti-Pakistan reporting (IB Times, November 26; Twitter/AdityaRajKaul, November 28). On December 2, ISHP released a video through IS' Amaq media agency of one its fighters shooting a traffic police officer in Srinagar (Twitter.com/@war_noir, December 2).
TRF: In the Guise of Resistance
TRF is a newly founded militant group in Kashmir. It has claimed most of the attacks causing civilian deaths in October and November (Times Now News, October 7). The group adopts the garb of a resistance movement and has attacked minorities and soft targets, such as street vendors and shopkeepers, since late 2019. It opposes revocation of Jammu and Kashmir's special status which has encouraged the return of Hindus to Kashmir, who fled the valley in the 1990s to escape Pakistan-backed militants.
TRF, which shares similar objectives with PAFF, burst onto the scene in April 2020 and carried out a prolonged offensive against security forces in Kupwara, near the Line of Control (LoC) with Pakistan (Hindustan Times, April 9, 2020). Months before that, TRF was accused of injuring eight civilians in a grenade attack in Srinagar on October 12, 2019 (The Hindu, October 12, 2019). Even before then, TRF targeted people who obtained the new domicile certificate, which allows non-native Kashmiris to purchase properties and settle in Kashmir.
TRF was behind the killing of a jeweler in the Saraibala area of Srinagar who had obtained the certificate in January (Indian Express, January 2, 2021). TRF's suicide unit named Shaheed (Martyr) Squad targets civilians, branding them as Hindu right-wing Rashtriya Swayamsevak Sangh (RSS) agents, referring to a Hindu voluntary nationalist group. TRF's suspected ties with IS have raised suspicion, especially when, on June 5, several TRF members reportedly joined IS and pledged their allegiance to "caliph" Abu Ibrahim al-Hashimi al Quraishi (TRAC Watch, July 7).
PAFF: Anti-Fascist Jihadism in Kashmir?
PAFF, which was responsible for armed encounters and ambushes targeting security forces in Kashmir's Poonch area in October, originally surfaced in mid-2020 with sleek anti-Indian propaganda videos (Tribune India, October 31). It came into existence to challenge the Indian government's abrogation of Article 370 and Article 35A of the Indian Constitution that effectively ended Jammu and Kashmir's autonomous status and terminated all special rights and privileges granted to local Kashmiris. Through an anti-fascist façade, PAFF has shied away from 'jihadist' or 'pro-Pakistan' rhetoric to gain better acceptance among local Muslims and to justify tirades against the Indian state and rising Hindu nationalism.
Broadly labeling Hindus as "fascist," PAFF has released several propaganda videos and messages, including threats to target RSS members. PAFF vehemently opposes Hindu "colonization" of Jammu and Kashmir and has asserted: "We won't allow Israeli-type settler colonies… and Indians who want to settle in those colonies will become a legitimate target…. Colonies for non-Kashmiris in the garb of settlement colonies is another dirty plan of the fascist Indian regime" (News18.com, December 20, 2020). However, PAFF has not been able to hide its jihadist inclinations. In early November, it released a video paying tribute to a slain Taliban commander, Mullah Hamdullah Mokhlis, and called him the "conqueror of Kabul." Mokhlis, a Haqqani network member, was killed in a suicide attack in early November that targeted Kabul's Sardar Daud Khan Hospital. The attack killed 19 people and was claimed by Islamic State in Khorasan Province (ISKP) (Al Jazeera, November 3).
PAFF video messages have offered condolences to the Taliban for the death of Mokhlis and have underscored PAFF's support to the Taliban's fight against ISKP. It is possible that PAFF will clash with ISHP in the future as a result of its pro-Taliban orientation and its calling IS "rabid dogs who deserve to be crushed" (YouTube.com/Mazloomkoshur, November 5). Beyond these pro-Taliban overtures, PAFF has been instrumental in bringing magnetic "sticky" bomb technology to Kashmir. These bombs are prominently featured in PAFF's propaganda videos along with other weaponry (Economic Times, March 1).
Conclusion
The recent uptick of violence in Kashmir, triggered by these militant factions, has forced a reverse migration from Kashmir. Nearly 500 Hindus—natives and non-locals—have left Kashmir's Budgam, Anantnag, and Pulwama areas following the targeted killings in October (Tribune India, October 9). Fearing a reverse Hindu migration from Kashmir again, the Indian government has stepped up security measures and launched a crackdown against militant networks across Jammu and Kashmir. It has also taken action against government officials who are suspected of helping these militant factions. The heightened level of violence in Kashmir and lack of the safety and security of civilians also prompted the Indian government to deploy an additional 5,500 troops to Kashmir in November (Times of India, November 10).
With the establishment of an anti-terror State Investigation Agency (SIA) in early November, based on the model of the National Investigation Agency (NIA), India intends to speed up the investigation and prosecution of terrorism-related cases and curb the violence, especially against civilians. This may stop Kashmir from sliding further into an unending cycle of violence.