Briefs
Publication: Terrorism Monitor Volume: 20 Issue: 3
By: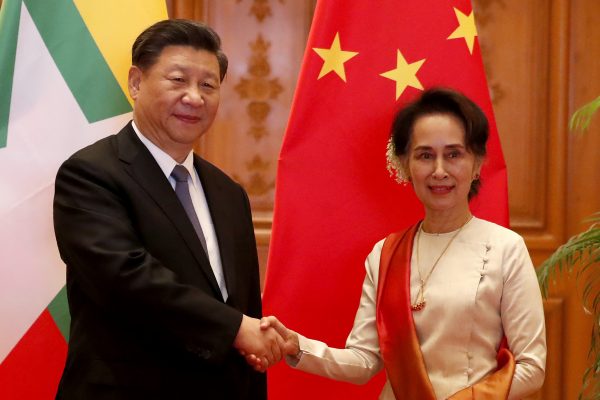 Chinese Interests Come Under Pressure in Myanmar's Insurgency
Jacob Zenn
China's involvement in economic projects in Pakistan has riled ethnic-based insurgent groups, which believe their peoples' interests are being ignored, or worse, trampled upon (Terrorism Monitor, May 7, 2021). In Myanmar, however, this trend of targeting Chinese interests only now appears to be gaining momentum. On January 7, for example, the Tigyaing Township People's Defense Force (PDF) claimed the bombing of  three electricity towers at a Chinese-run nickel plant in Saigaing, near the Chinese border (irrawaddy.com, January 18).
This nickel plant began operations in 2008, and despite being China's largest in Myanmar, has never been targeted prior to this attack. Moreover, the assault achieves three objectives for the insurgents: first, it can dent China's relations with Myanmar's military rulers, who prove unable to thwart such attacks; second, it reduces the amount of money that Myanmar's rulers can extract from the plant, which amounts to around $725 million annually in the hands of the rulers; and, third, it can win the insurgents sympathy from civilians, who have complained about the plant's environmental consequences.
Although this was not the first time Chinese interests were targeted during the insurgency against Myanmar's ruling junta, it was the most militant action taken against Chinese interests. Previously, in March 2021, protesters in Yangon conducted arson attacks on Chinese factories as a way to demonstrate opposition to Myanmar's China-backed junta (nikkei.com, March 16, 2021). Three months later, in June, the same attack pattern occurred at other Chinese factories in Yangon after the military's coup leader, Min Aung Hlain, announced on television that Chinese investments would be protected in the country (irrawaddy.com, June 11, 2021). The arson attacks were nonetheless lacking in scope compared to the nickel project bombing in Saigaing, which required greater planning and sophistication.
China reacted to the latest attack on the nickel plant by demanding Myanmar's National Unity Government (NUG), which opposes the junta, to refrain from carrying out attacks (irrawaddy.com, January 24). The NUG, in turn, further acknowledged that it has no strategy aimed at attacking countries neighboring Myanmar, such as China. However, it asserted that soldiers loyal to the military rulers had been using Chinese factories and plants as bases from which to launch attacks against the insurgents and, therefore, could come under attack.
Although the NUG views China as an adversary, it does have an incentive to condemn forms of militancy or terrorism within the country. The NUG is seeking international recognition as the legitimate government of Myanmar, and to achieve this, it needs to preserve its reputation and credentials as a peaceful resistance movement (myanmar-now.org, April 16, 2021). Thus far, international recognition has not been forthcoming, despite the establishment of a "representative office" in the Czech Republic from which it intends to conduct outreach with the international community. Ultimately, they seek to use diplomacy to turn the tide against Myanmar's military rulers and restore Constitutional democracy to Myanmar (dw.com, January 18).
*****
French Soldiers Face Mixed Success in the Sahel, as Russia Looks On
Jacob Zenn
On January 19, four French soldiers from Operation Barkhane were injured by an improvised explosive device (IED) in Burkina Faso (lefigaro.fr, January 19). They had been traveling on the road from Ouahigouya airport, which indicates their movements were likely monitored. Although neither al-Qaeda-aligned Group for Islam and Muslims (JNIM) nor Islamic State in Greater Sahara (ISGS) claimed responsibility for the attack, both groups operate in the tri-border region between Burkina Faso, Niger, and Mali, where the attack occurred. Ouahigouya also saw an unclaimed attack by jihadists on December 26, 2021, in which 41 people were killed, most of whom were members of anti-jihadist civil self-defense forces (aljazeera.com, December 26). Thus, the area is no stranger to jihadist attacks.
IED attacks have become among the most effective of JNIM tactics for restricting or endangering the movements of national armed forces. JNIM, for example, conducted another IED attack on February 1 near Burkina Faso's border with Côte d'Ivoire, injuring two Burkinabe soldiers (minute.bf, February 1). The attack also demonstrated the group's expansion from the tri-border region toward coastal West African countries, including also Togo, Benin, and Ghana (Terrorism Monitor, April 23, 2021).
Despite the IED attacks, Operation Barkhane has seen some successes. Less than two weeks after the IED explosion in Ouahigouya, Burkinabe soldiers who were part of Operation Barkhane announced that they had destroyed four jihadist bases, uncovered arms caches, and discovered six IEDs planted in the ground near a roadway. Further, a JNIM commander, Mdouli (alias Abdramane), was killed (Twitter/@Menastream, February 1).
The challenge of constraining JNIM comes at a time when France is reducing its military presence in the Sahel from 5,500 men to 3,000 (aljazeera.com, July 9, 2021). French president Emmanuel Macron even noted in July 2021 that while France would not withdraw entirely from the Sahel, it would end Operation Barkhane sometime in the first quarter of 2022 (France24.com, July 14, 2021). The broader context of the U.S. withdrawal from Afghanistan, and the subsequent takeover of the country by the Taliban, highlights the "worst case scenario" of France leaving the Sahel. JNIM, which is loyal to the Taliban's newly re-announced Islamic emirate, could take over at least parts of the Sahel.
France's seemingly waning commitment contrasts with Russia's increasing engagement in the region, mainly through the widely reported training of Malian soldiers by the Wagner Group (france24.com, January 21). Russia, moreover, is indifferent to the current military rulers in Mali who came to power last year, whereas France's ambassador has been critical of the rulers and was ordered to leave the country in January. As a result, Russia is in a prime position to gain influence in Mali through these military training partnerships, while France appears to be comparatively marginalized both diplomatically and militarily (mondafrique.com, February 3). The widening and seemingly inexorable jihadist violence in Mali and neighboring countries is, however, unlikely to be diminished by a growing Russian presence in the region.