Briefs
Publication: Terrorism Monitor Volume: 20 Issue: 4
By: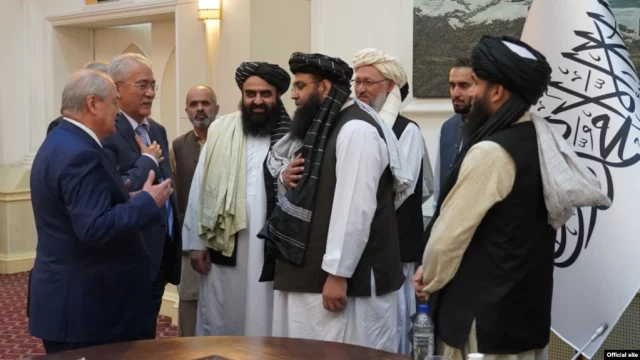 Tajikistan Maintains Cool Ties with the Taliban
Jacob Zenn
Since the Taliban's takeover of Afghanistan in August 2021, several Central Asian states have accepted the reality on the ground and engaged the Taliban. Kazakhstan and Kyrgyzstan, for example, began initiating dialogue with the Taliban in October 2021 (gandhara.rferl.org, October 1). Tajikistan, in contrast, continues to resist dialogue with the Taliban and portrays itself a protector of Afghan Tajiks, alleging that the Taliban favors Pashtuns at the expense of Tajiks.
The Tajik Foreign Minister, Sirojiddin Muhriddin reasserted on February 3 that Tajikistan would not change its position until the Taliban formed a "truly inclusive government" and engaged with opposition political and ethnic leaders. Building off this, the Tajik President, Emomali Rahmon, has suggested that the Russia-led Collective Security Treaty Organization (CSTO) establish a security belt around Afghanistan to maintain pressure on the Taliban (aamajnews.com, February 3).
Tajikistan will also place diplomatic pressure on the Taliban by continuing to meet with the Afghan opposition to the Taliban. Former Afghan Vice-President, Amrullah Saleh, and Ahmad Massoud both received asylum and remain welcome in Tajikistan following the fall of Kabul (trtworld.com, January 26). Even though the Taliban maintains that it will not pose a threat or attack any countries outside Afghanistan, it could place pressure on Tajikistan as well by positioning its fighters along the border (interfax.ru, February 14).
Notwithstanding these tensions, Tajikistan still signed an agreement with the Taliban in December 2021 to continue importing electricity into Afghanistan (wionews.com, December 28). This has been justified by Tajikistan as a form of humanitarian assistance, rather than an indication of friendly ties with the Taliban itself. Uzbekistan, Turkmenistan, and Iran also agreed to continue supplying electricity to Afghanistan, and Tajikistan did not seek to stray from regional consensus on this issue.
The Taliban also have a list of grievances against Tajikistan. The Tajik government, for example, still possesses aircraft abandoned by pilots from the now deposed Afghan air force, who fled to Tajikistan when the Taliban took Kabul (republicworld.com, January 19). The Taliban's Acting Defense Minister, Mawlawi Mohammad Yaqoob, highlighted this fact while speaking at a ceremony in Kabul on January 11, calling on Tajikistan and Uzbekistan to return Afghan aircraft. The U.S. has even taken sides on the issue, saying that the aircraft will not be returned to the Taliban and will instead eventually be returned to the U.S (defense.gov, January 18).
Rather than lead to conflict between Tajikistan and the Taliban, the two sides' current tensions, in fact, may ease. While they still are not on friendly terms, they are negotiating over issues that border nations typically deal with, including refugees, electricity, and military and security affairs. Notwithstanding Tajikistan's continued openness towards anti-Taliban Afghan opposition figures and refusal to recognize or dialogue with the Taliban, the two countries will find ways to cooperate over matters of mutual urgency and regional initiatives.
*****
Islamic State in Flux After Caliph Abu Ibrahim al-Hashimi al-Quraishi's Death        
Jacob Zenn
Within days of Islamic State (IS) caliph Abubakar al-Baghdadi's death in October 2019, multiple IS provinces in the Middle East and as far as West Africa and Southeast Asia pledged loyalty to his successor, Abu Ibrahim al-Hashimi al-Quraishi (africatimes.com, November 9, 2019). It is this ensured continuity and legitimacy in IS's most important institution, the caliph, that is essential for the global IS caliphate to be viable, at least ideologically. And yet, when al-Quraishi was reportedly killed by U.S. forces in Idlib, Syria on February 3, no provinces followed with pledges of loyalty to any successor (aawsat.com, February 3). IS, moreover, has not confirmed al-Quraishi's death, which means that, as of now, reports of his death rely primarily on U.S. claims.
Reason exists to trust the U.S. reports on al-Quraishi's death. According to the U.S., al-Quraishi was in Idlib Province, which is where al-Baghdadi and his spokesman were both killed in succession (crisisgroup.org, February 4). This indicates that both al-Baghdadi and al-Quraishi identified Idlib as the most ideal safe haven because it is not directly under any foreign power's control, such as Turkey, Russia, or the U.S., or under the control of the Syrian government or Kurdish forces. Rather, Idlib is controlled by Hayat Tahrir al-Sham (HTS), which was allied with al-Qaeda, but now distances itself from, and even cracks down upon, hardline al-Qaeda elements in its territory (aljazeera.com, July 29, 2016). Al-Baghdadi and al-Quraishi were evidently less concerned about HTS than state actors and may even have benefited from cooperation from IS-sympathetic al-Qaeda elements in Idlib.
Consistency is also found in the way al-Baghdadi and al-Quraishi were killed. According to the U.S., both reportedly detonated suicide bombs to ensure they would not be captured by U.S. forces, with al-Quraishi allegedly killing 11 people, including children, surrounding himself (kurdpress.com, February 3). Al-Baghdadi also killed his son in collateral damage in his own suicide bombing before U.S. Special Forces would have captured him.
Assuming the U.S. claims about al-Quraishi's death are true, IS's lack of any acknowledgement of his death can be attributed to the morale loss IS would suffer in Iraq, Syria and its provinces abroad from the news. If he is dead, al-Quraishi would have been named caliph, received pledges of allegiance from IS provinces around the world, and died without ever having shown his face publicly, making him literally a 'ghost caliph.' This sequence of events might lead IS fighters to question how powerful the caliphate actually is if the best al-Quraishi could do was live a life on the run.
Beyond al-Quraishi never revealing his face, his name was likewise never known, or at least never confirmed by IS. Most reports suggest he was Amir Mohammed Abdul Rahman al-Mawli al-Salbi, an ethnic Arab from Tal Afar, Iraq, whose family had become Turkmenized (timesofisrael.com, January 20, 2020). Therefore, he spoke Turkmen and was considered by peers to be a Turkman, but he was actually ancestrally Arab and of the prophetic lineage that entitled him to become a caliph.
Any new replacement for al-Quraishi will need to have the same prophetic lineage. Similar to al-Quraishi, the new caliph will have to live underground and be on the run in order to avoid another U.S. Special Forces raid targeting him. IS does have the luxury of pretending al-Quraishi is not dead and may substitute al-Mawli al-Salbi for another caliph since IS has not acknowledged al-Quraishi is deceased in the first place.
All in all, IS is facing a persistent leadership dilemma. The group only controls slivers of remote territory in parts of Afghanistan, northeastern Nigeria, and other rural areas of Mozambique and Congo. In the Middle East, they can barely manage night operations in Iraq and Syria to demonstrate control. The world sees a caliphate straining itself to prove it still has territorial control, while its caliphs consistently remain anonymous to the public, including IS fighters themselves. Unless IS miraculously conquers territory like it did under al-Baghdadi in the heartland of the Middle East, the group's caliphs will lack the aura of al-Baghdadi, ultimately undermining the institution of the IS caliph.